| | |
| --- | --- |
| | The Words of the Alao Family |
The Blessing of Africa -- The eleventh stop on the UPF Founders' Tour was Nigeria, representing the continent of Africa
Olaleye Ibrahim Alao
July 2011
National Leader of Nigeria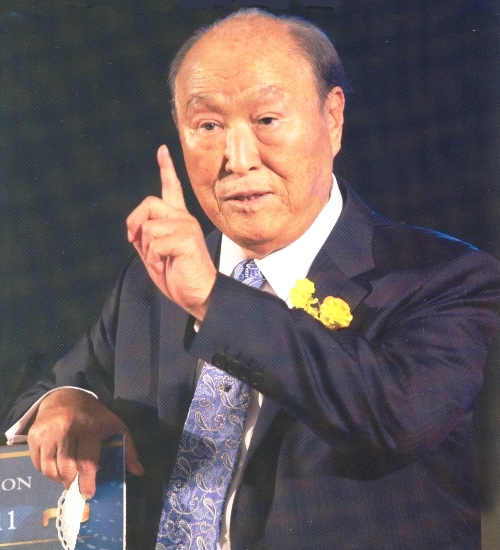 Father giving his keynote address at the International Conference Center in the Nigerian capital of Abuja, on July 17
True Parents' visit to Nigeria was victorious in many ways and was a huge step forward for Nigeria and Africa.
At each event many wonderful things happened, and despite a little bit of confusion at times, a remarkable victory for Heaven was won. True Father was nothing short of incredible as he poured out his love and parental guidance to the cradle of civilization that is Africa.
Just before his coming, True Father instructed that a continental level Legacy of Peace Seunghwa Ceremony be held in Nigeria. On July 14 at the Sheraton Hotel Abuja, the day before True Parents arrived, more than five hundred people attended this "Legacy of Peace" ceremony. One of the top honorees was Musa Yar'Adua, the president of Nigeria (2007-2010) who was in office when Goodluck Jonathan was vice-president. It was because of his death that Jonathan became president of Nigeria. The highlight of the Legacy of Peace event was the presence of Mrs. Yar'Adua and four of their children. According to Mrs. Yar'Adua this was the first event since her husband's passing that had honored him in such a way. She was deeply moved and grateful.
On the early morning of July 15, True Parents' plane came to a halt in the presidential parking area of the airport and True Parents were received at the presidential lounge reserved exclusively for visiting presidents, vice-presidents and prime ministers of nations. They were greeted by several top government officials and ambassadors for peace and escorted by presidential motorcade from the airport to their hotel. The presidential motorcade stayed with them throughout their stay in Nigeria.
After being welcomed at the Hilton Hotel in Abuja, True Father held his first Hoon Dok Hae session and started his four- day true love marathon. Each morning in their hotel suite, True Parents held Hoon Dok Hae and gave much love and guidance to members, pouring out their hearts.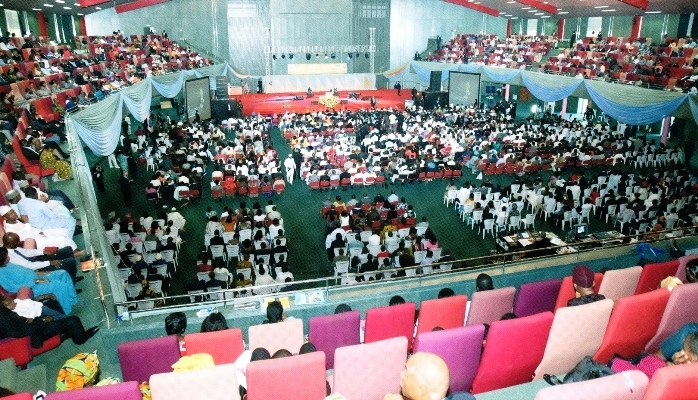 Father's main event was attended by some 3,500 guests.
On the first day, True Parents were received by President Jonathan and an official committee of seven others at the Presidential Palace. They welcomed True Parents to Nigeria. True Father spoke to them, focusing on three main points of internal guidance. For approximately forty minutes, they listened attentively to True Father. The meeting came to an end because the president was conducting a three-day retreat with his newly appointed cabinet members in another venue, and had to continue. There was disappointment that True Father did not have the chance to speak privately with the president. President Jonathan said he was sorry about his official schedule and repeated that he hoped to schedule another meeting with True Father later when he could receive his guidance in more depth.
The International Leadership Conference (ILC) held by UPF at this event was hugely successful. High quality papers were being presented and the rooms were packed during all the sessions. It was well organized; Dr. Walsh and his team deserve a medal for what they accomplished. To have over five hundred participants coming from all over the world with very complicated visa situations, flight schedules and communication problems was a feat never before accomplished here in Abuja by a non-governmental organization.
We have only fifty local members here in Abuja, many of whom are mothers with young children, and yet we had to host four major events -- Legacy of Peace, Lovin Life Ministries the ILC and True Father's speech. These and accommodating six hundred members from all over Africa. How it was done is still a puzzle for me. It was not without problems of course -- the infrastructure in Nigeria is not quite what it is in most other places that an ILC of this size is held. But the problems were relatively small and the gaps smoothly filled.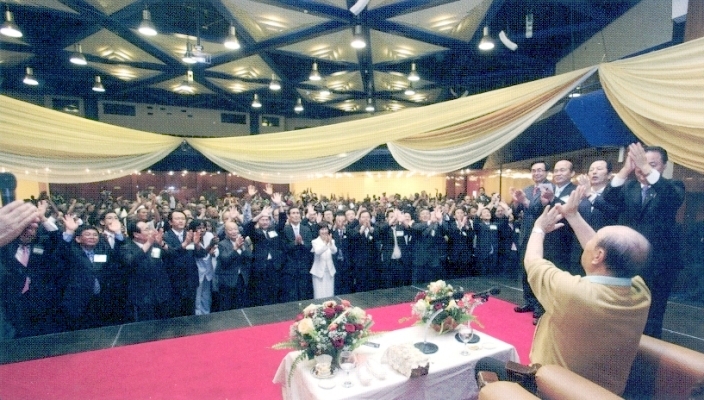 At the victory celebration (morning Hoon Dok Hae) on July 18
On Sunday morning, July 17, In Jin nim held a Lovin' Life Ministries Sunday Service, which nearly a thousand people attended. This absolutely transformed all of our African members. The band, Sonic Cult, boomed out the music that we had hitherto only heard from a distance through video. In Jin nim gave a wonderfully warm sermon about the great destiny of Nigeria. She then personally met with each of our members, one by one. It was the first chance almost any of our members had to meet with a True Child, take a picture, and receive heart-to-heart care.
Just a few hours later, at Abuja's International Conference Center, True Father came out to the podium to give his speech.
There were some 3,500 people in attendance -- a thousand Unification Church members from all over Africa, five hundred International Leadership Conference participants and nearly two thousand from the general public. President Jonathan sent three representatives to represent the Nigerian government. There were religious leaders (both Christian and Muslim), business leaders and political leaders representing different areas of Nigerian society.
True Father spoke for nearly six hours. After about an hour and a half, there was a natural break in what Father was saying (he hadn't even begun his prepared speech yet). Out of concern for Father's health, the top leaders tried to conclude the speech there by inviting Mother to come out and by offering bouquets of flowers. We actually thought True Father had agreed to that but Father playfully threw the flowers down and said that no one should not try to stop him, that he would continue to the end because he must give this declaration to Africa or Heaven would not be happy.
He then picked up his speech and began to read.