| | |
| --- | --- |
| | The Words of the Ahmed Family |
A New Islamic Perspective on the Principle
Abdelmoumin Ibrahim Ahmed
September 2009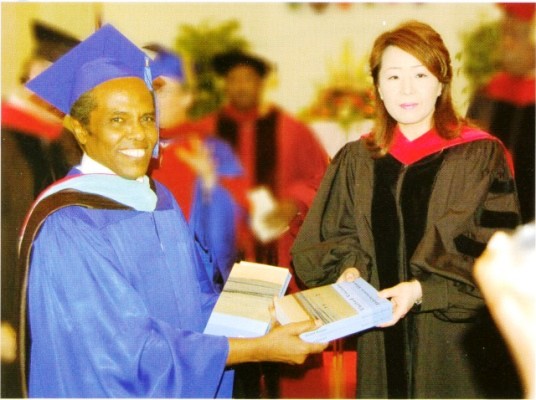 Whenever we discuss the traditional Divine Principle with Muslims, the first response is, "Okay, that's good, but this has nothing to do with me. This is a Christian text discussing Christian theology."
From the day I first listened to lectures on the Principle, I felt a deep calling that my life's mission is to prepare an Islamic introduction to the Principle. I came from a strong Muslim family that is well known in all Sudan and has a long Islamic heritage. Since that day in 1980, I began to dig, compare, analyze and put in order data and Quranic verses related to the Divine Principle.
True Father's spiritual support
True Father often guided me spiritually while I was writing this book. Many times the input he provided was to make my book more Islamic and more appealing to Muslims. It took me more than twenty years to gather the material for this book. The book has now been published in Arabic and English. To purchase the book please use the following links:
English: www.createspace.com /3380614
Arabic: www.createspace.com/3384407
Preparing the manuscript
While I was writing the final manuscript, whenever I finished a chapter, I gave it to Dr. Adil Mohammed Ahmmed, who is a university professor in Sudan and our member. He is my spiritual son and the acting national leader.
I asked him to please read it and give me his comments. He told me, "Nobody else can improve this; only the Prophet Mohammed can do that."
Miri Kamar, from Israel, said that whenever she gave the Arabic edition of this book to her Muslim friends, the content and the style moved and inspired them. Thanks be to God! I'm so glad to receive such news, and I always feel indebted to True Parents and the Islamic spirit world centering on Prophet Mohammed.
Support from UTS
When I came here to UTS, two years ago, Taj Hammad (who said he felt the book was a revelation) called Dr. Hendricks and Dr. Wilson, which led to a what I felt was a historic meeting between the three of us -- a Muslim, a Jew and a Christian. Dr. Hendricks asked me to reedit the book under Dr. Wilson's guidance. He said this might take two years, which made me nervous. I said to myself, "Why two years? It will take only two months."
But what he said came true. It took us exactly two years to finish the work. I am grateful to Dr. Hendricks and Dr. Wilson for their support, and Dr. Keisuke Noda who showed me how to self-publish through Amazon.
I, of course, offer my thanks to True Parents, whose spiritual and physical foundations were behind, and guiding, this project.