| | |
| --- | --- |
| | The Words of the Ahmed Family |
UTS Student Publishes New Book
Abdelmoumin Ibrahim Ahmed
May 2009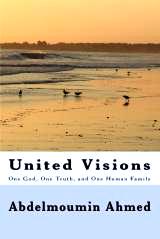 Whenever we discuss the Divine Principle with Muslims, their first response is, "Okay, that is good, but it has nothing to do with me. This is a Christian text discussing Christian theology."
The result, United Visions: One God, One Truth, and One Human Family, is now published and available in English and Arabic.
This book offers a new understanding about God, religion, theology and history from a unification point of view. It gives new insight on the Qur'an and the history of Islam. The book is aiming at creating a common base for Muslims, Christians and Jews to communicate and understand each other holy Book. The book shows the divine work of God in these three religions and tries to bridge the gap between them. The book in general offer a new reading and a new understanding on Islam in relation to Christianity and Judaism from a unification perspective.
The Story
Father Moon's spiritual help and support
It took me more than twenty years to gather the contents of this book.
Many times while I was writing True Father guided me spiritually. In general his comments were to make the book more Islamic and more appealing to the Muslims. I wrote an article few years ago about this in Today's World.
Preparing the manuscript
While I was writing the final manuscript, whenever I finished a chapter I gave it to Dr. Adil, a university professor in Sudan. He is a member and is my spiritual son and the acting national leader now. I would say to him, "Please read this and give me your comments." He would respond to me that no body can correct this. Only prophet Mohammed can do that. When brother Taj Hamad he read it, he said it is a revelation.
The final stages at UTS:
Taj Hamad advised me that when I arrived at UTS, two years ago, to work with Dr. Wilson and he called Dr. Hendricks and told him about my book. The three of us, as a Muslim, a Jew and a Christian, had a historical meeting. Dr. Hendricks asked me to re-edit the book under Dr. Wilson's guidance and he said this might take two years. That made me very nervous. I said to myself, "Why two years? It will take only two months." But actually what he said came true. It took us exactly two years to finish this work.
Acknowledgments
I want to thank Barbara Robinson, Joe Raucci, Insoo Hendricks and Eric Sylte, all of whom helped me in different ways in the translation process. I have a special thanks to Dr. Noda who advised me and showed me how to self publish my book.
Finally I give my thanks to Dr. Hendricks for his support, and to Dr. Andrew Wilson who supported me with his advice and suggestions until the book came out in this accepted shape. Also my thanks to UTS as a whole, and those who gave me the chance to be here to learn and to publish my book. And of course my thanks are for True Parents. Their spiritual and physical foundation was behind, and guiding, this project.
Mr. Ahmed is a graduate of Khartoum University and received a post graduate Diploma in Islamic studies from Omdurman Islamic University. On May 23 he received his Masters in Religious Education at the Unification Theological Seminary, Barrytown, New York.