| | |
| --- | --- |
| | The Words of the Adhikari Family |
Intercollegiate Football Tournament Commemorates Day of Peace in India
Krishna Adhikari
October 12, 2012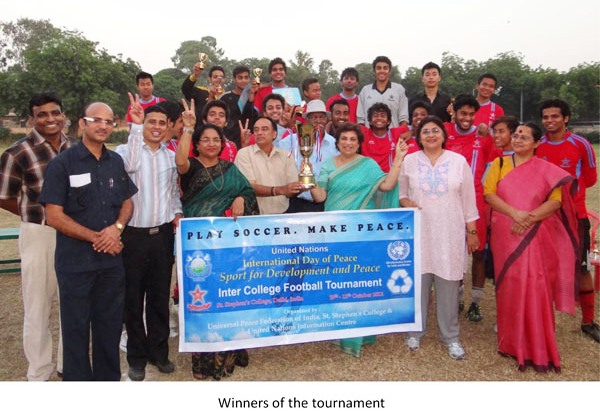 New Delhi, India -- To mark the UN International Day of Peace 2012 and the UN Sport for Development and Peace program, UPF-India joined hands with the United Nations Information Center for India and Bhutan and St. Stephens College to organize an Intercollegiate Peace Football Tournament under the theme "Play Soccer, Make Peace" from October 10-12 at the football field of St. Stephens College, North Campus, University of Delhi. Eight teams from eight different colleges under Delhi University took part in the tournament.
During the inauguration match of the tournament, Mr. Krishna Adhikari, Secretary General of UPF-India, gave an overview of Universal Peace Federation and its peace-building activities, highlighting the UPF-Founders Rev. and Mrs. Moon's vision of peace through sports and also mentioned the deep love of Father Moon for football. With a special appeal to players to be peacemakers through sports Mr. Adhikari emphasized the great importance of football as means of peace and said "Football (soccer) is the only sports which was nominated for Nobel Peace Prize in 2001."
Dr. Sudarshan Pathak, Former Director of the Sports Council of Delhi University and currently Chairperson of Delhi Social Welfare Board, Government of Delhi inaugurated the tournament with her good wishes to players by emphasizing peace-building through the spirit of sportsmanship and teamwork.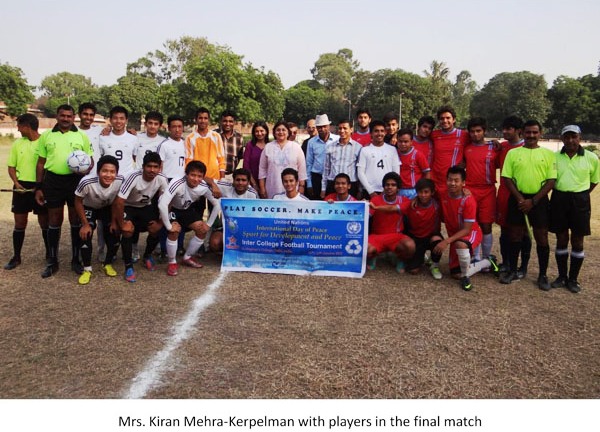 On the first day, four matches were selected for the semi-finals, and in the semi-final match on the second day, Sri Ram College of Commerce and St. Stephen's College secured their positions to be in the final match. On the final day, St. Stephen's won the tournament against Sri Ram College of Commerce by a penalty shootout with a score of 3-2 and became the winner of the Second Play Football Make Peace Intercollegiate Football Tournament-2012.
During the award ceremony, Prof. Kiran Walia, Hon'ble Minister of Women and Child, Education and Sports for the Government of Delhi, delivered her keynote address as Chief Guest by introducing UPF as an unique NGO involved in multi-dimensional peace activities and encouraged the initiative to achieve greater success in the upcoming years. The Chief Guest handed the Winner's Trophy to St. Stephen's College, and Rev. Dr. Clement Rajakumar presented a token of gratitude to the Chief Guest.
Volunteers of the College Peace Clubs who prepared the groundwork for the tournament were inspired to organize another Intercollegiate Football Tournament in the South Campus of Delhi University in December.