| | |
| --- | --- |
| | The Words of the Adhikari Family |
Centenary of Women's Day Celebrated in Delhi
Krishna Adhikari
March 7, 2011
UPF -- India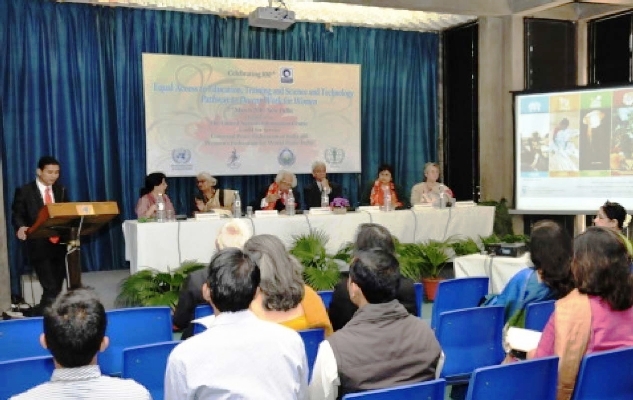 Delhi, India -- UPF-India observed the International Women's Day in collaboration with United Nations Information Center in India and Bhutan, the Guild for Service, and Women's Federation for World Peace-India on the theme of "Equal Access to Education, Training and Science and Technology Pathway to Decent Work for Women" at the UN Conference Hall in New Delhi on March 7.
Mr. Krishna Adhikari, National Executive Director of UPF-India, began the program with formal greetings and an introduction of the guests on the dais.Padma Bhushan Dr. V. Mohini Giri, Chair of the Guild for Service, greeted the audience and delivered the opening remarks on the status of women and the present scenario of Indian society. She called for an action-oriented workshop and ground work to carry the message of access to education for women throughout India. The Guild for Service is a national voluntary organization serving marginalized women; it is in special consultative status in the Economic and Social Council of the United Nations.
The newly appointed Director of the United Nations Information Center for India and Bhutan, Ms. Kiran Mehra-Kerpelman, was warmly welcomed by the audience to read the message of the UN Secretary-General. Following the message, a video presentation about UPF's Women for Peace project was shown. Then His Excellency K.V. Rajan, former Indian diplomat and Executive Vice-Chair of UPF-India, gave special remarks focusing on changing the mindset as the beginning of change in the present scenario of Indian women. He shared his perspective about ways to integrate government and NGO sectors for raising awareness and access to education for girl children, especially in the underprivileged sectors of society, and urged youth to study with integrity, work with integrity, and live with integrity.
Ms. Sushma Kapoor, Deputy Regional Program Director UN Women-South Asia, shared her insights into the South Asian model of male dominance in society and challenged the audience to be catalysts for building a pathway to decent work for women. She mentioned vocational training and opportunities to work as paramedics and para-educators as upcoming trends for women of underprivileged sectors.
Dr. Sanaya Nariman, an educator, reflected on the changes in Indian society during the past 65 years of independence in both the rural and urban sectors. She shared her vision of community-oriented development programs focusing on women's and children's health in order to make significant progress for the sustainable development in India.
Dr. Abid Hussain, noted economist and former Ambassador to the US, delivered an inspirational keynote message emphasizing the "upliftment of women as the basis for success of any civilization."
At the end of the program, Dr. Mohinder Singh, Chair of the Bhai Veer Foundation and Board of Trustee of UPF-India, gave closing remarks thanking the chief guest, the guest of honor, and all the audience for contributing to a memorable centenary celebration of International Women's Day.