| | |
| --- | --- |
| | The Words of the O'Connell Family |
October CARP Service Report
Rosanna O'Connell
November 2, 2010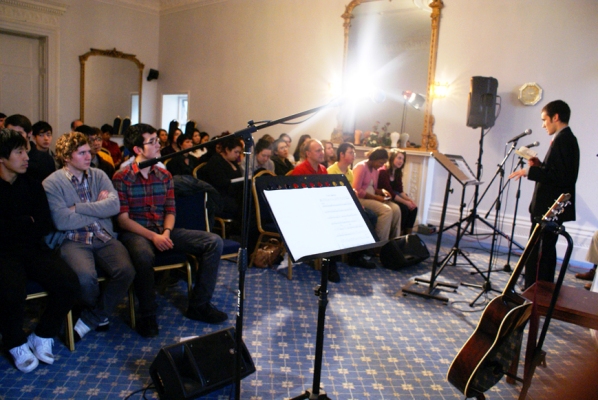 The first CARP service of this year took place yesterday at Lancaster Gate, inviting many brothers and sisters from ages 18 and over to take part in worship, together as a CARP community.
Being the first in a long time, there was definitely some anticipation about how well the service would be attended and received, but from the outset there was a great atmosphere as many gathered before the service to mingle and talk with one another. By the time the service was getting started, there was an exciting "buzz" in the ballroom as everyone joined in preparing for the main message of the service through singing holy songs and a beautiful song offered by the band.
The sermon, entitled "Three Years to Bloom - Owning 2013," was given by Patrick Hanna, addressing the importance of the time we are in now and our role as young adults of the Unification Church. One of the quotes, central to the sermon was from March 1st 2010 in which Father conveys: " I hope you will make the resolution to become the princes and princesses who can uphold, serve and love God. That is the ardent wish and the flower of my teaching."
Furthermore, the main question put across was 'how many such flowers will there be in three years time?', in other words, what can each one of us do NOW in order to reach our goal of creating Cheon Il Guk by 2013.
One of the main messages highlighted was that many of us face the 'Personal challenge' of sharing about our faith with others. However, at such a time of new change and new life, we should feel open to talk to others about our tradition whenever the natural opportunity arises. On a collective level, if we can all make the conscious decision to 'bloom', particularly in these years leading up to 2013, then we can truly build something substantial in our national movement, of which our younger brothers and sisters can become a part of. Patrick conveyed a very deep message yet in a humorous way that enabled everyone to really open their hearts to receive!
By the end of the service there was a real sense of progression and great things to come as a CARP community. The next CARP service will be at 2 pm on the 28th November at Lancaster Gate.