| | |
| --- | --- |
| | The Words of the de Souza Family |
Break and Build Climax in Greenwich
Marshall de Souza
December 2, 2008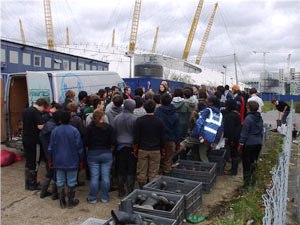 The participants gathered together to be briefed by Thames21 staff
Thursday the 20th of November saw the climax of the Break and Build projects, with a finale event in North Greenwich. Over 50 young people from all over the world gathered together to take part in the intercultural themed morning and litter picking along the Thames during the afternoon.
It was an early start as the participants gathered at the VIP lounge of the O2 in North Greenwich. After registration they were invited to mark on a large world map, what countries they originate from. It was clear that the group present was rich in multiculturalism.
The morning began with two guest speakers and a group activity. The first guest speaker was Simon Cooper, regional director of the Global Peace Festival. He spoke on the importance of the vision of the Global Peace Festival and emphasized the point that peace is personal and begins at the grass-root level.
The second guest speaker was Roy Tindle, chair of the London Thames Gateway Forum board. Roy spoke of his personal experience working with many different cultures and expressed the importance of intercultural partnership. After the guest speakers the participants were given a set of questions from different cultures to answer. The questions were designed in a way that one would not be able to answer them unless they knew a lot about the culture from which it comes from. This really got the participants moving and talking to each other, as well as finding out interesting new things about different cultures. Once their time was up the participants were invited to call out the answers.
To finish off the morning's activities, Samar Hamdani from the Labor Community center in East Ham gave a final note.
After a short Lunch the participants gathered on the foreshore of the River Thames to kit themselves out for the afternoon service project. Thames21, an environmental waterway charity and our main partner of Break and Build helped prepare the volunteers. The river Thames is the longest river in England and has been recorded to have more than one-hundred species of fish living in it within the last thirty years. It was shocking to many of the participants to see just how much rubbish was lying on the river bed as the tide moved out. However this only served as inspiration and soon the foreshore was covered with many young people picking up bits of scrap, carrying large bags of rubbish, rolling heavy tires and heaving long planks of wood. All in all the volunteers gathered together seven old tires and enough rubbish to fill a barge.