| | |
| --- | --- |
| | The Words of the Yasutake Family |
The Challenges and Joys of Loving a Nation
Cliff Yasutake
December 2009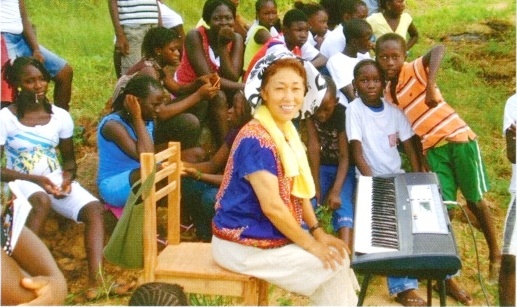 What is a life of true love? True love is the spirit of public service. It brings the peace that is at the root of happiness. Selfish love is a mask of the desire to have one's partner exist for one's own sake; true love is free from that corruption. Rather, its essence is to give, to live for the sake of others and for the sake of the whole. True love is to give and to keep giving joyfully, without expecting anything in return.
From the first Peace Message
At the National Messiah Workshop in August 1996 in Chung Pyung, my wife and I, through a lottery, chose Guinea Bissau in West Africa as our mission country. Rev. Ki-hoon Kim and his wife are our Korean-leader couple. At that time, we were living in Hawaii, and I worked for the church's fish company in Honolulu. On the way to Guinea Bissau for the first time, I stopped in Washington DC to get a visa at the office of the ambassador to the U.S. from Guinea Bissau, Rufino Mendes, whom I was able to meet. In Bissau during that trip, I was introduced to Arafam Mane, who was a minister and a member of President Vieira's cabinet.
At the time of the 1997 Blessing Ceremony at RFK Stadium2 in Washington DC, Mr. Mane was invited to attend the ceremony and the international meeting that accompanied it. I met him at JFK Airport and escorted him to Washington. Ambassador Mendes came to greet Mr. Mane, and they both attended a banquet. Mr. Mane was there for perhaps five days, and I was able to escort him around, attend meetings and see the sights of Washington. We visited the Washington Times Building where we were shown the operations of the newspaper business. Rev. Kim toured with us, although he was busy with True Parents at the time. I spoke of the church and our theology to both of our guests, especially to Ambassador Mendes, since his English was better.
In June of 1998, there was revolt by the army and people of Guinea Bissau against President Vieira, who had been in power for a long time. Everything changed when this set off a civil war. I tried to go to Guinea Bissau after the war started but could not enter the country. I had to stay in Dakar, Senegal. Ambassador Mendes left his post in Washington. I heard that he went to Brazil and I have not seen him since. Arafam Mane passed away in 2005.
Creating something where there was nothing
On my first visit to Guinea Bissau in November 1996, I was introduced to Mrs. Kikuyo Baba, one of ten Japanese missionary sisters who had been assigned to the country in 1994. The Japanese sisters were amazing. They had quickly learned Creole, the language of the common people, and were working hard in the country while part of the group stayed in Japan to raise funds for the mission. Through Mrs. Baba and other Japanese missionaries, local Guineans have become church members. Eight committed Guinean blessed couples also do witnessing on their own.
Over the years as I visited Guinea Bissau with the dream and hope of meeting the president of the country, witnessing to him and getting the country to follow our True Parents, Mrs. Baba and the Japanese missionary sisters kept working with the local people and witnessing to local Guineans.
Guinea Bissau is one of the poorest countries in Africa and a high percentage of the population live on less than a dollar a day. Even primary school education is not possible for many children. One of the United Nations Millennium Development Goals is to make at least primary school education available for all children throughout the world by 2015. To this end, in 2003, Mrs. Baba, supported by the other Japanese missionary sisters and with some help from the national messiah couples, built a school with three classrooms on the land next to the church center. The school, named Escoin Sunac [Sunac School] offers primary school education for two hundred students from extremely poor families.
Some older people who have had no education have also come to our school as students. This reminds me of my own father who came to Hawaii when he was twelve years old and at that age began studying in the first grade of an English- language elementary school. He attended school until the eighth grade.
Through programs and outreach in Japan, the Japanese sisters were able to convince their fellow countrymen (who are not our church members) to pay the tuition and fees for "foster students." These students then exchange photographs and letters with their "foster parents." Over the years, some of the contributors have visited Guinea Bissau to see the school and to meet their foster students. They see the poverty firsthand but also the effect their contributions are having on the lives of the children they are supporting.
Service as a means to convey principles
Establishing our primary school and successfully operating it gave us credibility with the government and also with many other people of influence.
Having meetings and just talking to people about ideas to help the country is not enough. I feel that leaders of countries such as Guinea Bissau are suspicious of anyone who approaches them without any foundation of helping the country. "Sweat equity" and commitment -- living for the sake of others and practicing true love in a practical and substantial way -- show a desire to help the people without any hidden agenda.
When we put into action Fathers words, "live for the sake of others," the spiritual world is there to help and miracles happen. Education is only one way to do this. Other ways include micro-finance projects, personal hygiene instruction, digging wells for fresh water, fixing and building homes, starting fish farms, raising animals and farming. Any effort to help these impoverished people will be welcomed and appreciated.
In April this year, I went to Guinea Bissau to give a speech at a small Global Peace Festival we had. Perhaps fifty people were in the audience, mostly religious and political leaders and peace ambassadors. The local television company filmed it for the news broadcast that evening.
During that visit, we were able to meet with the interim president of Guinea Bissau, Raimundo Pereira. The director of one of our West African sub-regions, Rev. Adama Doumbia, had invited and gone with President Pereira to True Parents' birthday celebration and conference in New York in January. Rev. Doumbia and the events made a good impression on the interim president, and on that foundation, he met us.
Of course in our conversation with the president, our school was the dominant topic, since it is our most visible contribution to the country. We also spoke of world peace and one family under God, the importance of the family as the starting point to build peace in the nation and the intercultural blessing, which is part of our hope to bring peace in families, communities, nations and to the world. The president said that he supported UPF events in his country and he sent one of his closest advisors to the GPF.
Meeting the president was a significant event and has given us, the Unification Church, WFWP, UPF, IRFF, etc., more credibility in the country. We also met members of his cabinet at his personal residence during a birthday party for his wife, to which he had invited us. As we move forward, these contacts will prove to be very helpful.
In July, there was a presidential election and Malam Bacai Sanha was elected president. With Mr. Pereira's friendship and support, we hope to meet the new president in the future. One of our Guinean blessed couples is a high-ranking member of the new president's political party.
A place where the Principle dwells
In October, we opened a junior high school where the children who have graduated from the primary school can continue their education. Many dignitaries, including a member of the Ministry of Education, participated in a ribbon cutting at the school's dedication ceremony. Our schools have been officially recognized by the Guinea Bissau government.
A long segment of the ceremony, including the speech I gave, was shown on the local evening news. In the speech, I said that students of the Sunac schools would become the future leaders of the Republic of Guinea Bissau. This was received with loud applause. It seemed to give the people a vision of their country emerging from the poverty and suffering they had endured through the slave trade and four hundred years of being dominated as a colony of a European nation.
At the new school, the school principal, Manuel Fernando, who is also the Guinea Bissau church national leader, is teaching an elective class in ethics and morality including abstinence and AIDS education from a Principle viewpoint. While I was there for the school opening, we had a two-day Divine Principle workshop, attended by seventy people, many of them students from our schools between the ages of thirteen and eighteen. About twenty older people who have attended various workshops also attend our Sunday service.
In 1994 when the Japanese sisters and one Korean arrived, there was no foundation in the country. Yet by 1996, they had blessed around thirty couples. Only eight couples are active no but through the school, many doors opened allowing them to meet influential people. A few hundred ambassadors for peace have been recognized, and a few of these are active supporters.
Father's teaching has been actualized in what Mrs. Baba has accomplished in building the first and then the second school. With all of our support, but especially through her own efforts, Mrs. Baba has worked for all of these years, unselfishly, in such a humble way to make the lives of her students better and to help put an end to illiteracy and extreme poverty. It is so beautiful to see that hope has now come to the children attending our schools.
Mrs. Baba is truly a Unification Church saint, sacrificing and dedicating her life for others without any thought of reward or return. She is an inspiration to me and I hope others who can see her sacrificial, true love. Truly, there is hope in the world when people who are inspired by Reverend Moon's teachings, substantiate the concepts of living for the sake of others and living a life of true love and put them into action.
I acknowledge and appreciate the support of the Women's Federation for World Peace (WFWP) for the schools in Guinea Bissau and other countries. Thank you to all of our supporters.