| | |
| --- | --- |
| | The Words of the Yakawich Family |
Maintaining the ACLC Momentum in Montana
Michael Yakawich
March 5, 2010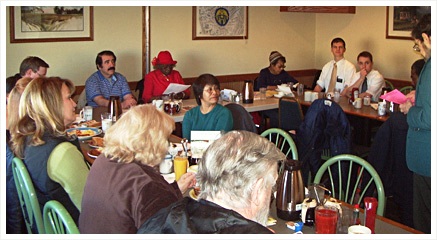 On Friday, February 26th the Montana chapter of the American Clergy Leadership Conference (ACLC) hosted its first monthly prayer breakfast in 2010. Over 20 ministers and lay people attended, representing All Nations Christian Fellowship Church, the Episcopal Church, The Church of Jesus Christ of Latter-day Saints, Chapel of the Diamond Heart, and the Family Church (Lovin' Life Ministries). The breakfast at the Perkins Restaurant meeting room began with a prayer by Evangelist Pauline Turner, a long time supporter of ACLC. .
Everyone present was asked to share testimonies, prayer requests and announcements of their churches' programs. Many people expressed their happiness at getting ACLC prayer breakfasts going this year. Pastor Melvine Terry, President of the Martin Luther King (MLK) Jr. Day events and the Black Heritage Foundation, thanked those who had supported MLK Jr. Day and Black History month.
One of our key discussions was about the upcoming Montana ACLC conference. Everyone at the prayer breakfast unanimously voted to host this year's conference in Billings, Montana. It will be the 7th year the Billings community sponsors this event. Each church made a financial pledge to support the event, and several churches volunteered to help in planning the conference.
We decided that the focus of our upcoming conference will be on addictions in our community. We will bring in guest speakers to discuss spiritual solutions to these social issues. Montana has had a high alcohol use problem as well as high usages of meth, prescription drugs and marijuana. Through these conferences, ACLC seeks to shed light on the Divine-Principle-based perspective on such social ills. We have also had several other organizations churches represented at our past conferences, so they could have an opportunity to present their perspectives. This year's conference will dovetail well with the 13th Annual March Against Drugs and Violence, which we will host on June 12th, 2010. This community event/march is one of the largest anti-drug and educational events of its kind in Montana.
The conference will be held on Saturday, April 24th, 2010 from 9:00 a.m. to 3:00 p.m. We have had good press and great interest in this conference over the years. It provides open, educational and insightful discussion among organizers and guests. It also provides a common base with which we can work together in the community. A monthly prayer vigil held every last Saturday of the month was born from these conferences and is lead by Dr. Dennis Briggs (another key supporter of ACLC). It has been going on now for 2 years.
The prayer breakfast concluded with a prayer from Pastor Eric Frederickson pleading that we continue to set our hearts on Heavenly Father and include Him in all that we do.