| | |
| --- | --- |
| | The Words of the Yakawich Family |
"A Community Celebration of Life" - 7th Annual September 11th Memorial Service 2008
Mike Yakawich
September 11, 2008
American Clergy Leadership Conference
Billings, Montana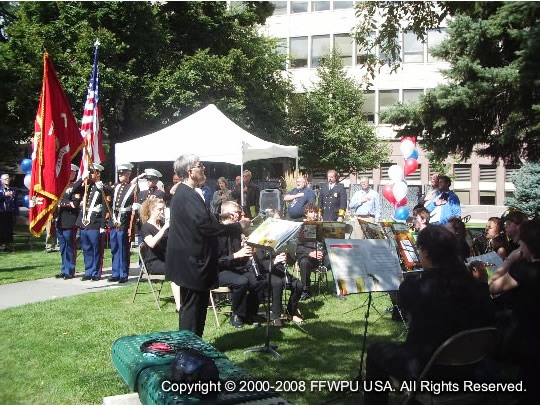 Saying the Pledge of Allegiance at Montana's September 11 service.
On Thursday, September 11th, 2008, the Seventh Annual September 11th Memorial Service was conducted at the Yellowstone County Courthouse Lawn in Billings, Montana, at Noon. There were over 200 people who participated in this annual event. The American Clergy Leadership Conference of Montana was a primary sponsor of this event, and many other community organizations and leaders all made this event very successful. As one community leader summed up this event, "It was neither solemn nor joyful: it was rather very sentimental".
In the weeks leading up to this event, a variety of groups, churches, and organizations pledged their support. The Marine Corps Honor Guard, who has consistently supported this event each year, was the first to step up to encourage this event to keep taking place. One veteran, Commandant, Burt Gigoux, was so inspired and honored to be included in this annual event. He coordinated his team of Marines for this event and did a fine job in assisting overall. Also attending was a delegation of soldiers from the National Guard.
We had presentation of colors by four members of the Marine Corps Honor Guard. The commandant then led in the Pledge Allegiance. This year we had the Billings Central Catholic High School Band perform the National Anthem and other wonderful music. We then had prayers from a Catholic father, a minister of the UCC, the president of the local synagogue, and our co-chair of Montana ACLC, Sister Eunice Terry. The entire program was prayerful and uplifting as we remembered all those affected by the September11, 2001, tragedy, reflecting, reconciling, and making new determination to move forward. It was indeed a celebration of life!
An exceptional highlight of this year's program was to have the new fire chief, Paul Dextras of Billings, offer the keynote speech. Later, Mr. Clint Woods presented a plaque along with the county commissioner to the chief expressing the gratitude from the community to all the firemen and firewomen of Montana. Then, our County Commissioner, John Ostlund, did an excellent job in offering closing words.
It was indeed a wonderful sight to see our ACLC ministers sitting with U.S. government representatives, the County Commissioner, U.S. Marines, and other faith leaders. It was a great coalition that day of races, cultures, religions and political affiliations bonded by a love for this country. During a medley of military songs by the band, a former Marine stood up in the audience while the Marine Anthem was being played. There he was, in "silent sturdiness"; there was an awesome sense of pride for our country and her people.
In closing, a Marine Corps trumpeter performed the "Taps". At that same time, band members released red, white and blue balloons into the air, symbolizing all of us sending our prayers to Heaven for all victims of 9-11. Then everyone mingled and talked as homemade cookies and refreshments were enjoyed. The weather was great and the spiritual atmosphere very high.
Derald Thiessen, Jacob and Yukiko Yakawich and Kimiko DiLorenzo along with LDS missionaries and other volunteers worked very hard behind the scenes setting up chairs, tables, canopy and refreshments for all those in attendance. One mom, Junko Thiessen, even baked ten dozen cookies for this event. They were a "vital support" for this event's success. We felt the healing love of God, Lord Jesus and our True Family in our gathering and we are so grateful for Rev. Larry Krishnek and Rev. Gerhard Wiesinger's prayers, guidance and support of this annual event.