| | |
| --- | --- |
| | The Words of the Yakawich Family |
10th Annual March Against Drugs and Violence Brings a Positive Impact to the Billings Community
Mike Yakawich
June 9, 2007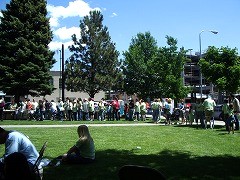 On Saturday, June 9th, 2007, the 10th Annual March Against Drugs and Violence took place in Billings, Montana. Lead by the American Clergy Leadership Coalition and many other community organizations, it had a very positive impact on the city, with over 375 participants of all ages.
Initiated ten years ago by Pastor Mike Yakawich and Rev. Hilton McClendon, the first march had several youth walking with them down the main street of Billings. Today, it was awesome to see hundreds of young and old turn out with a firm commitment and desire to address meth (methamphetamine) and other serious drugs that are ravaging our community. With the local police department, the DUI Task Force, Tumbleweed runaway teen program, neighborhood task forces, churches, and ACLC, there was an unprecedented support for this program took place.
The day began with Pastor Tom from the King of Glory offering a prayer and then words from the Mayor and Chief of Police. Then the entire crowd was led for a one-mile march around town by the Young Marines Association, followed by many other civic-minded organizations carrying banners and blowing whistles. Even the Elks Club Mascot, Elroy, walked the entire mile with us. An 87 year old using a walker and a lady in a wheelchair completed the entire mile with us as well. It was a wonderful sight to see. Then, as the police department escorted the marchers back to the Downtown County Courthouse Lawn, all marchers walked down the middle of the main street (27th Street), standing firm and determined against drugs and violence.
Then the Windy Creek Band welcomed the marchers back with a wonderful song as Meadow Gold popsicles was distributed to the dry mouthed participates. After a prayer by Dr. Dennis Briggs, the co chair of ACLC, and blessing by Crow Nation Elder Rabbit Knows Gun, an amazing barbeque donated by State Van IGA was shared with all, including Coca Cola products also generously donated.
We were entertained by the Windy Creed Band plus a local second generation ensemble playing Chariots of Fire. The gathering was then even more energized by words from the representatives of our U.S. Senate office One person stated, "Drugs are undermining our families and destroying the lives of our youth; your commitment to this event is not only commendable but vital!" A U.S. Congress field representative stated, "This is an opportunity to gather and with a collective voice demonstrate our concern about drugs and violence."
During the event, a free drawing was held for a road bycicle donated by a local taskforce. Then, with many months of preparation, our art contest concluded as part of the event, with over 65 individual participants. Winners were awarded gift certificates from Target in four age categories and one People's Choice category. All received free tee shirts with the march's logo. It was a clear day and we were blessed with wonderful weather. The county commission closed our event again this year by encouraging all those who attended to keep up the good work.
We had some great media coverage, with interviews on FOX, ABC and NBC local affiliates. The regional paper, the Billings Gazette did a great job as well. In fact, one local grocery store placed a free ad on the march in their weekly mailing. We felt that the entire community was responding to the seriousness of these issues and the importance of this event.
The next day, Sunday, June 10, 2007, the Billings Gazette printed a photo of the event that painted a thousand words. Five second generation young ladies were pictured leading the march, displaying the official banner of the march. The article commented, "A long line of marchers walked the streets of downtown Billings Saturday during the 10th Annual March Against Drugs and Violence."
Fulfilling this successful event required nine months of preparation and commitment. Meeting once or twice a month, sending out fundraising letters, gaining commitment, and planning helped bind a diverse group people and organizations together. It also allowed for others to see the sincere dedication and commitment that ACLC has to the community.
We are discovering that drugs and violence are real issues in our community. The vision of Father and Mother Moon is clear that we must roll up our sleeves and help our community not only in word but in deed. The hard work of so many groups plus our local families including the DiLorenzos, Martins, Woods, Johnsons and our home church members really made this event such a great success.
The guidance and support of our District and our District leader, Rev. Larry Krishnek, are a major key in allowing the freedom and trust necessary for the local community's ability to work are able and willing. We pray such evil drugs as meth and other drugs and the related violence that is destroying our families and community will be eliminated completely and that the kingdom will come soon.