| | | | |
| --- | --- | --- | --- |
| | The Words of the Yakawich Family | | |

Pastor Mike Yakawich Teaches Intensive Course
Gillian Corcoran
January 23, 2007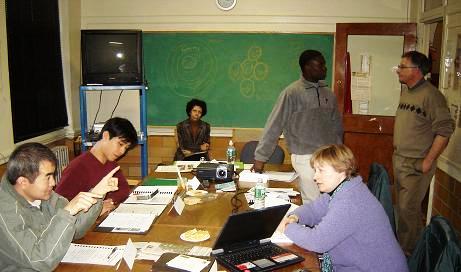 The best 'in classroom' experience I've had yet at UTS" enthused Ritz Yamamoto about Pastor Mike's class, The Dynamics of Local Church Leadership."I realize so much is about building relationships." Another student added, "Your class was inspirational, providing a ministerial model case for the American Church."
From January 7th - 12th Pastor Mike shared with students the "nuts and bolts" of running a local church, sharing personal insights and testimonies from his experience in Billings, Montana. Topics included working with the media, serving the needs of the community, family and marriage counseling and connecting with local politicians.
From January 7th - 12th, 2007, a thought provoking intensive, "The Dynamics of Church Leadership" was offered at UTS by Pastor Mike Yakawich (UTS '87). The real "nuts and bolts" of running a church in a local area were explored. Students discovered how exciting, inspiring and fulfilling being a pastor can be.
Pastor Mike shared about various aspects of ministry that are pertinent to a faith leader in any community. He discussed in detail how to work with local media, including developing a TV program, getting press releases into the local newspaper and advertising with local radio stations. He pointed out that the media is our friend.
Other topics included how to develop a sincere relationship with state and national political leaders from the local community. He emphasized the value of head wing ideology -- the willingness and ability to work with all political parties in a given community. He cited his local anti drug work as a good example of both working cooperatively with politicians and the media. In addition, he showed that such community activities build teamwork, cooperation and credibility.
The presentations also included ways to adapt ministry to business and how Pastor Mike has made many breakthroughs with his business contacts. He has both married and buried many of them. He has developed close friendships, taken some friends to the Blessing and has gained sincere support from these men and women for his ministry. Some have attended his church over the years.
Pastor Mike also explored family counseling and the techniques he uses for his local couples class. A pastor or any church leader at times will be called upon to help couples in need. He explained that having some tools is better than no tools at all and that the local Christian Book Store is a great source for such materials.
Discussions took place for one and a half hours at the end of each day. They were broad and deep, drawing upon the life experiences of those attending. The presence of the Holy Spirit was felt as the tears and tribulations of ministry were shared. As well as currently enrolled students, others from Virginia and Georgia were in attendance, along with staff from UTS, making the entire experience very rich. In concluding the intensive, Pastor Mike emphasized:
The importance of keeping our ministry simple and focused. The need for a facility as a place for fellowship, worship and education which must be well taken care of. Building credibility by serving the needs of the community in cooperation with other key players in the community, and Finding joy in all of this.
Some participant reflections:
"I have a renewed hope in my mission on earth, and in what we can accomplish in our lives. It was refreshing to take this course, truly like a glass of water from God for a wilting plant. My creativity has been sparked, and I can see how to make my own life more fulfilling, as well as the lives of my wife, children and neighbors. I have a new determination to aggressively attack any despair or struggle that may cross my path. I'm re-evaluating my life now, and seeing my past ministry with new eyes. It was the best course I've taken at UTS."
"Your class was inspirational providing a ministerial model case for the American Church."
"I will keep in mind your lessons, 'Do not give up until the end, break through the hardships, and keep loving."

Download entire page and pages related to it in ZIP format

Table of Contents

Information

Tparents Home