| | | | |
| --- | --- | --- | --- |
| | The Words of the Yakawich Family | | |

"A Community Celebration of Life" Annual September 11th Memorial Service 2006
Mike Yakawich and Paul DiLorenzo
September 11, 2006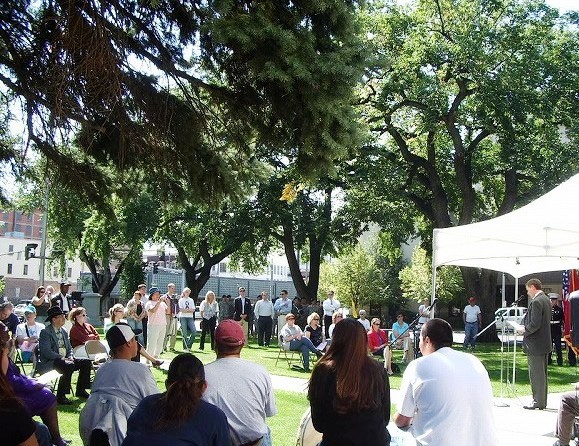 On Monday, September 11th, 2006, the 5th Annual September 11th Memorial Service was conducted at the Yellowstone County Courthouse Lawn in Billings, Montana, at Noon. There were over 150 people who participated in this annual event, co-sponsored by the American Clergy Leadership Conference of Montana, the All Nations Christian Fellowship Church, the Marine League Corps Honor Guard, the Family Church, the Chapel of the Diamond Heart, and the American Family Coalition. Many other community organizations and leaders all made this event very successful.
In the weeks leading up to this event, a variety of groups, churches and organizations pledged their support. The Marine Corps Honor Guard, who has consistently supported this event each year, was the first to step up to encourage this event to keep taking place. One World War II veteran, former Junior Vice Commandant Bill Van Wieren, was so inspired and honored to be included in this annual event and coordinated his team of about ten Marines. Also attending was a delegation of twenty soldiers from the National Guard 163rd Infantry unit who just arrived back from Iraq.
As our event began, we had a wonderful bagpipe melody by Greg Holt. We then had the presentation of colors by four members of the Marine Corps Honor Guard. They then led in the Pledge of Allegiance and there was a prayer by Chaplain Doolittle. The Native American Four Dance Youth Drummers played flag honoring songs on their ceremonial drum. The entire program was prayerful and uplifting as we remembered all those affected by the Sept.11, 2001 tragedy, reflected, reconciled and made new determinations to move forward. It was indeed a celebration of life!
The mayor submitted a letter in advance to be read at the program by Paul DiLorenzo. Our mayor shared,
"As you gather today to remember and pray about September 11th, 2001, let this anniversary strengthen our faith, our patriotism and our commitment to loving and caring for each other at all times but especially when we see others in needÖLet us resolve to treat one another with respect and love as advocated by all faiths."
Our ACLC ministers came out in full force. Evangelist Eunice Terry and Dr. Dennis Briggs were key organizers and supporters of this event. They both offered some very inspirational prayers throughout the program. The All Nations Christian Fellowship Church choir sang a wonderful song "You Got To Move" that brought tears to our eyes. The ACLC leadership carried the day.
An exceptional highlight of this yearís program was to have our U.S. congressman be our keynote speaker. It was a great honor to have our congressman in person present some inspirational words of his experiences being in Washington D.C. on September 11th, 2001. Building upon the spirit of a need for more love to address the evils of this world, Pastor Mike was able to read part of the speech "Godís Ideal Family and the Kingdom of the Peaceful, Ideal World." We truly felt the presence of the Holy Spirit and deeply connected to the Universal Peace Federation world tour.
Chaplain Major of the U.S. Corps of Chaplains, Mark McManus, shared deeply of his feelings and love for this country. He really moved the hearts of many in the audience. After he concluded, to add to the spirit, we listened to "Amazing Grace" on the bagpipes.
Our county commissioner did an excellent job in leading all in the Lordís Prayer and compassionate words of healing and reconciliation. He said, "That day drew Americans together and what we saw was community."
It was indeed a wonderful sight to see our ACLC ministers sitting with the congressman, county commissioner, representatives from the Senate along with other chaplains, U.S. Marines and the Native American youth drummers. It was a great coalition of races, cultures, religions and political affiliations, bound by a love for our country.
We had the New Life Church pastor Lester Hall offer closing prayer. Then, the Marine Corps offered music with two trumpeters on different ends of the park performing "Echo Taps". Meanwhile, some of the youth, led by five year old Anna DiLorenzo, released red, white and blue balloons into the air symbolizing all of us sending our prayers to heaven for all victims of 9-11. Then everyone mingled and talked as homemade cookies and refreshments were enjoyed. The weather was great and the spiritual atmosphere very high.
The spirit was very high. Derald Thiessen, Yukiko Yakawich and Kimiko DiLorenzo worked very hard behind the scenes setting up chairs, tables, canopy and refreshments for all those in attendance. One mom, Junko Thiessen, even baked ten dozen cookies plus cupcakes for this event. They were vital support for this eventís success. We felt the healing love of God, Lord Jesus and our True Family in our gathering, and we are so grateful for Rev. Larry Krishnek's and Rev. Gerhard Wiesingerís prayers, guidance and support of this annual event.

Download entire page and pages related to it in ZIP format

Table of Contents

Information

Tparents Home