| | | | |
| --- | --- | --- | --- |
| | The Words of the Yakawich Family | | |

Seattle Claims Victory as Finale of 13-City North America Blessing Tour"
Mike Yakawich and Mary Anglin
May 10 , 2006
Seattle, WA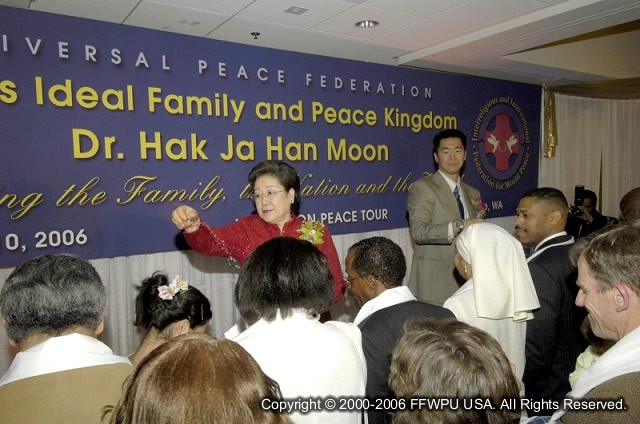 A number of challenges presented themselves to Seattle members of the Unification Community as we prepared to host True Mother and Hyun Jin Nim on their whirlwind 180-city Blessing Tour.
First of all; venue. A location was secured, but it was not suitable for the final city in North America. Checking and re-checking every possible venue in the metro area, we found a second possible location. Still not perfect, it was at least better. But just before finalizing that location, our Regional Director, Rev. Hun Suk Lee, determined that we must search again for a site more befitting of such an event. Finally, the perfect location, number 3, was found with less than a week to prepare.
Our preparations began again with the need to re-contact all those invited with the new location. Our members contacted our hoped-for guests again and again with encouragement and excitement.
Just a few days into our work, we were informed of a second conference, "Business Leaders for Peace," to be organized and hosted in Seattle concurrent to Mother's event. Undeterred, we moved forward.
And yet again a final challenge; the evening of our event coincided with events of two exceedingly popular world-renowned figures: Bishop Desmond Tutu and author Maya Angelou both spoke in Seattle that same evening.
When the doors to our event opened that evening, the hall was quickly filled to capacity with 1,000 guests. It was a blessing to see the excitement of the guests as they rushed into the Doubletree Hotel in Bellevue, Washington. It was stunning to see cultures and religions from all over the world represented. Filipino community leaders were dressed in their traditional national dress. Somali community leaders were in attendance. Leaders from the local Samoan community were represented, as well as Hmong leadership. Other participants included retired naval personnel as well as religious leaders from Christian, Muslim and Buddhist faiths. Relatives and friends also joined the crowd.
Ms. Bonnie Berry emceed the pre-program that consisted of The Herd Family Dancers, Sun Hak International Choir, and Ambassadors for Peace appointments.
Several Somali community leaders who received Ambassador for Peace appointments shared their sincere desire to work more closely with the IIFWPU and form a delegation to go to Somalia as a Peace Task Group. Smiling broadly at the conclusion of the program, they shared, "Our country has been at war many years, but now we have hope. Through Dr. Moon's talk we gained hope in the future of peace in this world. Dr. Moon is really making a sincere effort to help bring peace that is so desperately needed all over, as well as in our country of Somalia."
Two retired navy personnel were recipients of the Ambassador for Peace Awards. One was exceptionally recognized for being one of the few survivors of the Pearl Harbor attack during World War II. One naval recipient was interviewed by the local radio station. When asked what he thought about this function, he proudly stated, "This is a very good event. More people should do such activities in their community." When asked what the Ambassador for Peace Appointment meant to him, he explained, "It is a recognition that we all should be good citizens for our community. We should do such things as vote, be patriots for our country, and help our neighbors when they need help."
Some Christian clergy who in the past had been invited to many events but could not respond attended this time. One of these ministers, Rev. J.O., commented, "I was at first skeptical of such an event and was not sure whether to attend or not. However, now that I am here, I truly feel the love of Jesus and am blessed to have come with my wife. Mrs. Moon's speech was quite resounding on the family, with God and peace for all of mankind. Dr. Hyun Jin Moon spoke with such inspiration and power in his words. As for the Blessing, we truly feel blessed. We have never experienced such unity with such a wide variety of people."
Another bishop made so much effort to attend that she brought her three grandchildren that were in her care. She was determined to be there with her family. She too went on the stage with her husband for the personal Blessing from Dr. Moon. They expressed that they were so moved by the high spirit in the audience, the quality of the program and that so many people attended and stayed for the entire event.
A Filipino couple who have been married for 60 years were so grateful to be included on stage with the Blessing program. One of them commented, "Now I understand more deeply what true love really means after listening to Dr. Moon's talk."
Several other comments from participants were:
From a Christian evangelist: "Mrs. Moon's speech was incredible, and Dr. Hyun Jin Moon's speech was so deep. The Blessing was so beautiful! I want to participate in the next big Blessing in Korea."
Bishop Scott from Portland Oregon: "Mrs. Moon's speech was peaceful and fantastic." And referring to Hyun Jin Nim, "That young man done real good!!' Further: "The blessing was supernatural!"
Reverend Silversity of Seattle: "This was a new challenge to all of us, to act at this time in history. We need to act and internalize the message to make it into a reality. The young Moon is the voice of the time - as a model to the young, and as an energizer to the old." She continued, "The Blessing is putting universal peace into action. This program was energizing and I could feel the beauty and harmony of God with every one of his children present."
Ms. Castillo, who attended with her woman's group, had this to say: "Both Mrs. Moon and Dr. Hyun Jin Moon's speech were awesome, exceptional, Godly and much more, much, much more! The Blessing was amazing and Godly!! This program was awakening. I am in Seventh Heaven and so is everyone in our group."
Each member of the outreach team expressed that they felt this is a new age. As they reached out to invite their guests, the response was overwhelmingly positive. Especially among those outreaching to the Christian clergy, they expressed that they strongly felt the presence of Jesus and the Holy Spirit. Many times while being visited, the pastors were moved to tears in their sharing.
Many brothers and sisters invested to make this program a success. The strong unity of the regional and state leadership was evident, allowing Heaven to work. As always, we thank Rev. and Mrs. Lee for their superb example of faith and determination.

Download entire page and pages related to it in ZIP format

Table of Contents

Information

Tparents Home