| | | | |
| --- | --- | --- | --- |
| | The Words of the Yakawich Family | | |

"The Spiritual and Religious Solutions to Drugs in Our Community"
Mike Yakawich
May 10, 2006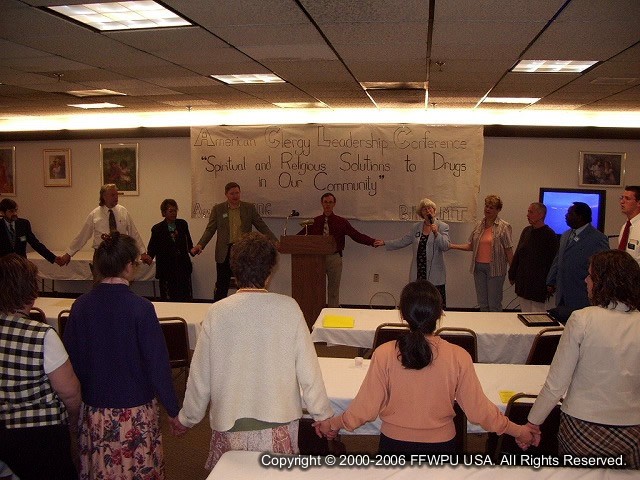 On Saturday, April 29th, the American Clergy Leadership Conference (ACLC) of Montana hosted their 3rd Annual ACLC Conference at the War Bonnet Inn located in Billings, Montana with an overwhelming turnout of 80 participants.
This event was developed by and coordinated with the leadership of the local ACLC Montana Board. Through several discussions over their monthly prayer breakfasts, the membership was inspired to develop a conference on the serious issues of drugs in our community. Their ideas and hard work led to this very inspiring conference.
Our goals were to bring together spiritually based leaders who are working on the issues of drugs in our community, provide a forum for their ideas and insight to be shared, to then through other participants and other ways as through the media share this knowledge with the community and maintain a hope that more goodness and more of a positive change on this issue can occur in our community. It was clear from the beginning of the conference that it has always been the desire of Father Moon to restore this nation through healthy families where there is no drug abuse and social ills are addressed.
Several churches participated in this event including the All Nations Christian Fellowship Church, the Chapel of the Diamond Heart, members of the Catholic Church, Unity Church, Community Christ Church, the Church of the Latter Day Saints and the Family Church. Also, several key leaders in the field of drug counseling and therapy helped develop this very comprehensive program.
Welcoming remarks were made by Pastor Mike Yakawich, who acknowledged Rev. and Mrs. Moon as the inspiration behind his work and the work of the American Clergy Leadership Conference. Rev. Dr. Vernon Johnson, pastor of the All Nations, opened the program with prayer and encouraging words. Rabbit Knows Gun, a spiritual leader of the Crow Native American Nation, offered the traditional blessing of "smudging," burning cedar and sending a prayer to all participants. It was great to see the audience of Native American, African American, Asian, Hispanic and Caucasian together for a common determination to build a better community.
James Laramee, a local therapist, opened the main part of the program by painting a very real and dramatic picture of the problem of drugs in our community. "Meth" is a very serious and devastating drug that has especially impacted many rural areas. He then went on to prepare the atmosphere with the hope that those speaking would provide new insights and information to deal with drugs from a religious and spiritual perspective.
We then heard personal, heart wrenching stories of how drugs have touched the lives of parents and families in our community. Rev. Ruland and Minister Terry set the tone of seriousness as well as a message of hope.
From this came insights through Evangelist Eunice Terry, who gave the Biblical perspective of solutions. Adam Mallack, the leader of Eastern Montana Islam, then shared profound insights from the Koran on this topic.
As Father Moon would state, we are a family. We are to learn from each other. This is exactly the nature of this conference and what happened. The Holy Spirit filled our hearts as so many people participated in this daylong program including community leadership from political, business, cultural, religious and service organizations. A representative from the Montana, U.S. Congress office attended. Over fourteen L.D.S. elders attended; some stayed for part of the program but many stayed for entire day.
Our lunch program began with a Blessing of Holy Juice lead by Pastor Mike and his wife, Yukiko. The explanation of the value of healing our lineage and our community through the Blessing struck home for many as a solution to healing the family and keeping drugs out of the lineage. Two other guest speakers and their wives, Mr. and Mrs. Laramee and Mr. and Mrs. Minn, stood in front representing all the 80 participants. Then a prayer was given by Elder Andrews of the Latter Day Saints. Then, Naomi Yakawich provided a rich melody from her flute with music called "Tarantelle". The spiritual atmosphere was getting higher.
Our keynote speakers for lunch included Jerri Lynn Nelson, who, along with four other colleagues, had some fascinating, "cutting edge" research about acupuncture, bio-feedback, and other holistic areas for solutions to this problem.
The afternoon speakers included Professor Kemmerer from the university, who shared about the value of understanding world religions, having compassion, and its key role in solving drug problems through love.
Counselors Christa Phillips, Andria Minn and Chris Minn introduced thought-provoking research on emotion and mental techniques (the art of tapping your body to remove negative and addictive behavior), Christian counseling and other holistic approaches.
Jerri Tate, a family counselor and longtime ACLC member, brought the program to a wonderful conclusion. She included a great wrap-up and a vision for where we as ACLC will be going. She invited all to participate in this summer's 9th Annual March Against Drugs and Violence, which the Montana ACLC had co founded many years ago. It began with several youth and a couple of pastors and last year involved about 300 people. She invited all to become members of the ACLC movement.
Other members of ACLC, including Dr. Briggs, who worked very hard to make this program a success, gave a wonderful testimony. He said a week before when he was at his own church conference; his leadership was very inspired by his efforts in working with ACLC and doing ecumenical work. At that meeting they asked him to give his testimony. One of his bishops was so inspired that he traveled over four hours to be with us at this conference.
Another speaker mentioned in an e-mail prior to the event, "I am very clear that Rev. Moon's church is behind the planning and organization of this conference and I am honored to be involved." At a public meeting when Pastor Mike was introducing this conference, a local city council person stated, "This group (ACLC) has been working on serious social issues like drugs and violence when it was not so popular to take a stand. I commend what they are doing."
We had some great coverage on the local TV stations and in the Gazette, Outpost and City Magazine. The radio did a great job in getting the word out about our conference. One local NBC affiliate interviewed James Laramee and Pastor Mike on their station. We were so inspired by such great media coverage.
We are indeed very grateful for the many who participated. We were touched by the donations and free will offering given at the door that other churches and groups made to support the rental of the conference room and the food catered for the breakfast and luncheon. It was indeed a team effort. Donated door prizes were also a big hit and well received.
Those who worked behind the scenes were the pillars of our success. Mr. Chad Martin who did the AV and documentation of the program, did a great job. Mrs. Yukiko Yakawich, Mrs. Patricia Laramee, Mrs. Kimiko DiLorenzo, and Mrs. Junko Thiessen provided great assistance from registration tables to food and refreshment set up. We are indebted to all of them.
Finally, our Regional Leader, Bishop Lee, Vice Regional director Rev. Wiesinger and ACLC regional coordinator Rev. Anglin were very instrumental in providing guidance, wisdom and spiritual support. Their trust and faith in our work in Montana has inspired and encouraged us. The spirit of Jesus and the Holy Spirit was definitely present. Certainly, God so desires that we resolve the evil forces and consequences of drugs in our community. Father Moon so often states that we are the one's to take responsibility and leadership for morality and virtue in our community. His example inspired us on this special occasion and we are indeed very grateful for such brilliant leadership of heart and deed he and his wife exemplify.

Download entire page and pages related to it in ZIP format

Table of Contents

Information

Tparents Home