| | |
| --- | --- |
| | The Words of the Winings Family |
Winter 2012 D. Min. Classes Meet in Barrytown
Kathy Winings
March 1, 2012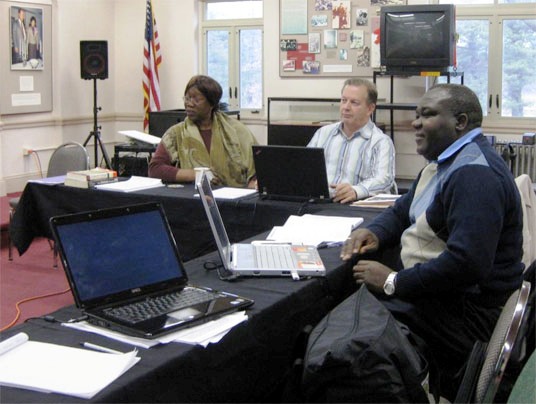 As February rolled around, UTS began preparations for the Doctor of Ministry Spring Intensive. As an intensive experience, the DMin. students spend a challenging but exciting eight hours in class, Monday to Friday, for two weeks. For this year's Spring Intensive, the students were able to choose from four exciting and dynamic courses. The range of courses dealt with "Challenges and Issues of the Emerging Family in the Global Community" (Dr. Roderick McLean), "Issues and Needs of Ecumenical and Interfaith Relations in the Postmodern Culture" (Dr. Michael Balcomb), "Ministry Amidst Diverse Lifestyles" (Dr. Jacob David), and "Faith, Spirituality and Social Justice in the Global Market" (Dr. Kathy Winings). Each of these courses raised issues and valuable insights that assist each of the doctoral students be more effective in their particular ministries.
Students came to Barrytown having read and prepared assignments that had been sent to them three months in advance. The conversations, guest speakers, case studies and concerns presented in each class not only challenged our doctoral students but energized them as they sought to develop deeper insights that they will be able to apply when they leave campus. Students also participated in diverse research courses that will propel them to the finish line and graduation.
Students always remark that though the Intensive seems long as they arrive on campus, the time goes by so quickly that they wonder where the time went as they are packing their bags and preparing to return home. The unique point about the Spring Intensive is that for one group of students, it is their final Intensive while for the others, it is their second Intensive experience, placing them at the halfway point in their coursework. So some students leave the Intensive with mixed emotions because they have completed their coursework and some students are excited and looking forward to the next Intensive in August.
If you are interested in learning more about the Doctor of Ministry program at UTS, please contact Dr. Winings.