| | |
| --- | --- |
| | The Words of the Winings Family |
UTS Grants First Doctor of Ministry Degree To Michael Balcomb
Kathy Winings
May 2009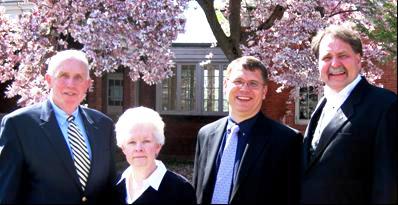 Dr. Balcomb at UTS, flanked by his Dissertation Defense Committee. From left: Dr. Mike Lenaghan, Dr. Kathy Winings, Dr. Michael Balcomb, and Dr. Mark Isaacs.
This is an historic and memorable graduation for UTS. It is historic because the seminary is awarding its very first Doctor of Ministry degree to Mr. Michael Balcomb. Just three short years ago in 2006, UTS was granted permission by New York State Education Department to add the D.Min. degree to its list of graduate programs after a year long effort of hard work. Ten years before, the founders of UTS first expressed their hope that the seminary would one day offer the D.Min. degree. The first step toward that dream was to hire a director who would then design the right program for UTS. Dr. Kathy Winings was hired and she began studying the range of D.Min. programs until settling on the current design.
The seminary then waited a few years while the Extension Center was created and allowed to grow and become a strong stable campus. By May 2005, the Board of Trustees realized that it was time return to the idea of opening a doctoral program. Working throughout the next academic year, Dr. Winings finalized the design of the D.Min., created a site team of representatives of other seminaries, and ushered the new program through the state accrediting process. After receiving approval in June 2006, UTS began taking applications for its first historic class. That first year, the seminary accepted 12 students into the program. Thus began Michael Balcomb's journey.
The seminary is now taking in its 4th entering class. The students in the program represent a wide variety of ministries from pastoral ministry to non-profit ministries and U.N.-based ministries. The UTS D.Min. program is designed with the busy student in mind, utilizing the two-week Intensive system whereby students come to Barrytown for just two weeks twice a year for a period of two years. The rest of their work is completed at home and submitted electronically. A central feature of the degree work is that the students are challenged to continually apply what they are learning to their current ministries, with assignments focused on their real ministry work. After they complete their coursework, they are then tasked with completing a dissertation project that addresses a real issue within their ministries.
Michael Balcomb works with Universal Peace Federation focusing on the International Leadership Conferences. He focused on an evaluation of the effectiveness of the ILC program in his dissertation project and was able to offer some amazing suggestions to improve the ILC teaching and learning effectiveness.
When asked about his experience in the D.Min., Michael said: "It has been a great privilege to be part of the first Doctor of Ministry class here at UTS. Everything about this program seemed guided by God. The intensive classes were thought provoking, Dean Winings and the faculty were helpful and encouraging, and meeting with colleagues in ministry from so many backgrounds was a real plus. Completing the dissertation was a struggle, but as soon as it was done, I felt both prepared and motivated to develop a powerful new educational ministry."
When the D.Min. was first created, everyone at UTS was excited about the possibilities. Three short years later, there are doctoral candidates working on an amazing range of ministry topics that address leadership challenges in Nigeria, developing strong family-based ministries in the Democratic Republic of Congo, effective youth ministry in the Family Federation, looking at the spirituality of teaching in an afterschool program, and character education needs of older teens and college-aged students.
It has been a long road for the seminary, but one that is beginning to bear tremendous fruit. Each graduate of the program will not only leave with great skills and a new marketability in these economic times, but with a deeper sense of competency in their chosen ministries and a greater understanding and appreciation of their own spirituality and relationship with God. It is the stuff of dreams. As Michael expressed it, "It was especially motivating to know that Rev. Moon had called for UTS to establish a doctoral program many years ago, and to have the opportunity to help make that dream come true." Are you ready to make your dream come true?