| | |
| --- | --- |
| | The Words of the Williams Family |
My Messiah (What a Guy!)
Eileen Williams
August 1, 2010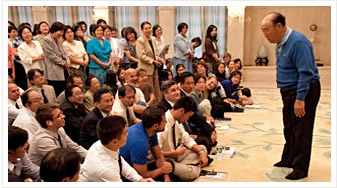 The following is a testimony of attending Hoon Dok Hae with True Father at East Garden contributed by Eileen Williams, from Bridgeport, CT on August 1, 2010.
Sitting in the second row at Hoon Dok Hae today, I certainly had a wonderful opportunity to view Father up close and personal as they say. Some of us have been thinking that he might not be as dynamic and energetic as he was in the old days and, boy, were we wrong. Father sits at the end of his seat as if surveying the entire room with his spiritual eyes like a leopard. And I was sitting within striking distance of him. His physical eyes, quite small as he describes them in his autobiography (p. 8), glint and dart and seem to miss nothing. At age 92 I saw no hint of glasses or poor vision or hunched back, only legs that sometimes move stiffly, but then so do mine after 5 hours of sitting!
In the course of 4 hours his facial muscles worked relentlessly; perhaps, making up for all of the pacing he used to do. From twitches, tongue protrusions, rolling eyes and those hands -- he gesticulates non-stop -- counting various objects over and over as he is wont to do. You know, fingers in all of their pieces and facial parts and, well even other body parts, all fit in with the master design. He describes this sort of bodily function minutiae over and over like the engineering student he once was who is still so enthralled with the Master planner. To him it is so obvious; the design of the human being, even down to the eyeball, points to the existence of a Supreme Being.
He imitates, cajoles, wheedles and prods us into action, which is, I admit a little more low-key than the early days of striking the air with a fist, but he is no less serious. Every so often his speech is punctuated by a blast -- "do you understand?" he barks in Korean. We all wake up, "Yes," knowing that often, while feeling his heart, we are struggling to grasp his content.
Serious, but no less funny; hasn't he always encapsulated all the aspects of a perfect man? We have seen him sing, laugh, cavort, dance, and -- most profoundly -- fill the room with his tears during prayer. No one else does that like Father. Not Billy Graham, not the Dalai Lama, not anyone demonstrates that direct link to the original parent as True Father does. In his presence we know that God is real, God is personal; He cries, He laughs and He is gravely worried about the world we live in.
The Hoon Dok Hae crowd was (quietly) begging for more after he sidled over to two of our wonderful (but slightly bearded and disheveled) second generation and knocked their heads together. He led the Japanese sisters in a lovely song about a grandmother's flower as mother took the opportunity to beat a hasty retreat. I was chuckling over Father's, bemused, "Where's mother?" look. This longing for True Mother, who sometimes exits stage left, seems to be a constant refrain at Hoon Dok Hae.
As he cajoled women, the second generation, and George Bush (no one escapes his fatherly ridicule) I was reminded of the time in the 1970s when he bopped me on the head during a speech as he was talking about American women and how independent they were (only he did not put it that diplomatically). More than 30 years later he is still at it; making us think, take stock of our values, reflect on our purpose and first and foremost, and (what maybe hardest to do) put God first.
I know from taking care of my dad during his final days, who was the same age as True Father, that there are certain unmistakable characteristics of the elderly: my dad had to have his Dove chocolate bar everyday and I often had to clean off his chin; however, he could out-lawyer any one to the day he died… no less brain power there. And Father, although, somewhat slowed (he does sit in a chair more than he used to) can still out-Messiah the best of them… Reminding us that he is the one and only "King of Kings."
And who could not love an everyday Messiah whose favorite meal is McDonald's? (Autobiography p. 333)
At age 92, he's still my Messiah and I am so happy to still have him around. Father, forgive me, but you're just so cute and vibrant and strong and amazingly awesome. What a Messiah. What a guy! No doubt, he's the "real deal."