| | |
| --- | --- |
| | The Words of the Ward Family |
Professors' Divine Principle Seminars
Julia Fish Ward
September 1982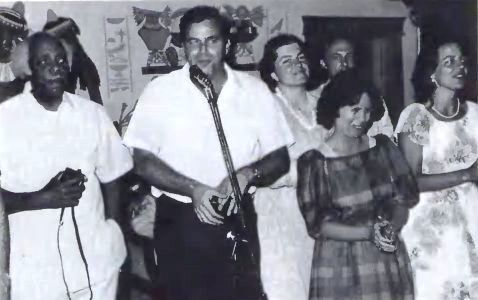 Mr. Salonen and Unification Church members sing a song for the participants.
During the summer of 1982 under the sponsorship of the International Cultural Foundation, the Divine Principle was introduced to 250 academics from over 60 nations. Some of them had been to one or more ICUS Conferences.
The seminars were held around the world beginning with Lima, Peru -- July 14-21; continuing on to Manila, Philippines -- July 22-29; Cairo, Egypt -- Aug. 8-15; and Montego Bay, Jamaica -- Aug. 18-25. The summer was highlighted by many sincere expressions of support through the signing of associate membership forms by almost fifty percent of the participants. It is the desire of our True Parents to cultivate a core of intellectuals who can work together to solve the problems of the world centered on God's will.
From our own life course we understand that God must guide us through certain experiences in order to deepen our hearts and open our minds in preparation to receive the True Parents. Regardless of position or capabilities in order to receive what God has to say, each person must walk a course of preparation. Through the summer seminars we have a chance to meet and work with many of these people who were so carefully prepared by God. In many ways it seems to me that it is Father's own generation who were actually those first intended by God to work with Him in restoring the world. So as a result, I cannot help but think that it is really our generation's responsibility to reach back, through these ICF conferences, to those older scientists and scholars and pull them into the providence. Through these people, I can see their preparation through the wars, and terrible times which my own generation has never experienced.
Manila
Our staff arrived early at each seminar to help with the preparations. The first morning in Manila, while having breakfast, the medical professor from Bangladesh came over and joined our table. Warm and friendly, he asked about each of our responsibilities, expressing his appreciation for being invited to the seminar. I asked him what he had come to know about us so far.
He began by explaining that he had been captured by the Pakistani Army several years ago during an invasion of Bangladesh. He was thrown into a concentration camp where hard work and torture were the basics of life. He soon came to realize that the psychological burden was much greater than the physical one, and he knew he had to win an internal victory over his circumstances. He decided not to be bitter or resentful and to make good relationships with the prison guards. He was able to win their hearts and, in expressing their concern for him, they made certain he received the least torture. The guards expressed the agony they felt in their hearts over the terrible situation of the war, yet unable to rise to do anything about it. After six months of imprisonment everyone was set free.
In the course of resuming his life he came to know our church in Bangladesh. From the missionary he received many books about Divine Principle and Father's life. He was quickly able to appreciate Father's determination and strength of character because of his own experiences.
As a doctor he is particularly interested in the unity of mind and body and the growth and health of man's spirit. Having already begun to invite professors to his home to share and study the Principle, the full week of the seminar helped him to deepen his commitment and desire to work with us.
During the final evening Mr. Neil Salonen asked church members world-wide to come up and sing a few songs for all the guests. Toward the end of the singing I noticed that the doctor was standing with us, swaying to the tune of "Tongil."
Cairo
In Cairo I met a lovely woman from Turkey who was attending the seminar with her husband, both as participants. I learned that she had been living in England with her children for several years while her husband resided in Turkey. As we became friends she shared that she had taken her two sons to England to complete their education. I asked if there was a problem with education in Turkey. She said that it was actually quite good, but that terrorism had become very active in Turkey four years ago, especially in the schools. One day a friend of her elder son was killed during a class. She went with her children to England and began working in journalism, writing and teaching. It is not possible to take currency out of Turkey so she needed to work in England to support their education.
Toward the end of the week she gave me a lovely necklace and bracelet made of marchiam, a native stone of Turkey, expressing how pleased she was to meet young people with our commitment and dedication, and how she hoped our movement could develop its foundation in Turkey quickly.
From our experiences this summer we have many things to be grateful for. We wish our True Parents could have been there for they alone should receive the gratitude, the stirring of hearts, and the awakening of hope that so many of our guests experienced from all over the
Father's purpose is to teach academia. If the decision-makers, the great minds of the world can begin to understand God's ideal and God's will then together we can change the world.