| | |
| --- | --- |
| | The Words of the Walsh Family |
A Day for Peace in Kenya
Thomas G. Walsh
March 18, 2008
Secretary General, UPF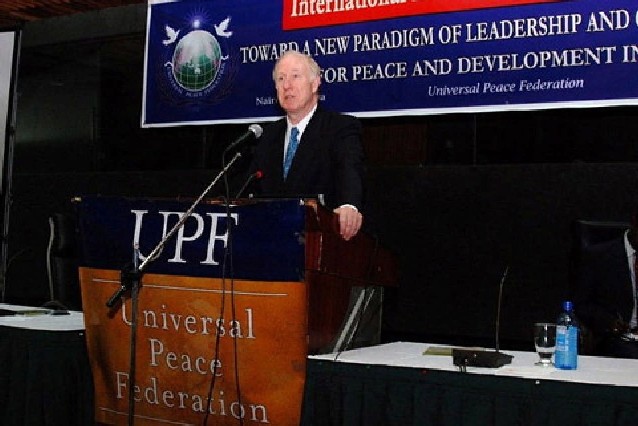 As part of its ongoing series of International Leadership Conferences on the theme, "Toward a New Paradigm of Leadership and Good Governance for Peace and Development," UPF-Africa convened a group of 800 participants from Kenya at the Kenyatta International Conference Center in Nairobi to consider how the core vision, principles, and programs of UPF might contribute to a resolution of the recent crisis in Kenya. Presenters included Dr. Thomas G. Walsh, Secretary General of UPF International; Rev. Mwalagho Kililo, Secretary General of UPF-Africa; Dr. Hee Sun Ji, Chairman of UPF-Kenya; Mr. Insu Choi, Director of Field Operations, Youth Federation for World Peace International; Dr. Manu Chandaria, Trustee, Mahatma Gandhi Foundation of Kenya; and, most notably, Mr. Martin Luther King III, Chairman of Realizing the Dream.
It so happened that the ILC, co-sponsored by Kenyan Veterans for Peace and with support from local corporations, was convened on the very day when the Kenyan parliament was in session with the specific purpose to bring an end to the political impasse and civil unrest that had plagued the country since the disputed presidential election of December 27, 2007. A solution, worked out in consultation with former UN Secretary-General Kofi Annan, called for the establishment of a power-sharing structure. Thus, in addition to the President and Vice President, there would now be a Prime Minister and two Deputy Prime Ministers. The "reconciliation legislation" passed, and President Mwai Kibaki's challenger, Hon. Raila Odinga, was appointed Prime Minister Designate on March 18.
UPF's Secretary General met with Prime Minister Designate Raila Odinga and Mrs. Ida Odinga, who have been actively involved in the work of UPF over the past few years. UPF applauded their great efforts for peace and Hon. Odinga's decision to agree to the compromise that brought about a return of stability and peace to Kenya. In conversation with several parliamentarians, Dr. Walsh and Rev. Kililo reported a spirit of great hope and resolve to work for a bright and peaceful future for Kenya.
The ILC proved to be stimulating and uplifting. Dr. Chandaria spoke about Mahatma Gandhi, the inspiration for the emergence of Nairobi University. In honor of the presence of Mr. Martin Luther King III, he underscored the influence of Gandhi on the great non-violent civil rights leadership of Dr. Martin Luther King, Jr.
In Mr. King's 45 minute message to the ILC, he spoke often of the non-violent legacy of his father and mother and the ideal of a "beloved community" of peace. As Chairman of Realizing the Dream, Inc., Mr. King had come to Kenya to offer support and encouragement and to learn as much as he could about the current situation and explore ways in which Realizing the Dream could be a partner for peace. Dr. King asked all of the nearly 1000 listeners at the ILC to become Ambassadors for Peace. He said, "Sometimes we must take positions not because they are politic or popular, but because they are right." He added that we should learn to "lead with love," and spoke passionately about the need for an interfaith vision and of the need to turn dreams into reality. King praised the decision by President Kibaki and Hon. Odinga to form a coalition, power-sharing government.
UPF-Africa and UPF-Kenya in particular are developing in substantial and very encouraging ways. Moreover, the International Leadership Conferences continue to be a major force for peace leadership and good governance.