| | | | |
| --- | --- | --- | --- |
| | The Words of the Walsh Family | | |

God's Ideal Family and Peace Kingdom - Dr. Hak Ja Han Moon - Blessing the Family, the Nation and the World
Thomas Walsh
June 30, 2006
Amman, Jordan
"Joyful Dancing in Jordan"
From a report by Dr. Thomas Walsh, edited by Joy Pople and Louise Strait.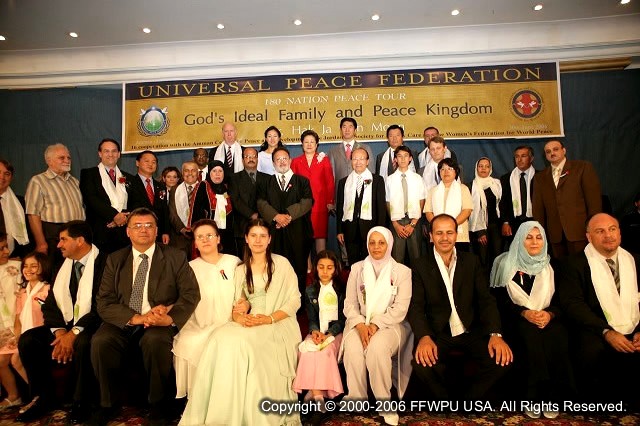 Mother and Kook Jin Nim arrived in Jordan on June 30 after a 20-minute flight from Tel Aviv to Amman. They were welcomed at the airport by Dr. Hamdi Murad, General Mansour Abu Rashid, Mr. Taj Hamad and other Ambassadors for Peace from Jordan.
The main event was set for 700 as a banquet at the Radisson Hotel. There was some concern that such a large hall could be filled. The event was attended by 800 attentive and appreciative people from throughout Jordan, some standing throughout, with leaders like Mr. David Fraser Harris, Mr. Hod Ben Zwi and Mr. Jin Man Kwak giving up their seats and standing so others could sit. Mr. Hamad served as emcee, speaking throughout in Arabic. He guided the program charmingly and effectively, creating a wonderful atmosphere, artfully balancing lightheartedness with deep seriousness.
Dr. Murad introduced the holy juice ceremony, and Mr. Hamad offered the prayer. Sheikh Taysir Tamimi, head of the Sharia Court of Palestine, gave the invocation, and Mrs. Haifa al Bashir gave the welcome remarks, expressing her great respect for the work and accomplishments of Father and Mother Moon and the Universal Peace Federation.
Both Kook Jin Nim and Mother spoke powerfully and confidently, communicating Godís message with true love power and a warm-hearted, heavenly confidence.
The prayer for the blessing of marriage was joyfully celebrated, and many leaders and Ambassadors for Peace gathered on the stage for the closing photo and three cheers.
Following the main program, there was a banquet with entertainment from a traditional Jordanian Bedouin group. Everyone sang and danced together. There was a very joyful feeling as people stayed on until late in the evening eating, talking, and enjoying one anotherís company.
This was a great victory for the Jordanian and the entire Middle East Region of UPF. Leaders gathered from throughout the region, centering on Dr. Sang Jin Lee and Mr. Harris. Through the growing confidence and fond-heartedness toward Father and Mother Moon by Ambassadors for Peace, there is a sense of a breakthrough, thaw, and springtime arising in the Middle East. It is the fruit of the pioneering leaders in this region, the sacrificial Japanese volunteers, people with a special calling to these nations, and the consistent and growing impact of the Middle East Peace Initiative.


Download entire page and pages related to it in ZIP format


Table of Contents


Copyright Information


Tparents Home