| | | | |
| --- | --- | --- | --- |
| | The Words of the Walsh Family | | |

Lebanon: As Knowledge and Light Grow Brighter, Ignorance is Diminished
Thomas G. Walsh
June 27, 2006
UPF Secretary General
Beirut, Lebanon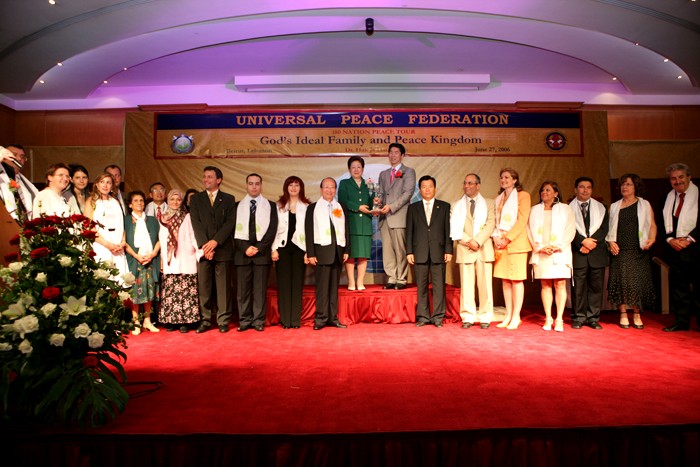 Mother Moon and Kook Jin Moon arrived in Beirut, Lebanon, June 27 and were welcomed at the airport by many Ambassadors for Peace and other UPF leaders in Lebanon. These included diplomats and professors along with Dr. and Mrs. Sang Jin Lee, Mr. and Mrs. Thomas Schellen, and Japanese representatives.
Several people visited the memorial for former Prime Minister Rafik Hariri, who was killed by a car bomb in 2005. They laid an origami wreath at his grave.
The main event was held in a beautiful hall, with 500 people in the audience. The stage design and organization of the program were excellent. Congratulatory remarks were given by a former ambassador and a sheikh. The audience included many distinguished leaders, including several members of parliament, a military commander and key religious leaders. Kook Jin Moon delivered his speech with great dignity.
The program ended with a prayer for blessing in marriage and three cheers of celebration. It was followed by dinner and entertainment that included the audience joining in dancing. It was a joyful evening.
The following morning people offered reflections on the evening's event. "In Lebanon, people love beauty and ideals, and they like to follow a good leader. Mother Moon really moved everyone's hearts," one person commented. A Druze leader expressed appreciation for the words that were spoken and commented, "As knowledge and light grow brighter, ignorance is diminished." An artist offered Mother Moon a special gift that she had made.
In response, Mother Moon commented: "The content of the message is like a textbook for living. This is a providential springtime, when our original mind can guide our paths. This nation has experienced many difficulties, on the political and economic levels. We came not to deal with external issues but to address the root problem facing humanity and to bring humanity back to God. We cannot experience love, joy and happiness all alone; we experience it in reciprocal relationships. Multiply the blessing you received yesterday and expand the realm of blessing so God can really feel at home in this nation."
A journalist based in Lebanon, Thomas Schellen described some of the unique points of this multicultural nation. For example, English is the language of business, French the language of politics, and Arabic the language of general communication.
Mother Moon reflected on the scope of the people and cultures she has encountered on her recent travels: "I have traveled to Korea, Japan, America, Asia, Eurasia, and now the Middle East. I passed through so many countries with different backgrounds and different religious traditions, from Hinduism to Christianity to Islam. The religions of the world were prepared by God. They have become like quarreling siblings, waiting for the parents to come. Now is the time for religions to welcome true parents. I have seen Ambassadors for Peace who are inspired to contribute everything they have to this work. This message has been carried from the highest area, in Nepal, to the sea level in places such as the Philippines."


Download entire page and pages related to it in ZIP format


Table of Contents


Copyright Information


Tparents Home