| | | | |
| --- | --- | --- | --- |
| | The Words of the Walsh Family | | |

120 Nation Tour - Estonia
Thomas Walsh
June 23-24
Tallin, Estonia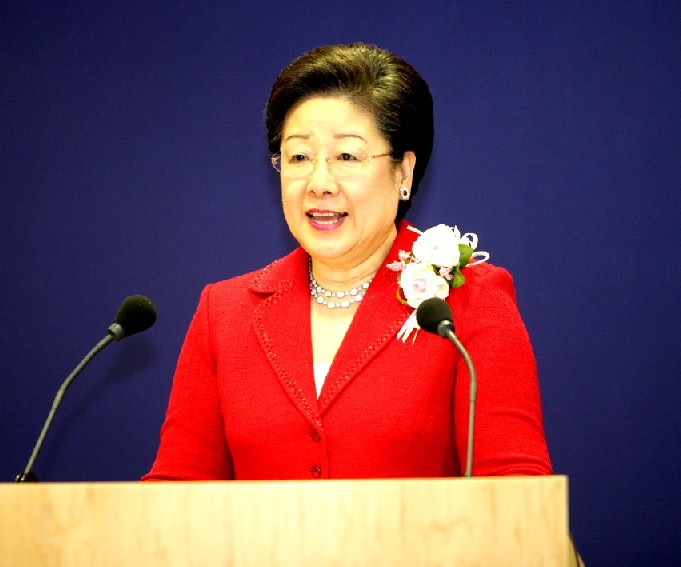 True Mother and Hyun Jin Nim traveled from Baku, Azerbaijan, on the Caspian Sea to Tallinn, Estonia, on the Baltic Sea in Northwestern Europe. Estonia is a former Soviet Republic that is now a member of the EU. June 23nd, the day of our arrival, is also the National Victory Day, commemorating independence.
The Main Event was held a 4 PM in the Reval Hotel Conference Center. The conference Hall was filled 30 minutes prior to the opening, with approximately 500 in attendance, including many Ambassadors for Peace and many university students. Dr. Reet Pool gave the opening remarks on behalf of Ambassadors for Peace. A letter of congratulations was read from former Prime Minister Toome. A local football team that had participated in the International Peace Sports Festival was in attendance. A delegation including the three generations of the Hassinen family from Helsinki, Finland, crossed the Baltic by ferry to attend the event,.
The entire event was organized beautifully. Dr. Seuk asked Akiro Nakamura to take central responsibility to manage the program. The national messiah families, including Mr. and Mrs. Hinterleitner and Rev. and Mrs. Lee, along with many brothers and sisters, and handsome and beautiful second generation contributed to the success.
Following the Main Event there was a reception. At that time, I went around greeting people and speaking to them about their experience. There were so many young students who are very inspired by the message and the entire event. Their faces were shining. These were not members of ourcsecond generation but university students, some of whom had come from 100-200 km away and who had not previously been to any of our events. All those I spoke to were so grateful. Also, remember that this was on a day that most all Estonians are out having parties and celebrations, on this, the main secular holiday of the nation.
Later that evening, Korea played Switzerland in the World Cup, and everyone watched and cheered along with True Mother and Hyun Jin Nim. The following morning, True Mother spoke from her heart. "Every day is a great new day. Every day you should wake up with a heart of gratitude, bursting with a desire to share this great blessing. As I travel the world, I see many people who have been so touched and whose life has been transformed. When people come to understand, they will come alive. Even a three-year-old child can distinguish between fresh fruit and rotten fruit. How about you?" She encouraged her audience to spread the message that she and her family have been giving each night throughout the nation and region.
People sang songs from Estonia, Finland and Russia. Then Hyun Jin commented: "Here and in Russia the culture has Viking roots. It is time for all races, religions, nationalities to become one. Hitler wanted to create a pure Aryan race, and he killed so many who were not of his race and ideology, including Jews, Gypsies, Russians, etc. Also, the USSR tried to unite everyone but by force. We have to create one world by the power of true love." People were seated among friends of their own nationality, and he asked them to stand up and exchange places. "This is better," he added. "This is the time to bring everyone together, beyond race, religion, nationality." Then he sang.
At breakfast, Dr. Seuk described the enthusiastic response of those who attended the previous day's event. Some who were shy about coming to the stage for the blessing prayer had a very deep experience once they overcame their reluctance.
Mother recalled one memory many years ago when their family was at Chung Pyung Lake and Father wanted to go out on a boat even in the stormy weather. However, the boat could not hold everyone, and Father asked for a volunteer to remain. Hyun Jin Nim, then a small child, volunteered. Hyun Jin described his fond memories of being with his brothers Heung Jin and Kook Jin on that occasion. He mentioned learning a popular song of that time, "Nimkwanhamke," on the theme of being together with one's beloved.
Hyun Jin then talked about making a life full of rich memories. Growing up in America, for example, he was not so interested in soccer because he played the popular American sports. However, because of Father, he has become more and more interested in soccer. Father has been watching every game of the World Cup series, in addition to listening to transmission of the speeches given by Mother and their son each night. Some times he is up all night, because of the different time zones.
Mother mentioned the Sun Moon Peace Cup for women, to be played this October in Korea, featuring the USA team and the other leading women's teams, including a team from North Korea. She encouraged those present to fill their lives with many exciting memories to cherish and share.


Download entire page and pages related to it in ZIP format


Table of Contents


Copyright Information


Tparents Home