| | | | |
| --- | --- | --- | --- |
| | The Words of the Walsh Family | | |

Comforting Mothers' Hearts in the Philippines
Thomas G. Walsh
May 28, 2006
UPF Secretary General
Manila, Philippines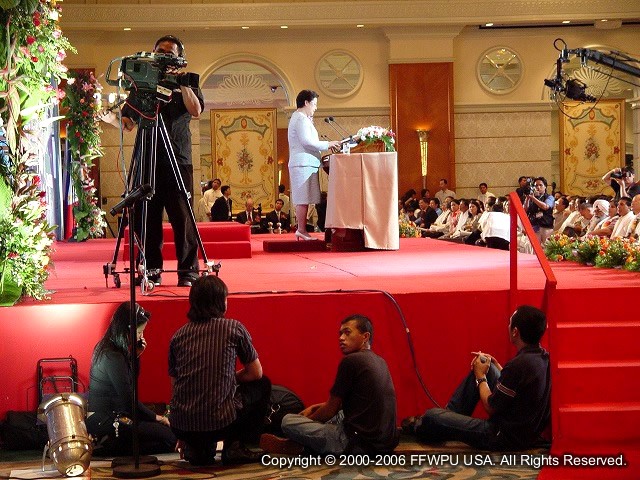 The Philippines was the first nation on the Peace Tour following events in USA, Canada and Japan. On May 28, Mrs. Hak Ja Han Moon and her son Hyun Jin Moon were welcomed royally in Manila, Philippines, with a military marching band and red carpet. That afternoon they paid a visit, with local Service for Peace leaders and Mr. Massimo Trombin, to the site of a new building under construction for a new NGO founded by Mrs. Jose de Venecia, wife of the Philippines Speaker of the House. Dedicated to the care of grieving mothers who lost their children, the INA Foundation (Inang Naulila sa Anak) provide psychosocial support, helping them move on from a place of grief to a place of hope, empowering them to reach out to others" On behalf of UPF, a financial contribution was given to the INA.
Later that day, the main event was attended by about 4,000 participants, with 100 Ambassadors for Peace appointments. In attendance were senators, congressmen, governors, mayors, and heads of city councils. The Philippines is a nation where more than half the population are under 25 years of age.
The following morning Mother Moon talked with some of the people who were present the night before: "Those who live and share this message will receive life and give life to others. Those who do not will dry up. You never know when the realm of the heart will open up in someone. In children sometimes it is difficult, but at some point, even to your surprise the spark will ignite. You need to know God's heart and be deeply connected to God's heart. God is not some reality 'out there' separate from you. You need to take this message to heart. The almighty God is in so much misery, in reality. This is a special time, a time of grace and blessing. Minds are being opened. Hearts are being opened and moved."
Dr. Thomas Walsh commented: "I wasn't sure, going in to this tour, of what to expect, and was concerned that I could get myself up to a level where I could be a real contributor. I didn't have to feign a sense of unworthiness; I felt it wholly, naturally, logically. However, this first event leaves me kind of stunned and awakened and awestruck ... and grateful. There really is a great power at work through True Mother, through True Family, through the mother and son relationship, centered on the Father. What's going on is big, and I am too small to comprehend or communicate it, but it's large, powerful, hopeful, revolutionary, and so very natural, ordinary, original, pure and good."


Download entire page and pages related to it in ZIP format


Table of Contents


Copyright Information


Tparents Home