| | | | |
| --- | --- | --- | --- |
| | The Words of the Walsh Family | | |

Sun Myung Moon in Santa Domingo, Dominican Republic
Thomas Walsh
December 19, 2005
Secretary General IIFWP/UPF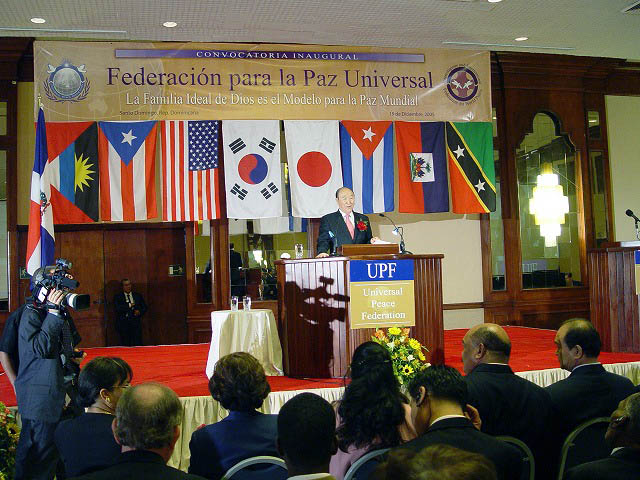 Both the Dominican Republic and Santa Domingo are named after St. Dominic, who founded the religious order known as the Order of Preachers, or Dominicans, the most famous of whom was St. Thomas Aquinas.
Dr. and Mrs. Moon were met at the airport by Senator Ramon Alburquerque, and received an invitation to visit President Leonel Fernandez in the Presidential offices. However, due to the busy schedule of the afternoon they had to send their regrets.
The main event began at 6:30 PM. The hall at the Fiesta Hotel was completely packed with approximately 1300 guests. The event was very well organized, and the audience was spirited and attentive throughout Father Moonís speech.
Rev. Cesar Regalado was emcee. Senora Diana Contreras offered an introduction to the Founderís life and history of accomplishment. Senator Ramon Alburquerque made a special presentation to Father and Mother Moon, and also received the leadership and good governance award.
"I wish I could speak only beautiful things to you today," said Dr. Moon, "But we cannot sweep the truth under the carpet. Somebody has to tell you this news. That is the mission I have. I knew that incredible persecution, hostility and opposition would come.
In the future, instead of me giving this message, I want presidents of the nation to give this message to the people. Perhaps at the end of this tour I will meet with the President of the USA. If so, I will present the same message that I am presenting to you today."


Download entire page and pages related to it in ZIP format


Table of Contents


Copyright Information


Tparents Home