| | | | |
| --- | --- | --- | --- |
| | The Words of the Walsh Family | | |

Colombian Ambassadors for Peace asked to Work with World Leaders
Thomas Walsh
December 16, 2005
Secretary General IIFWP/UPF
Bogota, Colombia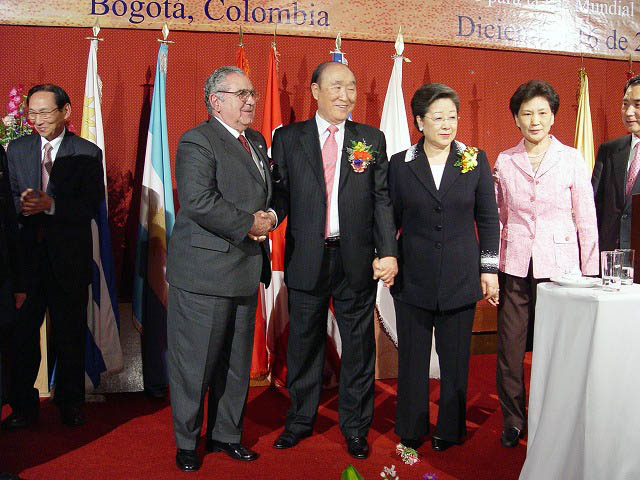 Dr. and Mrs. Moon arrived in Colombia on a beautiful day at about 10:30 AM, for once in good time for the evening event, which was to begin at 6:30 PM.
The Secretary General of IIFWP North America, Antonio Betancourt, served as emcee in welcoming the party to his homeland. There was an invocation, followed by a special chant, prayer and ceremony for peace and protection led by Native American leaders, and a group of local chiefs and elders from Colombia.
Following a performance of traditional Colombian music, there was the World Peace Blessing and Marriage Re-dedication ceremony. Welcome remarks were delivered by Dr. Guillermo Reyes, a Chief Justice of the Supreme Court, and a leading Ambassador for Peace. A letter of welcome from President Alvaro Uribe Velez was also read out.
Father Moon spoke from about 7:30, and ended a few moments before midnight. "I did not come here tonight for my own benefit," he said. "This is the 97th city. I am risking my life each day on this tour. You need to read this speech and study it intensively before you try to make a judgment."
"If the world had listened to me earlier, we could have avoided so much pain and suffering," he said. "Now leaders who opposed me in the past come to me, their heads bowed, and offer to help. If you are called to help, do not hold anything in reserve.
"Ambassadors for Peace should go out. You are not beggars. Go to the leaders of this world. Tell them about the ideal of the Universal Peace Federation. One strategy of the Abel UN is to work on the national level to create unity of Cain and Abel. No matter what position you have, as president, cardinal, scholar, do not stand in the way of the providence. This is the final stage in the history of restoration. More and more our influence will expand, and we will undo all the knots of history. This is the great final moment!


Download entire page and pages related to it in ZIP format


Table of Contents


Copyright Information


Tparents Home