| | | | |
| --- | --- | --- | --- |
| | The Words of the Walsh Family | | |

Family Focus in Ecuador Visit
Thomas Walsh
December 16, 2005
Secretary General IIFWP/UPF
Quito, Ecuador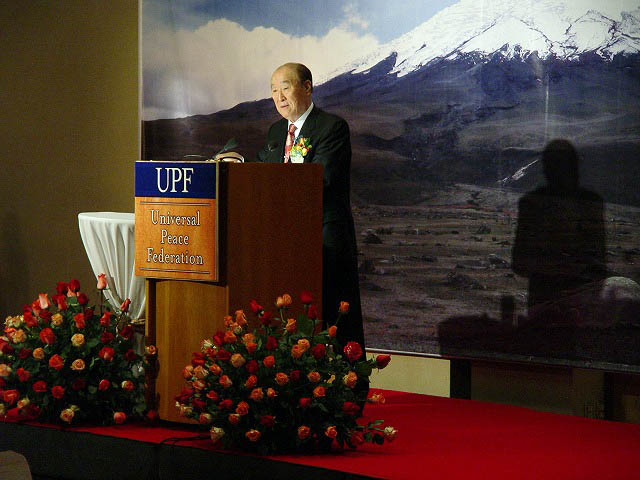 Dr. and Mrs. Moon arrived in Quito at about 2 PM. A late departure from Lima was unavoidable due to the weather, leaving little time to prepare for the main event; so everyone moved quickly to their areas of responsibility.
"As a child I wanted to know the root of sin and evil in the world," Father Moon said, during his 3-hour speech, "I have so many secrets of heaven I want to communicate, and so many secrets that evil used to dominate. But I follow the principle of heaven. I'm not afraid of anyone."
"60,000 people are dying of starvation each day, and nearly half are children," he said, "But the UN is not able to solve the problem. If God could find even 5 righteous nations, he could restore the UN. In fact, I wanted to build the Abel UN 50 years ago, but there was too much persecution at that time. We need the Abel UN and a world filled with Abel-hearted people. And we will create a good relationship with the United Nations."
The following morning, Father Moon returned to a second main theme of the tour: the creation of the ideal family that is the model for peace.
The foundation of the country is the family. Having brothers and sisters in a family is so important. Having older and younger, like north and south. All the laws of the universe are within the family. All the laws of love are in the family, and following the laws of love is the way to peace.
Loving and respecting grandparents is like loving and respecting God. We learn to love God within the family, within the couple. We have different directions in the family; this means grandparents, husband and wife, children are all in different positions. Love comes from the person we love. We cannot experience love by ourselves. That is why love requires respect, loyalty, moral obligations, which we cannot violate, toward our parents, toward our spouse, etc.


Download entire page and pages related to it in ZIP format


Table of Contents


Copyright Information


Tparents Home