| | | | |
| --- | --- | --- | --- |
| | The Words of the Walsh Family | | |

Enthusiastic Crowd Fills Rebouças Convention Center to Capacity at Brazil Event
Thomas Walsh
December 13, 2005
Secretary General IIFWP/UPF
Sao Paulo, Brazil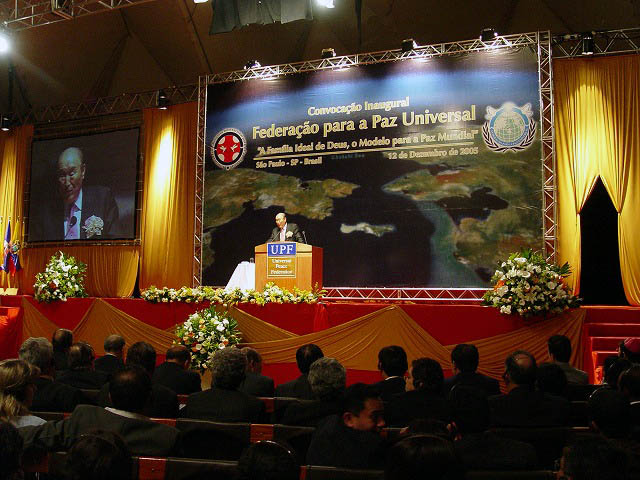 Dr. and Mrs. Moon arrived in Sao Paulo on December 12, and went straight to the Brazil Headquarters building, where hundreds of members and volunteers welcomed them upon their long awaited return to Brazil. A very large six story building, the headquarters includes a large sanctuary, guest rooms, offices, smaller meeting rooms, etc.
The main event was held at the city's Rebouças Convention Center, about 40 minutes from the headquarters. The hall was filled to its 2,500 capacity with a most enthusiastic crowd who welcomed Father and Mother Moon with the kind of thunderous, rousing ovation normally reserved for when the Brazilian national soccer team score a goal.
The program was energetic from the beginning, with a 100-voice choir singing Handel's Messiah and a warm letter of welcome from Brazilian President Luiz Inacio Lula da Silva. Marco Polo Naru, a Deputy Minister of State and a key figure in soccer for Brazil welcomed Father and Mother Moon.
In keeping with earlier cities in South America, Father Moon occasionally departed from the text to speak candidly about some of the difficulties of his mission. "My course has not been easy," he said, "Even my mother and father opposed me. My entire nation opposed me."
I asked God, 'Am I doing something wrong?, and God said 'No, you are not doing something wrong.' God does not solve problems by eliminating the opponent," Father Moon said, "The main point of building peace is to love your enemies more than you love your own children."


Download entire page and pages related to it in ZIP format


Table of Contents


Copyright Information


Tparents Home