| | | | |
| --- | --- | --- | --- |
| | The Words of the Walsh Family | | |

Event in the "Paris" of South America, Buenos Aires
Thomas Walsh
December 11, 2005
Secretary General IIFWP/UPF
Buenos Aires, Argentina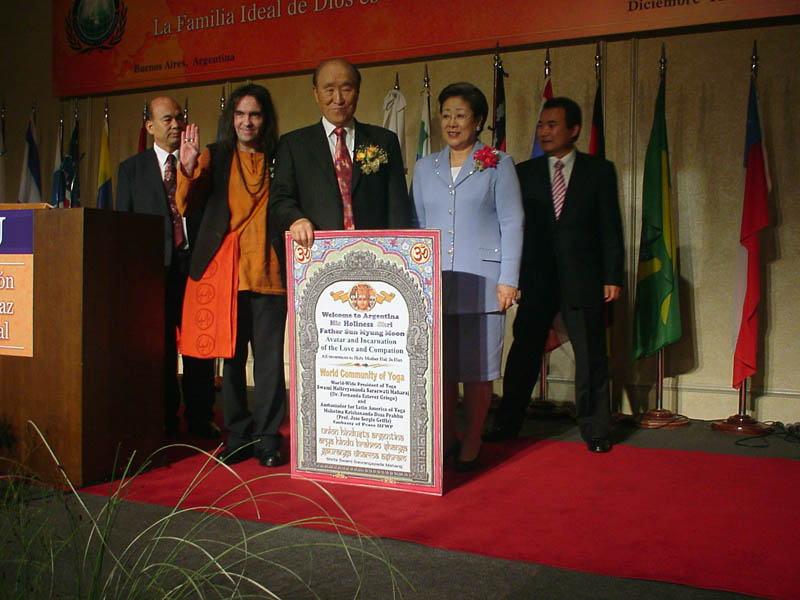 Dr. and Mrs. Moon arrived in Buenos Aires, Argentina about 1 PM, the 93rd city on the 120 city tour, after a short 25 minute flight from Montevideo. It was a beautiful day to arrive in a beautiful city, sometimes referred to as "the Paris of South America." Though it is winter in Paris, France, itís early summer in the Southern Hemisphere. The city is alive, and trees, flowers and people are all in bloom.
The event took place in the Libertador Hall room at the Sheraton Hotel. With a packed and enthusiastic audience of more than 1200, attendees arrived in time for the opening at 5 PM. The pre-program included traditional folk music from Argentina, and a video on the work and mission of Ambassadors For Peace. The environment was enlivened by the "Misa Criolla", interpreted by the choir of the University of La Matanza and Aguas Argentinas, and the duet of Juan Bautista Bertorello and Lucas De Bruno, who traveled from all the way from Cordoba in the center of the country to grace the occasion.
The welcoming address was given by Dr. Jesus Blasnik, President of IIFWP Argentina, who reviewed the significance and accomplishments of Father Moon. Mr. Jorge Alberto Giorno received the Leadership and Good Government medal for his work in the Budget Commission of the city of Buenos Aires Legislation. More than a hundred distinguished citizens were appointed Ambassadors for Peace, people working in many different areas.
One noted example is Juan Carlos Blumberg, an engineer who has great fame in Argentina because of his public protagonism after the tragic death of his son, leading him to create a civil movement demanding more security and protection for youth.
The Argentine government was represented by the Hon Mr. Julio Rubén Ledesma, who presented Dr. & Mrs. Moon with a plaque simply engraved "To the Kings of Peace Ö recognizing a life dedicated to the permanent fight to bring true love between human beings."
Mahatma Sergio Griffa, Hindu leader of Latin America and Ambassador for Peace, offered a stirring interreligious prayer service together with Protestant Bishop Ruben Contreras, praying for Father Moon as "the last chosen one of these times, and an incarnation of love and divine compassion".
The event was covered in the national media. La Nación, one of the most important newspapers adopted a positive tone, describing Father and Mother Moonís entrance and welcome and pointing out some highlights of the speech.
"He started reading, almost without lifting his face up or adding anything, about true love, filial piety, the beginning of human conflict, with Cain and Abel," La Nación reported, "until the first applauses started as he said that the time has come to launch a Abel Type United Nations, that will establish its course according to Godís will."
Departing from his prepared remarks, Dr. Moon recalled an amusing incident from his first visit to Argentina, more than 30 years ago. "I remember looking for a camera. I bought one, but then the camera broke, and I took it to get it fixed," he said. "They said they could fix it in one day, but when I came to pick it up, it wasnít ready and the repair man wasnít around anymore!"
The audience responded warmly as Father Moon shared candidly about the challenges of his mission. "It is not that I am better than everyone else, or that I have no defects," he said. "I simply made a great determination to attend God, and became close to God. My commitment has been greater than others. Even I may have defects, I donít care so much, as long as I am completely connected to God. God came to trust me."


Download entire page and pages related to it in ZIP format


Table of Contents


Copyright Information


Tparents Home