| | | | |
| --- | --- | --- | --- |
| | The Words of the Walsh Family | | |

The Start of the South American Tour - Uruguay
Thomas Walsh
December 10, 2005
Secretary General IIFWP/UPF
Montevideo, Uruguay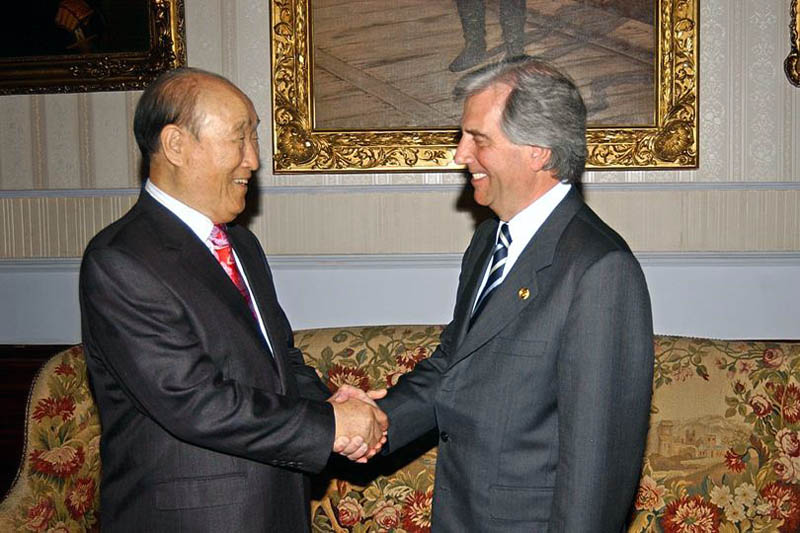 Photo Caption: The President of Uruguay, Dr. Tabare Vazquez, welcomes Rev. Moon.
After flying for about 18 hours from Auckland, including a refueling stop in French Polynesia, Dr. & Mrs. Moon arrived in Montevideo at 1 PM on December 9. The party moved quickly to the Victoria Plaza (Radisson) hotel located in the city center. About 300 people gathered to welcome the party, including 50 young volunteers who journeyed from Chile. The Victoria Plaza Hotel was acquired, expanded and remodeled to become the finest hotel in Uruguay and the largest building in the center of Montevideo.
The Peace Embassy in Uruguay is also one of the finest anywhere. It is a former Presidential Residence, located in the best neighborhood of the city where many other embassies are located. In fact, the building also once served as the Argentine Embassy and the grounds are a botanical garden. It is extremely beautiful and very well maintained.
That afternoon, Father and Mother Moon met with the President of Uruguay, Dr. Tabare Vazquez, a practicing oncologist, at the presidential office just across the main city plaza from the hotel. Dr. Moon advised the president that the most important task that president needs to do is to learn Godís will and then train all his people. In that way he can transform the nation through education in Godís truth. Father Moon also asked President Tabare to support the Abel UN. It wasnít all business, though, with the two men sharing a love of fishing, and Ė of course in South America Ė soccer.
Interestingly, soon after meeting the President, Father and Mother Moon met up with former President Sanguinetti who has been a friend for many years. Sanguinetti is in opposition to the current President, but when Father Moon spoke encouraged him to no longer think in terms of enemies. He too promised to promote education and to support the Abel UN.
The Inaugural Event was held in the ballroom of the Victoria Plaza. Outside in the lobby there were many literature displays with materials from Tiempos del Mundo, Family Federation and IIFWP, including newspapers, newsletters, brochures, pamphlets, etc. The welcoming address was given by Dr. Rafael Addiego, a former president and long-time Chief Justice of Uruguay.
In his speech, Dr. Moon reminded the audience of the urgency of peace. "Time waits for no one," he said. "I didnít say this so strongly in Europe, but I am saying it here. In the next eight years we have to accomplish what would normally take hundreds of or even a thousand years.


Download entire page and pages related to it in ZIP format


Table of Contents


Copyright Information


Tparents Home