| | | | |
| --- | --- | --- | --- |
| | The Words of the Walsh Family | | |

Prime Minister Kemakeza Welcomes UPF to The Solomon Islands
Thomas Walsh
December 5, 2005
Secretary General IIFWP/UPF
Honiara, Solomon Islands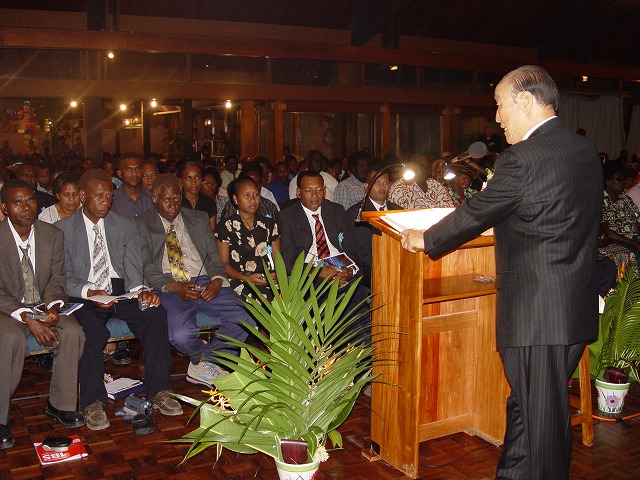 We have moved from Micronesia (Palau, Marshalls, Federated States of Micronesia) to Melanesia (Papua New Guinea, Solomonís Vanuatu.) The third region of Oceania is Polynesia [Tonga, Samoa, Kiribati, Cook Islands, and Tahiti)
Rev. Paul Saver, IIFWP leader of the Melanesian Region of Oceania, gave us a brief history of the region. The Spanish explorer Álvaro de Mendeña de Neira who "discovered" these islands also found gold and gave them name "Solomon Islands" to indicate that perhaps it was here that King Solomon got all his gold.
The country has about 500,000 population, 99% Christian, and about 800 islands. A famous WW II battle took place in the bay of Guadalcanal, where many Japanese, Americans and Australians died. The waters off Honiara are called "Iron Bottom Sound" because about 70-80 major warships were sunk in those waters. As many as 80,000 died.
Hon. Allan Kemakeza, Prime Minister of The Solomon Islands The Emcee for the main event was Mr. Francis Kairi, former education secretary. The Hon. Allan Kemakeza, Prime Minister, was the guest of honor. He delivered a wonderful address generously acknowledging Fatherís for peace both internationally and locally. He expressed great appreciation for the opportunities for Solomon Islands leaders to attend international conferences.
In his speech, Dr. Moon took time to explain that in Godís view, it matters little whether a nation is rich or poor in a particular moment. "If you can understand the suffering heart of God, you are much better off than those who live an affluent life," he said. "Only through heart and love will leadership be determined in the future. I propose that Solomon Islands, centering on your Prime Minister, become Godís champion nation!"
"I have been called by God to take this message to every corner of the world. I didnít come here to sell anything, but to introduce the message of God. I heard you paid something to come here tonight, but even if you paid tens of thousands of dollars, it is worth every cent.
"The world is wide open, and the opportunity for you is wide open," he said. "The will of God is clear. Do you think I am going to sit still? The Abel UN is now being established and will transform this world. What effort we put in will bear fruit. We have to solve all the major problems of the world.
This nation of Solomon Islands may restore Godís sovereignty one day. But I donít just look at Solomon Islands, but at all the nations of Oceania. You have to build one nation, to keep the Pacific Ocean in tact and to keep your youth in tact. If you donít do it, your future is not clear. So every region of the world should contribute to world peace. I am dealing not only with islands nation, but peninsula nations and continental nations, to create one nation under God. "
Turning to Prime Minister Kemakeza, Dr. Moon said "Do you want to take the lead and build Godís kingdom and transform this nation and this region and support Bering Strait project. Yes or No?" When the first Ďyesí was not loud enough, Father Moon repeated loudly "Yes or No?" and the Prime Minister entered into the spirit of things with a loud "Yes." Father Moon walked over to him and shook his hand saying, "We became friends."


Download entire page and pages related to it in ZIP format


Table of Contents


Copyright Information


Tparents Home