| | | | |
| --- | --- | --- | --- |
| | The Words of the Walsh Family | | |

Volunteers Make Malaysia Event a Success
Thomas Walsh
November 27, 2005
Secretary General IIFWP/UPF
Kuala Lumpur, Malaysia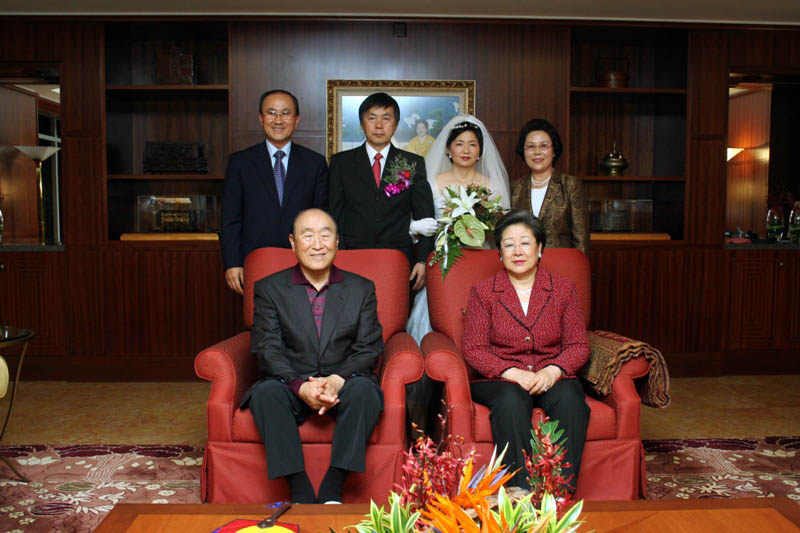 Lim Jin Woo and Ms. Yukari Okamura (back center)
Dr. and Mrs. Moon arrived in the capital city of Malaysia, Kuala Lumpur on 26 November 2005 at about noon at the Subang airport. They were given a royal traditional Malay welcome with the beating of hand held drums (Kompang) accompanied by ladies dressed in traditional Malay, Chinese and Indian costumes yielding betel quid set (tepak sireh). Four VIPs representing all three major races of Malaysia welcomed Father and Mother Moon with garlands of orchids.
After a welcome at their presidential suite in the Mandarin Oriental Hotel, everyone moved into preparation mode as the pre-program event began at 2:30pm. An hour earlier there was an education program for new Ambassadors for Peace, their installation, and a VIP reception.
By the time the main program began at 3 PM the hall was filled with 2000 guests. The main event took place in the Plenary Hall of the newly built Kuala Lumpur Convention Cente
The preparation and organization of the event was first rate. Weeks before the event, the organizing committee was set up mainly consisting of Ambassadors for Peace. The organizing chairman was Tan Sri Datuk Paduka Dr. Hajjah Saleha Haji Mohamed Ali (fondly called as "Nenek" or grandmother). The Senior Vice-Chairman was Tan Sri Datin Paduka Seri Hjh Zaleha Ismail. Weekly meetings were held to update and generate ideas on making the event a true success. The spirit of the Ambassadors for Peace was amazing as they committed themselves to make this event memorable. The secretary general, Dr. Teh Su Thye ensured that all preparations were monitored well. Many came forth to volunteer their time and financial support for this event. The German national representative, Mr. Walter arrived days before the event to offer spiritual and financial support. A special mention needs to be made for the Japanese volunteers who had offered financial support for this event. Among those who attended: Mr. Tomaru, Mrs. Yuki Uchida, Mrs. Goto, Mrs. Eiko Seki, Mrs. Mayumi Shibuya, Mrs. Michiko Asahina and Mrs. Chihiro arrived in Kuala Lumpur days before the event to help with the preparations.
Petronas Twin towers Father and Mother Moon's suite was directly overlooking the 88-storey Petronas Twin towers (once the world's tallest building) sky bridge that linked the two buildings at the 41st & 42nd floors.
One of the towers was built by a Korean company and the other by a Japanese company, and our organising chairman (Nenek) was instrumental in the planning of building these towers.
Mr. Lim Jin Woo and Ms. Yukari Okamura (back center) Interestingly, symbolic of the bridge that links the 'two towers', there was an exchange marriage Blessing on the 26th night immediately after the victorious inaugural convocation. The couple blessed was Mr. Lim Jin Woo, a Korean now living in Sri Lanka, and Ms. Yukari Okamura, a former police woman and martial artist with a 5th degree Kendo black belt. They had a special Blessing in the Presidential Suite in the presence of Father and Mother Moon, conducted by Rev. Kwak. The couple was very happy. It was like a family wedding with songs and dancing.
Tan Sri Bernard Dompok, Minister in the Prime Minster's department graced the event and welcomed Dr. and Mrs. Moon on behalf of the Malaysian government. In his speech he praised Father Moon and the UPF's work for peace, citing many examples of his efforts for peace in many areas including the Middle East Peace Initiative and the Peace King Tunnel Project. In Tan Sri's speech, he mentioned that Kuala Lumpur has been chosen as one of the cities for Father's world peace tour because Malaysia is a moderate and influential Muslim majority country with a historic tradition of multi-culturalism, racial harmony and good governance.
Tan Sri Bernard Dompok's welcoming remarks
A devoted Christian, Tan Sri ended his speech by saying "About 2000 years ago, Jesus Christ said: Love one another as I have loved you. He also urges humankind to bring the good news to the poor, to proclaim liberty to captives, and to the blind new sight, to set the downtrodden free. I am sure all the prophets and great leaders throughout history had in one way or another made exhortation for peace. Let us strive for peace. We begin at home, in our family. You and I, each and every one of us have a role to play to ensure a better tomorrow. Shalom and peace be with us all."
Tan Sri Datuk Paduka Dr. Hajjah Saleha Haji Mohamed Ali (Nenek) who is 83 years old (sister in law of the former Prime Minister Tun Mahathir Mohamad), the organizing chairperson for the event, gave the welcoming remarks, and again praised the many projects of IIFWP and the Moon's work for peace.
What touched us the most is the fact that Tan Sri Saleha initially was scheduled to undergo a major operation one week before the event. However, she postponed the operation to after our event just because she wanted to attend the inaugural convocation. Despite strong protests by her doctors and family members, she was very determined and attended in a wheel chair. In her speech, she thanked God for giving her eight decades of life where she had ample opportunities to practice the culture of heart within this country and also other parts of the world through a network of global relationships. Tan Sri also encouraged all to support the Universal Peace Federation initiative for peace.
It may be of interest to note that Malaysia is the 8th nation on the tour that has a predominantly Muslim population. Others are Kyrgystan, Albania, Bosnia, Mali, Turkey, Jordan and Indonesia.


Download entire page and pages related to it in ZIP format


Table of Contents


Copyright Information


Tparents Home