| | | | |
| --- | --- | --- | --- |
| | The Words of the Walsh Family | | |

Prince Sirivudh Attends Cambodia Presentation
Thomas Walsh
November 27, 2005
Secretary General IIFWP/UPF
Phnom Penh, Cambodia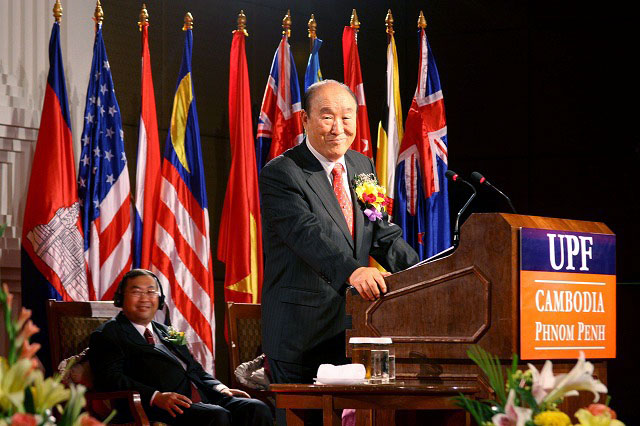 The ancient rock carvings at Angkor Wat, one of Cambodia's national and world treasures Dr. & Mrs. Moon arrived in Cambodia about 10 AM, met at the airport by Prince Sirivudh and Hon. Son Soubert, two Ambassadors for Peace who have attended several of our international peace conferences. As we approached the hotel, about 500 members and volunteers lined the entryway waving Cambodian flags.
As a smaller group gathered in their room for a welcome, Father and Mother Moon, who had not visited Cambodia, say they feel at home as they meet with various Cambodian IIFWP leaders, including representatives from neighboring Thailand who had come with nearly 400 delegates to Cambodia for this event.
The main program hall was filled early with 1000 VIP delegates, including the 400 who had traveled from Thailand. Prince Sirivudh and his wife, and Hon. Son Soubert were seated on the stage. Reminding us of the Buddhist traditions of this small nation, there was a group of about 50 Buddhist monks in attendance as well.
A letter of welcome was read from the Speaker of the Parliament, a member of the Royal Family and a former Prime Minister, who sent his sincere regrets that he had to be at this time in Manila where the SEA Games (Southeast Asia Games) were taking place. Then Prince Sirivudh delivered his address, followed by Rev. Kwak's Chairman's greetings
The program here was one of the very best. Father Moon spoke for three hours. His presentation was natural, dynamic and interactive. He frequently turned to his left to interact directly with the Prince and Hon. Son Soubert.
In some locations, when Father Moon spoke at significant length, there were inevitably some attendees who eventually got up to leave, perhaps to keep a previously scheduled appointment, etc. However, in Cambodia the entire audience remained focused and attentive, no doubt taking example from the Prince, seated on stage. There was a real rapport between Father Moon and his audience.
"If all the religions united and guided the nations we could have arrived at peace," he said, "Where there is fighting there is no God. The fighters become smaller and smaller. Even royal family members of the world need to go through this education in my teaching. We need Ambassadors for Peace to form the peace council for the peace nation and the Abel UN."
After the speech there was an exchange of gifts. The Prince presented gifts to Father and Mother Moon, followed by a presentation of beautiful ceramic vases with Father Moon's calligraphy to Prince Sirivudh and his wife, who with the Hon. Son Soubert joined the Moons for dinner.


Download entire page and pages related to it in ZIP format


Table of Contents


Copyright Information


Tparents Home