| | | | |
| --- | --- | --- | --- |
| | The Words of the Walsh Family | | |

Inauguration in Sri Lanka
Thomas Walsh
November 24, 2005
Secretary General IIFWP/UPF
Colombo, Sri Lanka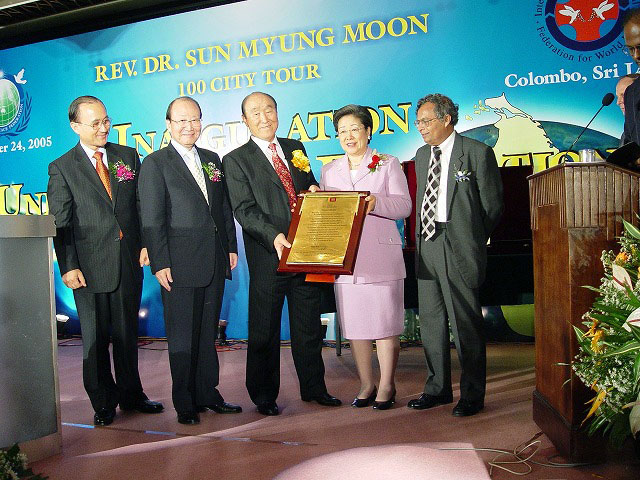 Sri Lanka is a beautiful large island off the coast of India. Formerly called Ceylon, it was a British colony. It has been plagued by fighting between the largely Buddhist Sinhalese populations settled mostly in the West, and the Tamil, largely Hindu population in the East and many of who want an independence from the Sinhalese.
But for our visit all was peaceful and calm. An excellent team was at work preparing for the inaugural event including Mr. Thilairajan, Dr. Robert Kittel and Rev. John Gehring from New York, Ambassador Mendes, Japanese and Nepalese volunteers and Ambassadors for Peace.
The main program speakers included Dr. Bishop Croos who commended Confucius famous teaching that if we have righteousness in character, we have harmony in the family, and if we have harmony in the family, we have peace in the nation, and if we have peace in the nation, there's peace on heaven and earth.
Ven. Dr. Kotte Pannindria Thero spoke of important Buddhist virtues that contribute to and are necessary for peace. Then Hon. Loku Bandara, Ambassador for Peace and Speaker of the Sri Lankan parliament, and a recent participant in the IIFWP 2005 Summit in Japan welcomed Father Moon and the UPF to Sri Lanka.
Ambassador Mendis gave a very thoughtful presentation about the significance of Father Moon's visit as a turning point for the nation – a theme that is appearing in more and more of the tour cities – and that his message, relating to the reform of the UN, the strengthening of the family and the need for interreligious harmony was very needed in Sri Lanka.
Father Moon read his speech with Dr. Peter Kim on the stage translating at a side podium. As is now customary, he added a number of points to the written text. "Tonight you all received the Blessing, you drank the holy wine," he said, "It is like a pardon for you. We get rid of the enemy Satan through the process of exchange marriage. Without creating one human family under God, we cannot establish the Kingdom of God."
"Suppose we did have 100's of millions of young people educated in this ideology that I am teaching tonight," Dr. Moon told the audience, "Do you think we could then imagine war taking place? If you want your nation to prosper, then educate your youth in this vision. I created the Abel UN to educate and to create a peace nation."
The newly elected President of Sri Lanka, Mahinda Rajapakse, is an Ambassador for Peace who attended our IIFWP Summit in New York in 2001 at the Hilton. He became Prime Minister, and then just eight days ago was elected president.


Download entire page and pages related to it in ZIP format


Table of Contents


Copyright Information


Tparents Home