| | | | |
| --- | --- | --- | --- |
| | The Words of the Walsh Family | | |

World Tour South Africa
Thomas G. Walsh
November 12, 2005
Johannesburg, South Africa
Edited by Joy Pople.
A Few Notes from South Africa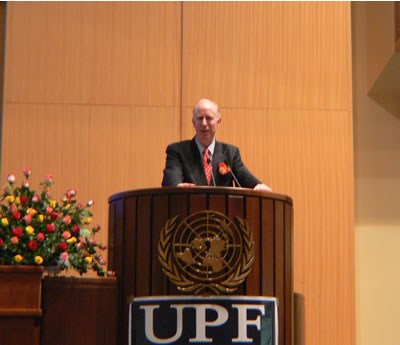 South Africa is a blessed land. It has a beautiful climate, natural environment and people. Although it has had a horrible history of apartheid, colonialism, violence, etc., its multiple races now work together amicably and cooperatively contributes to the prosperity of this land. There is doubtless lots still to be worked out, but things are moving forward.
The South Africa team endured a lot of shifting, changing and, eventually, disappointment. Yet it emerged victorious. For several weeks South Africa had been alternately on and off the tour schedule; after it was confirmed for November 12, the news came that the program should go forward but without True Parents. People swallowed hard, digested the news, shed some tears, and made mental and spiritual adjustments, and came out on top.
Rev. Jean Augustin Ghomsi, along with the Wakabayashis, Rev. Kwon (national messiah for South Africa), Rev. Park (national messiah for Zimbabwe), and many others put together a very good program.
Mr. Teddy Govindasami was an able and affable master of ceremonies. Rev. Skyre from Cape Town spoke about how his family was following Father and Mother Moon in their commitment to interreligious and international marriage and Blessing.
Professor Jameson Kurasha, who had journeyed to South Africa from Zimbabwe, repeatedly asked that everyone's best wishes and love be conveyed to Father and Mother Moon. He spoke about creating "families without borders."
A political scientist and vice president of the South African Association of Political Scientists, Professor Matheba of Johannesburg asserted that the vision and work of Father Moon and the Interreligious and International Federation for World Peace/Universal Peace Federation was fully consistent with and complementary to the government's initiatives.
Rev. Senator Abednego Dlamini from Swaziland said he learned all he knows about peace from Father Moon. Speaking as a Christian, he called this the true peace that Christians need to learn about. He called for Father's message to be taken to Swaziland, a sentiment echoed by several other delegates from Swaziland.
A member of the South African parliament presented a special gift to True Parents and spoke passionately about the need for South Africa to embrace and apply Father Moon's vision at every level of society and the government.
Rev. Ghomsi spoke about the history of the Interreligious and International Federation for World Peace and the emergence of the Universal Peace Federation. He called everyone to fully support and get involved in the peace police and peace army initiative.
Every speaker expressed heartfelt appreciation for Father and Mother Moon and nothing but good wishes and a heartfelt desire that they come to South Africa (and Zimbabwe and Victoria Falls and Swaziland and Lesotho and Namibia, etc.) as soon as possible.
The audience of 700 was very distinguished and attentive. All participated respectfully in the Blessing and followed the text of Father's message very carefully.
The programs continue:
November 13 - Dar Es Salaam, Tanzania
November 14 - Bujumbura, Burundi
November 15 - Nairobi, Kenya
November 16 - Addis Ababa, Ethiopia
That's all for now.


Download entire page and pages related to it in ZIP format


Table of Contents


Copyright Information


Tparents Home