| | | | |
| --- | --- | --- | --- |
| | The Words of the Walsh Family | | |

UPF World Tour Report - Kyrgyzstan
Thomas Walsh
October 17, 2006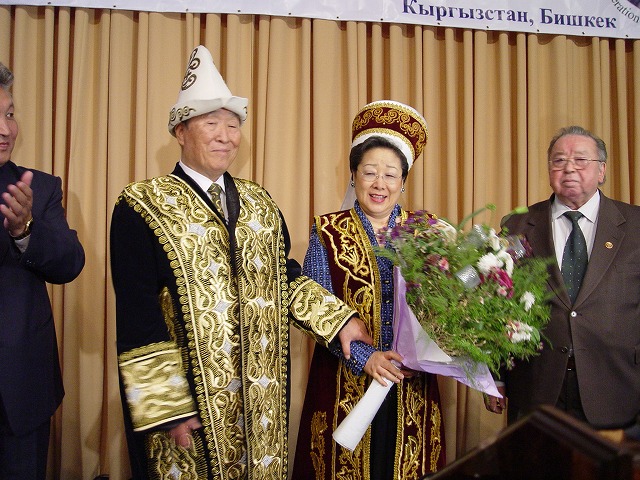 UPF Founders Dr. and Mrs. Sun Myung Moon arrived in Bishkek, Kyrgyzstan at 11 AM on October 17. Known as the Switzerland of Central Asia, the view of Kyrgyzstan from the sky looks indeed like a view of the Alps. The Fall season is especially beautiful with birch trees whose leaves recently turned shining like gold in the sun. The weather is quite mild for mid October, and little wind. A gorgeous day.
Limousines met the party and sped everyone from the airport to the Presidential residence on a beautiful estate 30 minutes from the airport, at the end of "Peace [Mir] Highway."
Former Prime Minister Chyngyshev presided at the main event, which was held on the Presidential Grounds in a beautiful hall for 270 people, all of whom were high level officials from religion, government, civil society, the arts, business and academia. Among the prominent guests were the President of the National Academy of Science, Mr. Djeenbaev, the Mayor of Bishkek, A. Nogoev, the Minister of Health and a number of other cabinet-level ministers.
The Grand Mufti of Kyrgyzstan, Djumanov Muratali, offered the invocation. It being the Ramadan season, the event was held at 4 PM, in order to conclude by sundown and the time to break the fast, 6:34 PM.
Nest, Prime Minister Chyngyshev introduced Dr. Moon as a true champion of peace, a friend of Kyrgyzstan and the world. He urged all the gathered delegates to give their full attention to Dr. Moon's address.
At the outset, Dr. Moon indicated he would read his speech pretty much straightforwardly. However, as he moved through the speech, he offered much elaboration and commentary on several points, particularly on the weaknesses of dialectical materialism, atheism and lack of spiritual awareness; at times he gently scolded the audience to appreciate the seriousness of the time we are living in.
At the close of his speech, Mother Moon joined him, and a presentation of traditional Kyrgyzstan robes and hats were presented by several of the delegates in attendance.
On the morning of his departure, Father and Mother Moon met with 120 local volunteers and spoke to them until his departure. He encouraged those gathered, who were mostly young university students, to study many languages, including Korean, and English. "Young people should learn as many languages as possible," he said, "In order to unify the nations of the world, and the religions, language plays a key role."
He also encouraged those gathered to promote WCSF activities worldwide so it is more widely known and understood. In addition he stressed the value of not only cultural exchange, but also exchange marriage. The entire world should be one family under one heavenly parent, centered on true love.
Exchange marriage between enemy nations is the key and should be emphasized even when children are young, so as they grow up they accept it as natural and part of their tradition and culture.


Download entire page and pages related to it in ZIP format


Table of Contents


Copyright Information


Tparents Home