| | |
| --- | --- |
| | The Words of the Vincenz Family |
Midwest Youth are transformed through Blessing Workshop in Chicago!
Jario Vincenz-Gavin
February 12, 2010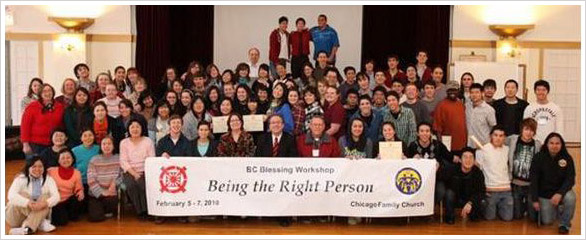 This past weekend was a tremendous experience as seventy-nine teenaged youth and six parents participated in the Blessing Workshop in Chicago! Participants came from nine states and the education was given by Rev. Phillip Schanker, National Director of the Blessed Family Department and Mrs. Debby Gullery, Marriage Counselor of the Blessed Family Department. Jario Vincenz-Gavin was the Program Coordinator and great assistance was given by the Chicago Family Church staff, which included a fantastic cooking team! All activities, including lodging and meals, were conducted at the church facility.
The workshop began Friday evening, February 5th and ended Sunday afternoon, February 7th. From the opening dinner, the participants were anxious to learn and united together as one family. The first session began with inspiring music and a provocative presentation by Rev. Schanker entitled, "Why Be Blessed?" He challenged participants to look at our lifestyle, priorities, and desires to determine how much we have "bought" the standards of today's secular society and how much we are connected with God's ideals expressed through our Unification culture. It was a powerful beginning. Afterward, we formed discussion groups with youth leaders and ended the day in prayer.
On Saturday morning, we began with an inspiring message from Mrs. Gullery on transforming ourselves through individual growth. This helped each person to better understand the theme of the workshop, which was "Being the Right Person". Throughout the morning, we received dynamic presentations from Rev. Schanker on the purpose of the Blessing from God's perspective, and the damage that the Fall caused for human relationships with God and each other.
During the second session, we formed two separate groups. One group of unmatched participants received a presentation from Rev. Schanker and the second group of matched and Blessed participants received practical guidance from Mrs. Gullery. Her guidance was a great addition to the workshop and really made the participants consider their attitudes and expectations about marriage.
In the afternoon, we enjoyed a great time of relaxation and fellowship, followed by Rev. Schanker's presentation on the history of marriage and how we arrived to the current standard of the Blessing.
The final presentation of the afternoon addressed repentance and its importance in our preparation for the Blessing. Rev. Schanker guided us on the kind of heart to have when repenting, the purpose of repentance and what to repent for. The participants then took time for reflection and repentance, and recorded their confessions.
Throughout the evening, Rev. Schanker and Mrs. Gullery provided counseling for those who wished to receive it. During the closing session, we heard testimonies about the matching and Blessing from two second-generation Blessed couples from Chicago. First, Elan and Alissa Hickler shared about their attitudes and convictions throughout the matching process to ensure that they were always centered on God. Elan also shared practical tips for the brothers that were humorous but also very helpful! Afterward, Jario and Leena Vincenz-Gavin shared their testimony about their journey from the matching to the Blessing and their 2-1/2 years living as a Blessed couple. The testimonies were very well received. The program was then opened for entertainment, ranging from skits to musical performances, and we enjoyed a wonderful time of fellowship.
On Sunday, we began the morning with an insightful message from Leena Vincenz-Gavin about the institution of marriage from a Christian viewpoint and the new standard established by True Parents. Following breakfast, Rev. Schanker provided more specific guidance about the Blessing and what we should do to prepare for it. We ended the session with a question and answer panel with Rev. Schanker, Mrs. Gullery and Jario Vincenz-Gavin, responding to written questions from the participants that had been collected throughout the workshop. Rev. Schanker and Mrs. Gullery then continued with individual counseling.
We concluded the workshop after lunch with closing remarks, testimonies from participants and a simple graduation ceremony. John Magoola from Michigan shared that this was his third Blessing workshop, but he continues to be blown away by how much he still can learn. Vicky Sometani from Chicago shared that she increasingly understands the true meaning of being a Blessed Child and pleaded that we share more openly and support one another more in difficult times. All participants were individually presented a "Certificate of Completion" on the stage by Jario Vincenz-Gavin and were congratulated by Rev. Schanker, Mrs. Gullery and Rev. David Rendel, Chicago District Director.
This was an incredible weekend that we will never forget! We thank all who made this workshop possible; especially Rev. Schanker and Mrs. Gullery who poured out their hearts and passion so freely with all of us. Everyone gained a new sense of understanding, commitment and empowerment to establish successful Blessed Central Families!