| | |
| --- | --- |
| | The Words of the Vincenz Family |
May the year 1972 be the greatest awakening of Christians
Reiner Vincenz
January 1, 1972
France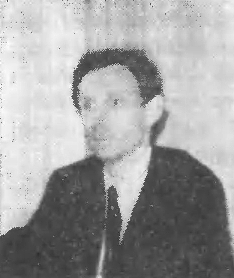 Mr. Reiner Vincenz
Beloved Family,
Korea; our homeland, how precious you are! In size you are small, but you the Light bearer for the world.
Korea, the chosen country by our Heavenly Father, how much you are in danger. Evil forces just want to swallow you up. But you have born the Savior for the world.
Korea, the land of the morning calm, you are the trumpet proclaiming true life and happiness you are the hope for the world.
Oh, brothers and sisters in Korea how grateful we are to you. You are giving your blood, your tears, your sweat for many years already in order to lay the foundation of the new world. Your sacrifices, your sufferings are so big. We bow before you and pray deep from our heart for your protection, your health and success. May the year 1972 be the greatest awakening of Christians and may they follow our True Parents.
The French Family wants to fight hard with you against the evil forces, winning hearts and land for a strong foundation.
Dear brothers and sisters throughout the world, let us come closer together and build a unified front for the victory and glory of our Heavenly Father. Monsei for 1972!