| | |
| --- | --- |
| | The Words of the Vincenz Family |
A Korean journalist Mr. Duk-Sang Chang has come to us
Reiner and Barbara Vincenz
December 3, 1970
Paris, France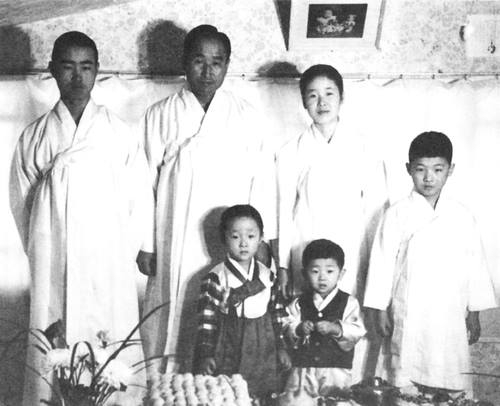 Dear Mr. [Young Hwi] Kim,
Another month has passed and we like to let you know our activities in November.
After Remi and Corrie had stayed a few days in Holland, we prepared all for their mission-work together in Lebanon. Remi was very happy when he could leave on the 9th of November. Corrie, who had waited a few more days for her departure, had a good opportunity to get to know the French family. We were very grateful having her with us, building up a wonderful, close relationship. On the 13th of November, Hilde came from Austria to join with Henri the French Family. All worked very well with them and Father has ready blessed France through them.
After hearing so much about the life and the activities of our Families in Korea and Japan we started a 40 day period of raising the standard of the Divine Principle life in the French family, stressing especially unity and discipline. Since there are so many different activities to do we give now very concentrated lectures. Twice a week we lecture in 7 rooms, teaching all chapters.
On Sunday we have a "family-day" where everybody is invited to share with us the whole day. We have been very successful this way and hope to bring good fruits to the Father. In two classes our members are learning English.
In the "Latin quarters" a lecture room has been given to us twice a month and many people are coming to hear introduction lecture of the Divine Principles.
Mr. Robert Brandner has come from Luxembourg with a young man to let him experience family-life for a weekend.
Tong-Il-Industries France has opened to us several doors already.
Barbara and I have started to learn Korean, and our teacher is a young man from the KOTRA (Korean Trade Association). Through him a Korean journalist Mr. Duk-Sang Chang has come to us. He became very interested in writing an article for his newspaper and so he returned and stayed with us a whole Sunday. Since he became very positive and open, we hope, you will find soon a good article in the newspaper.
We are very busy translating the "Divine Principles" and "Communisme: a new critique". Both will be a great aid for our future work.
We pray, we think, we talk a lot about our Homeland and hope so much that soon the Korean Nation will recognize the True Parents and Their mighty works.
All in the French family like to send their deep love,
In the name of Our True Parents,
Reiner and Barbara Vincenz