| | |
| --- | --- |
| | The Words of the Vincenz Family |
Chicago Church Honors 43-Couple Blessing Pioneers
Douglas Burton
March 29, 2009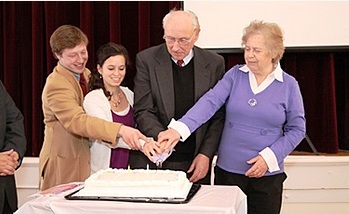 The Reverend Reiner Vincenz and his wife, Barbara, were honored on March 29 at the Chicago Family Church for their participation in the historic marriage blessing in Essen, Germany, on March 28, 1969.
Reverend Vincenz was the first European to join the church in Europe, in 1964. He and Mrs. Vincenz founded the Unification Church in France in 1969 and later served as leaders of the first One World Crusade in 1973 in the United States.
Rev. Reiner Vincenz and Barbara Vincenz recalled what it was like to serve as church leaders in Europe in 1968 in an interview with Familyfed.org.
"We rented a small youth center in Essen for the blessing ceremony," Reverend Vincenz said, adding that about 70 members from several countries attended, including members from England, Germany, the Netherlands, Austria, and Germany. The entire movement in Europe had gathered for the meeting.
"True Parents arrived on a Monday, March 24, 1969, and only then did we start the preparations for the Blessing, which took place on Friday," he recalled. Reverend Vincenz's future bride, Barbara Koch, the sister of early church pioneer Peter Koch who ascended in 1984 was in charge of the logistics. A group of six members from Austria worked day and night for two days to make the 16 blessing robes. Barbara sewed the robes and the crowns for True Parents.
Barbara made the crowns for True Parents from white leather, based upon photographs of earlier Korean blessing ceremonies. "I was responsible for the whole event, including all the food and all the clothing," Mrs. Vincenz recalled. It was all so rush, rush, rush, I could barely keep track of the spiritual aspect of it all.
"There is a clear link between the 430-Couple blessing in 1968 and the 43-Couple Blessing in 1969. The blessing of the 430 couples represented the entire Korean nation. When the 43 couples blessing took place one year later (1969), it opened the way for all humankind to be restored because the 43-Couple Blessing was the very first international blessing," Rev. Vincenz explained.
"I absolutely believed that we were perfect, Reverend Vincenz said. "Dr. Young Oon Kim [first Unifiicationist missionary to the United States] had taught us that after the blessing we would be perfect. Later we discovered that we were not perfect."
"It was for us an enormous feeling of victory to receive the blessing from True Parents," Mrs. Vincenz recalled, explaining that she and other members expected that the whole world would be turned upside down once the news of the arrival of the Lord of the Second Advent had become widespread. "We checked the daily newspaper [Die Welt] for announcements of the fact that the Lord of the Second Advent was on the earth" she remembered.