| | |
| --- | --- |
| | The Words of the Vieira Family |
In Memoriam George Vieira
June 9, 1989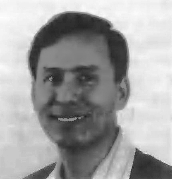 George Vieira, who had worked with The World and I magazine since its inception in 1985 and most recently served as the manager of the pagination department, passed into the spirit world on June 5, 1989. He had been diagnosed as having acute leukemia. His Sunghwa ceremony was celebrated on June 9 at the Washington, DC Church. The president of the American church, James Baughman, gave the sermon and Neil Salonen also spoke at the ceremony.
George was born in Hong Kong in 1946 and was the youngest of seven children. He first came to the United States in 1963 at the age of seventeen and later served in the U.S. Navy as an electrician. In 1973, he joined the Unification Church in San Francisco and worked with the national IOWC. George joined the staff of the Celebration of Life tour and later worked at the national headquarters of the Unification Church from 1976 to 1979. He and his wife Olivia, who is on the staff of the Washington Institute, have two children, Daniel David who is six years old and Carlyn who is three-and-a-half years old.
George, whose qualities of independence and honesty had always been outstanding, set an example through his illness that can be a model for many to follow. He never complained or questioned why he was afflicted with such an illness. His main desire was to do God's will. He looked upon his time of sickness as an opportunity to better understand the heart of God and used that time to heal relationships with others. His main effort was to set things in order internally.
He spoke from Hine to time with one brother, Peter Gogan. Peter said that he always felt uplifted by the conversations he had with George, and that, even in speaking of practical matters, there was something about George's tone and perspective which was permeated with an acknowledgement of God and True Parents. "Although George always thought that he would conquer his illness, during this time he had clarified his true priorities and determined what was really important in his life. This was a period of a profound transformation in his heart and life. His orientation was beautiful and uplifting: He lived in a realm of spiritual reality. He taught us the meaning of being victorious in death."
George was an ardent and loyal supporter of True Parents: His care and concern for brothers and sisters will always be remembered.