| | |
| --- | --- |
| | The Words of the Trombin Family |
GPF Sponsored 50 Muslim Youth Welding Training
Massimo Trombin
November 17, 2009
Service For Peace Philippines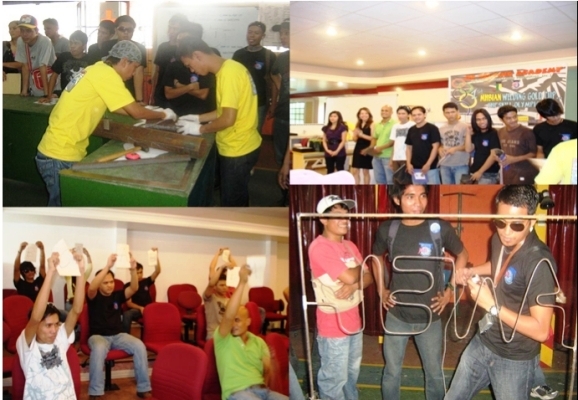 Trainees participating in the skill Olympics, Quiz Bowl and other fun activities during the JIB Welding Academy 2nd Year Anniversary Event on September 30, 2009
The Global Peace Festival sponsored fifty Young Muslims in Davao City to study Shielded Metal Arc Welding course at Joji Ilgan Bian (JIB) Welding Academy. The scholarship recipients were trained from July 20 to October 15, 2009.
Background
The Muslim community in Davao City is one of the oldest established communities in the region. Its steady growth over the last twenty years and the expansion of its organizational activities warranted the allocation of resources so that various needs could be properly addressed.
In order to uplift the lives of the citizens and provide career guidance to the young Muslims in Davao City, the Joji Ilagan Bian Career Center Foundation, through its Corporate Social Responsibility Program (CSR), proposed a free special training for fifty young Muslims to be equipped with welding skills necessary for them to become globally competitive. This training was made possible with the Pangulong Gloria Scholarship (PGS) implemented by Technical Education and Skills Development Authority (TESDA) Region XI, the Scholarship grants of the JIB Foundation, support from the Davao City Government through the City Mayor, Hon. Rodrigo R. Duterte, the Office of Councilor, headed by Hon. Maria Belen Sunga Acosta and an international non-profit organization, Service for Peace. The major broadcasting corporation in the Philippines, ABS-CBN -- Davao became the leading media partner of the project.
Training
On July 15, 2009 the fifty scholarship winners began their training with orientation at the JIB Welding Academy. The trainees studied the basic English language, how to make a job application with a cover letter and resume, how to answer in a job interview, communication tips at the work place, interpretation of sketches, drawings, estimates and calculations, and safety practices before proceeding with hands-on welding training in the laboratory. Peace education and career education were also given by Mr. Massimo Trombin and Dr. Michael J. Lenaghan, both of Service for Peace.
On September 30, 2009, the trainees joined with other students and alumni of the JIB Welding Academy in the welding skill competition, "The 1st J. I. Bian -- M. H. Bian Welding Gold Cup of the Skill Olympics". The event was organized in connection with the celebration of the 2nd year anniversary of the Academy.
The trainees took their final exam on October 8 and assessment tests on October 13-15 under the supervision of TESDA representatives. A graduation ceremony was held on October 16, 2009. The trainees are now preparing for their On-the-Job training with the industry.