| | | | |
| --- | --- | --- | --- |
| | The Words of the Triggol Family | | |

Celebrating A Few Wonderful Moments With Our Sister Linda Triggol
Michael Lamson
November 7, 2006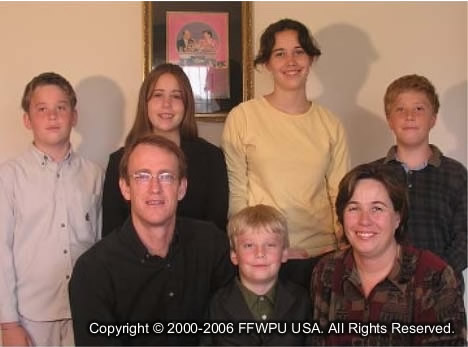 Sometimes God touches us in ways that change our lives and hearts forever. These last few days with Linda have been so amazing and God is touching so many people that I wanted to share these experiences with everyone.
I think Lindaís life was always filled with so many unpredictable, spontaneous adventures. Each day she lived on call, ready to jump into whatever providential activities our True Parents planned. She lived an amazing life and touched the hearts of so many peoples all over the world as she answered the call from heaven.
Having her as my sister makes me so proud, so happy, to call myself a Unificationist and her brother.
Last month when I visited Linda we were able to share about the changes in the American movement. She was so excited that American leaders were coming forward to build America as the Elder Son nation. She looked at me with such a strong, determined look and stated clearly that this was the moment she had been longing for. She expressed honestly that she was so jealous and more than a little upset that she could not be one of those leaders working in the new system. We cried together and I invited to join me for a while if she was able in building up District 6. She was until the last day concerned about our movement and our True Parents.
On October 31st Dr. Yang called while on the World Tour to find out how Linda was doing and to arrange to come and meet with her on the 4th or 5th of November. I was so moved by his sincerity and his concern about the Triggol family. A few hours later he called back to say that heíd decided to leave from Korea early and to meet with the Triggol family on November 1st.
John worked out a plan with Linda so that she could be awake and at her best when Dr. Yang arrived. Dr. Yang arrived on the 1st with Bishop Kim, Rev. David Rendel, Rev. Lamson and many friends and family. Linda was so moved by the visit and shared deeply with Dr. Yang about the providence and her family. God was pouring out His love for Linda through Dr. Yang and it was so empowering for me to watch as Dr. Yang expressed how much True Parents and the movement valued Linda and the life she lived. He was able to bring her life into such a beautiful whole, such an offering to heaven.
Dr. Yang shared the new Holy Wine with Linda, which he brought back from Korea to be multiplied and used in the coming forgiveness and grace ceremonies. He explained the meaning of the new Holy Wine and Linda was so moved that she was the first member in America to be able to receive the new Holy Wine. Dr. Yang then talked with John, and then to all the children helping them understand the value God had for their mother. He then prayed with John and Linda. After this we were all so surprised when Linda wanted to sing a song for everyone. She wanted to share with us a song she had sung for True Parents (Rise Up Church). As she began to sing her voice was so weak but then it became clear and so pure. It was amazing to see her giving so much even when she was sick. After the song and more sharing, we took a family photo together.
The next morning Linda woke up very clear and happy. It was Johnís birthday and after she gave him the card she had prepared, she asked him if he would mind if she passed on his birthday. He responded saying that he would be honored to share her ascension day with his birthday. A few minutes later she took a deep breath, became tense and left her physical body. She was surrounded by her family and it was almost like she was the one that decided even when she would pass.
There is no doubt in my mind that Linda will be one of our movementís greatest allies in the spiritual world. Letís expect amazing things to come.
We will miss you Linda. You know, that you are loved by so many people, and that you have inspired, all of us to give more, to live fuller lives and to put God first as we continue our journey.


Download entire page and pages related to it in ZIP format


Table of Contents


Information


Tparents Home