| | | | |
| --- | --- | --- | --- |
| | The Words of the Thompson Family | | |

Farewell to Rev Dr Man Ho Kim and Family
Kevin Thompson, Bento Leal, and David Rosenblum
July 2, 2006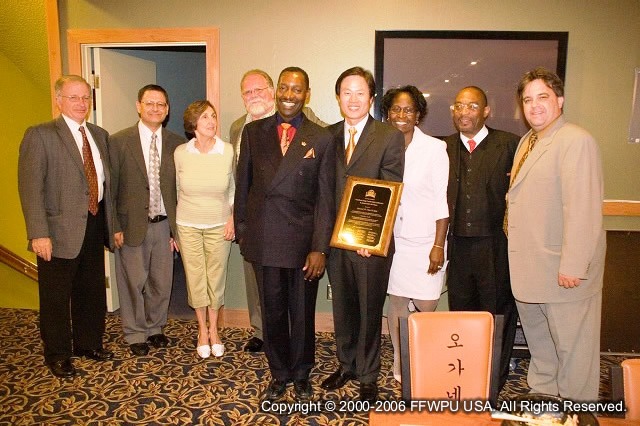 On Sunday, July 2nd, after the Chun Il Guk Holy Wine Ceremony we had a high spirited and uplifting farewell service for our Regional Director Rev. Dr. Man Ho Kim at the Bay Area Family Church in San Leandro, California. The church was packed to the rafters and the atmosphere was one of joy and celebration tinged with a touch of regret. We even had Mr. and Mrs. Joo Chan Choi and Mrs. "Mama-san" Choi (both 36 couples) to share the event with us.
The BAFC Childrenís Choir, who had sung when Rev. Kim first received his Northern California Region mission here three years ago, sang beautifully and from the heart to Rev. Kim and his family. (Prior to working here in Northern California, Rev. Kim served as Regional Director in Atlanta Region for eight years, and attended and graduated from UTS prior to that).
Next, Rev. Andre and Carla Jackson, representing our local ACLC clergy, gave a beautiful testimony to the heart of Rev. Kim and told him that "you are only a plane ride away." They shared great love and appreciation for Rev. and Mrs. Kim.
KEA director Rev. Kwang Min Kim shared the warm heart of the San Francisco area Korean Church community toward Rev. Kim, and Dr. Mose Durst shared appreciation from the western membersí perspective. Dr. Durst explained that Rev. Kim, in our region, has been totally supportive and wise in all his decision-making. We also had spontaneous testimonies from member Luther Berry ("Rev. Kim has the faith to move mountains!") and Mrs. Reiko Hankins ("Rev. Kim resurrected my spirit!")
In his farewell sermon, Rev. Kim shared the three key points that are the driving force of his life of faith which he asked us to remember:
1. Manifesting Godís heart and love, and inheriting and developing True Parentsí tradition.
2. Attending God in my life. 3. Preserving Godís blood lineage
Rev. Kim concluded his message with a tearful prayer in Korean that moved all of our hearts.
Later, in the evening, we had a potluck dinner and special time of sharing and song in a family atmosphere. With songs from each continent as well as some very special offerings from individuals we created a touch of heaven to send Rev. Kim and his family off with our love and support. Nicholas Buscovich did an embracing and masterful job as MC and coordinator of the event. And Dr. Mose Durst manifested the parental heart behind the scenes in behalf of our entire Northern California community by doing much to ensure that the evening could be so special and heartfelt. About one week later, on Monday evening, July 10, forty of our key ACLC and Ambassadors for Peace friends joined us to honor, celebrate, and sendoff Rev. Kim. We met for a delicious Korean dinner at Ohgane Restaurant in downtown Oakland, where we had the beautiful second floor to oursleves. After dinner, there were testimonies of appreciation for Rev. Kimís love and leadership.
Just as the Bay Area Family Church blessed central families presented a plaque to Rev. Kim expressing our deep appreciation a week earlier, the local ACLC clergy, and Ambassadors for Peace, this evening presented Rev. Kim a beautiful plaque showing their love and gratitude to Rev. Kim for his sacrifice, leadership, and loving guidance. In addition, Rev. Stephen Goldiamond, an active ACLC minister, dedicated to Rev. Kim a most special poem, beautifully written and laminated, entitled "Rev. Dr. Man Ho Kim: a Man of God from Without and Within!" These sentiments summed up the feelings toward Rev. Kim for all of us.
We followed with some lively karaoke singing and dancing. What a night! And, of course, things wouldnít be complete without the new Holy Wine Blessing. One newly married couple from one of our close churches stood forward to receive the marriage Blessing sacrament, and all the rest of us were happy to partake the holy wine right afterward.
Our hearts are with Rev. Kim as he now moves on to his new assignment in Korea. We will fondly and gratefully recall his faith, leadership and support as we now continue in our providential work here in Northern California.


Download entire page and pages related to it in ZIP format


Table of Contents


Copyright Information


Tparents Home