| | |
| --- | --- |
| | The Words of the Sutchar Family |
Retirement from the "You need a vacation" church
Bruce Sutchar
October 17, 2011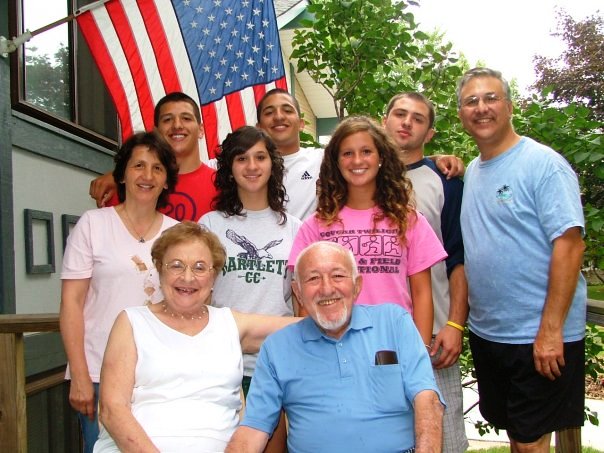 The Sutchar family
I remember, years ago joking with brothers and sisters about our future retirement. I mean Father was 70 years old and still going strong. In fact one sister joked about the nickname of our church, the "You need a vacation church." I mean we witnessed, fundraised and worked 24/7. The restaurant at which I did my "MFT" experience opened at 7 am and we worked until midnight. We did have a break in the afternoon which we used to go to downtown and witness. In fact, I met my first spiritual son by pulling him in off the street while he perused the menu in our window. My second spiritual son I met on the beach selling flowers and my first spiritual daughter I met in a hot tub in Kingston New York on a trip into town from the seminary. I recently celebrated my 35th spiritual birthday, having joined the movement on Christmas eve, 1976. Dr. Durst gave the evening program lecture that night and I have been here ever since.
Since my first workshop that weekend, I have worked with new members witnessing and fund raising, worked for 2 ½ years in our church restaurant, got matched to a wonderful Austrian sister, done 40 day pioneering, spent a year working in New York City, gotten blessed, attended UTS, been the city leader in Albuquerque, NM and the state leader in Wyoming. In 1987 I joined the Africa mission and have been working in Chicago with the American Constitution Committee, The American Freedom Coalition, the American Family Coalition and most recently the Universal Peace Federation.
During these years I have had the blessing to work with Dr. and Mrs. Durst, Sheri Rueter, Rev. Kwak, President David S.C. Kim, Rev. Do Won Kim (72 couple) Rev. Jong Bok Hong (36 couple), Dr. Bo Hi Pak, Michael Jenkins, Reiner Vincenz and Bishop Ki Hoon Kim. I have rarely had a moment to think and to be honest with the exception of a few weekends here and there 90 minutes away with the kids to a local resort, our vacations have always been providential in nature. In this regard I have traveled all over America (in fact my wife and I were married in Las Vegas) including Alaska and Hawaii. I have been to Yellowstone and Lake Tahoe, Los Angeles, San Diego and San Francisco, Santa Fe, New Mexico, Saratoga Springs, New York, all over Westchester and Long Island and Miami and Denver. Internationally I have been to Korea on several occasions, South America (Brazil), Africa (the Canary Islands), Europe (Spain and Austria) and Canada (Quebec and Montreal).
During the past 25 years my wife and I attended seminary together and have raised 5 healthy children. Needless to say, we both have seen and experienced many changes in our movement. One wonderful experience that I have had has been to be with Farley and Betsy Jones. Farley was the first president of our movement in America. Betsy was always working with Nora Spurgin and Marie Ang in areas pertaining to our blessed families. I expect that many members may not even know or ever had the chance to work, especially with Farley.
Likewise there is a whole slew of early American members that are virtually unknown to those members who may have joined after 1980. On a recent trip to visit my daughter in college, I heard a very creative idea from an elder member (already a grandparent). He suggested to In Jin nim that we should start a new STF (Senior Task Force). His point was that so many members have now successfully completed raising their children and actually, once again have time to work on the front line providence. Personally, I have had to grapple with many of the changes that have come to Chicago.
Working for so many years with Rev Jenkins, I had grown accustomed to preaching regularly, being an integral part of our Sunday Service, attending the leaders meetings, leading the Family Federation of Chicago, visiting ACLC pastors churches, meeting political dignitaries, gaining proclamations for our providential events, attending True Parents each time they came to Chicago, and traveling to our providential events throughout America and all over the world.
I remember a question Rev Jenkins once challenged us with at East Garden. He asked the members if they would be able to respond to American Regional leaders in the same way that they had always attended our Korean leaders. Then, before we knew it, most of the Korean leaders were gone and the regions now have Western leadership. Another major change has been the new emphasis on the second generation. From my point of view, after nearly 40 years in the movement, I am seeing the major curriculum shifting toward the second generation. This has never happened before and is a wonderful transition in my personal opinion.
So, what about the "elder" first generation? Are we to follow the example of our elder brothers and sisters, get a good paying job and leave the front line mission field? Since we received our new "district pastor" many "complain" that no one ever calls them anymore. They say that in fact, even when they submit their creative ideas they have gotten no response. They are rarely reminded of special "leaders" meetings, except through the general mail box. In fact, one brother said that the only time his district pastor actually talked to him directly, it was to ask him to drive someone to the airport at the last minute.
These facts are not being noted as a form of complaint, but rather to empower the question of what God really wants to do with the valuable resource of first generation members that True Parents poured so much energy into for so many years. Now these members are quite mature and self-starting, essentially due to about forty years of MFT, witnessing, workshops and raising their families. They certainly know how to keep abreast of the frontline directions, i.e., distributing Father's Autobiography, blessing their family, friends and neighbors, Home Church, Hoon Dok Hae, tithing, special projects such as Nigeria, Las Vegas, ACLC and Religious Freedom.
It seems apparent that this is the age of Lovin' Life and the Second Generation in the church structure. First generation still lead many projects such as Joshua Cotter (Unification Church Vice-President), Michael Jenkins (ACLC), Reiko Jenkins (Women in Ministry), Angelika Selle (WFWP), Jim Gavin (UPF-USA), Dr. Thomas Walsh, Taj Hamad Karen Smith (UPF-International) and most of the District Pastors. We are in the age of Cheon Il Gook, and as I write these words, there are something like 500 days until January 13, 2013. As Bob Dylan crooned about 50 years ago, "The Times they are a Changin'." So brothers and sisters, hold on tight, hunker down, look upward and outward and as someone once said many years ago during the hardest of times, "don't get off the train."
Bruce Sutchar
---
Writers note:
I tried to make this article as positive as possible to coincide with the ideas of our Senior Pastor. After first reading the editor of the Unification News told me that it would fit in with their September issue on families (although she admitted that she had actually not yet read the article). Three months after not hearing from her, I sent another email at which time she informed me that the article would be published in the December issue. Today I received her third email in 6 months, the text of which I am enclosing as well as my response to her email.
Dear Mr. Sutchar
I am writing in regards to your article on retirement. The supervisors for the publication have read your submissions and have decided it cannot be published in Unification News.
I was explained that In Jin nim's intention is not to bring second generation up and have the parents step aside. It is her intention that blessed families be raised up as a family and as a family, come forward and lead together. The submission suggested against the vision of a blessed family movement.
I regret we cannot publish your article. I apologize for any inconvenience this may cause.
Unification News Editor-in-Chief
Ms. Shinyoung Chang
My reply:
Dear Ms. Chang,
Please convey to your supervisors and our senior pastor my disappointment in your decision not to publish my article. Throughout the past 25 years, I have written numerous articles for the Unification News and this has never happened before. The irony for me is that the article was inspired by Rev. Cotter's sermon entitled "Re-tirement" this past summer.
Thank you,
Rev. Bruce Sutchar, M.S. Ed.
Midwest Director
Universal Peace Federation USA