| | | | |
| --- | --- | --- | --- |
| | The Words of the Sutchar Family | | |

One Family under God Ė Aju! Hyun Jin Nimís Victorious Tour Events in Chicago
Bruce Sutchar
January 29, 2007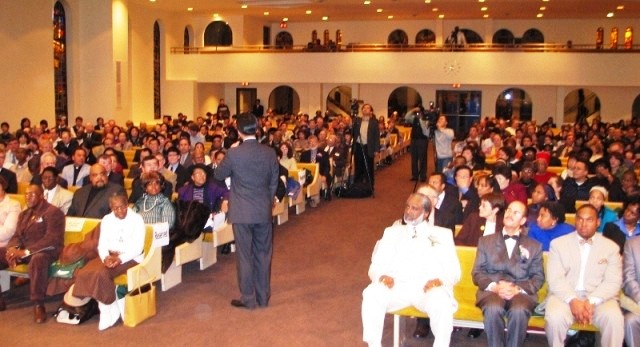 As Hyun Jin Nim walked through the congregation during our morning Hoon Dok Hae, he was looking into the eyes of each and every member and he asked everyone to examine the fire of their faith. How is it right now compared to 20 or 30 years ago? How much did we really believe that we could bring about the establishment of the Kingdom of God on this Earth in our own lifetime? Hyun Jin Nim shared his own life of faith. How much he believed in the principle of creation and he shared a little bit of his own life as an Olympic equestrian rider. He would challenge us to return to our energetic, heartistic, youthful selves and to always dream dreams and to always look forward. Saying that we are only as old as we feel he pointed out how young people are always looking forward while old people are always remembering the past. Finally, he led us through a tunnel of youth proclaiming that we would once again have the energy of an 18 year old when we emerged at the other end. Ponce de Leon and the fountain of youth step aside!
Hyun Jin Nim and Jun Sook Nim had arrived less than 24 hours earlier from a tour that had already covered Los Angeles, San Francisco, Seattle, Houston and Minneapolis. Chicago was on fire in the middle of a very cold January and we were excited and ready for our rebirth as we also prepared for the coming of Dae Mo Nim in just three more weeks.
We had chosen the Life Center Church of Christ pastored by our ACLC National Co-Convener, T.L. Barrett, Jr. This was the very same church that had hosted True Mother the very first time that she had spoken in a house of worship. Life Center had since then hosted a national level blessing, Dae Mo Nimís visit to Chicago and Shin Sook Nimís three-generation speech this past fall. The church had also recently undergone a multi-million dollar renovation immediately after which it had invited our own Rev. Dr. Michael Jenkins to deliver one of its first sermons in the new edifice, just two weeks earlier.
One major difference in this event was the active participation of Chicagoís ACLC ministers. Together with Rev. Rendel, the ministers had participated in a planning breakfast one week earlier. Here they had volunteered to take responsibility to bring their fellow ACLC ministers to the event. This action resulted in the eventual diversity of our audience.
Hyun Nim Nimís party arrived in Chicago about noontime. Almost immediately, flanked by Dr. Yang, Rev. Jenkins and Archbishop Stallings, he sat down to lunch with Minister Ishmael Muhammad, the National Assistant to the Honorable Minister Louis Farrakhan, the leader of the Nation of Islam. Their lunch lasted for nearly two hours covering many topics including the sanctity and the critical role of the nuclear family in modern day America.
By 6:00 PM, the ministers were arriving at the event. An entourage of 14 ministers had driven down the 320 miles from Detroit and others were arriving from throughout the District. Pastor Barrett, as always had provided a mini-banquet for the ministers in his personal study. Simultaneously, the melodic sounds of the internationally acclaimed Hargrove Family Choir began to fill up the sanctuary as the guests began to arrive. Cynthia Butts, the sister of ACLC member, the Rev. Walter Butts was drawing the heavenly-spirit world ever closer. Rev. A.I. Dunlap was chosen to deliver the invocation. He set off the program that would continue to gain spiritual power and momentum throughout the remainder of the evening.
Pastor Barrett warmly greeted the congregation. We were then treated to inspiring testimonies from two of the World Tour participants. Rev. Willie Weston of Chicago and Muslim leader Victor Begg from Detroit each shared their rich and nourishing testimonies with the audience. Rev. Jenkins and Dr. Yang each took the spotlight and then the Youth Choir of Life Center Church of God in Christ took center stage. These young men and women of Christ literally tore the house down with their songs of worship and praise. Next we viewed the "Faith, Family and Ideal of Peace" video on Life Centerís three big screens. Then, as only our beloved Archbishop George Augustus Stallings could, the congregation was prepared to receive Hyun Jin Nim.
In the words of several of those traveling with Hyun Jin Nim, they had never seen him so relaxed and comfortable as he was during the Chicago event. He spent most of the time walking throughout the congregation and, in fact, never returned to the lectern until it was time for the awardsí ceremony. He made eye contact, hand contact and spiritual contact with the congregation. His energy, power and presence were felt by all those assembled. He walked through the congregation selecting participants from every age, ethnicity, race and religion. Then he had them repeat the words,"One Family - Under God Ė Aju!" It was an amazing experience that came to a crescendo at exactly the right moment.
Then all returned to the stage where Family Peace Flags and beautiful Crown of Peace Pins were distributed to representative pastors and the participants of the World Peace Tour. The stage was suddenly filled with power and beauty from those who had participated in the World Peace resurrection.
As the program concluded, the entourage traveling with Hyun Jin Nim returned to the hotel for a quiet and intimate evening banquet. Testimonies were shared, but most notable was that of our beloved white haired Pentecostal brother, the Rev. Jesse Edwards. Jesse shared from the heart what his life has been like while walking beside Father and Mother during this age of Cheon Il Gook. He has seen everything and everyone that he has loved being taken away from him because of his loyalty and his faith in God and True Parents. He has lost his church, his best members and at times, even his closest friends and family members. But his wife has risen up beside him and is now working hand in hand with Mrs. Reiko Jenkins in the "Women in Ministry" project. And Ďthrough it all" he has never wavered in his faith or in his loyalty to our True Parents. There was not an unmoved heart at the table as Rev. Edwards concluded. A deep and moving experience had been had by all those present. We then concluded and everyone prepared for morning Hoon Dok Hae.
By 4:45 AM the Boulevard Room in the Chicago Hilton was at capacity. Not only Chicago family members and second generation, but also ministers and STF members were present. Leena Vincenz and Jonathan Jesper read Fatherís 2006 Childrenís Day Speech. Then the room would be filled with music. Chicagoís own second-generation band, "Sincerely Yours" blasted out one of their own numbers. STF, led by Chicagoís own Miwha Davidson sang several songs along with Hyun Jin Nim and finally all joined together with Hyun Jin Nim singing a Korean rock and roll song that he remembered from his youth. Hyun Jin Nim made a special connection with the Davidson family. Father Alan has always been True Parents and now Hyun Jin Nimís driver in Chicago. And it was Alan and Ritsukoís two daughters that had provided much of the morningís entertainment.
Hyun Jin Nim shared about his special relationship with the land mass that we call Alaska and how he has used this venue for much of his own personal leadership training The nearly 2 1/2 hours of Hoon Dok Hae concluded with Hyun Jin Nim challenging us to keep the fire of faith alive in our eyes and in our souls before leading us through the tunnel of eternal youth.
The final chapter of the program took place over the breakfast table in Hyun Jin Nimís suite. Here nearly 40 pastors, Ambassadors for Peace and World Tour IV veterans gathered to share testimonies of their recent experiences. Among the most remarkable were those of Mrs. Annette Dixon. Annette is a newspaper publisher who has known us for over 20 years. As a Catholic lay person, she felt so inadequate standing with the ministers on the tour. Yet she distinguished herself as she traveled throughout Asia, Europe and Africa fulfilling her life-long dream to become a Catholic missionary. Upon her return, the editorial page of her community newspapers carried the account of her pilgrimage experience.
Others who gave testimonies during the breakfast included Mr. Lee Walker, a businessman who first met our movement during his time in New York during the Yankee Stadium campaign. He reminisced about how he used to watch our members cleaning up the streets in front of his apartment in Harlem. Since coming to Chicago, he has become an Ambassador for Peace and has traveled to Korea on a number of occasions. During his last trip to Korea, he was room-mates with Archbishop Stallings and they have developed a very deep friendship ever since.
Another testimony came from Ms. Pat Arnold, a Chicago native who was responsible for the positive media campaign during True Parents 50-city tour. Each of the World Tour participants had some chance to share with Hyun Jin Nim, but the final testimony might very well have been the most moving. It came from Rev. William Revely from Detroit. Rev. Revely first met our movement 25 years ago. He is a veteran of the Civil Rights Movement with Dr. King. He has studied (and struggled) with the Divine Principle for many years. However, traveling on almost the entire World Tour changed him dramatically. He shared his belief that Father and Mother are leading the only movement that can unite the world because Father is gathering and uniting all people of God together, including Jews, Hindus, Muslims and Buddhists. He commented that Jesus himself was not a Christian and that it is Rev. Moonís movement that is truly bringing all peoples of faith together.
Breakfast concluded with remarks from Dr. Yang and from Hyun Jin Nim. Then, in an instant, the room cleared out and the entourage moved on to the next venue in Dayton, Ohio later that night.
Several of us gathered in front of the hotel to wave good-bye and God-speed to Hyun Nim and Jun Sook Nim. As they pulled off with their Australian driver still behind the wheel, we could feel the power and the hope that God must have as He is working through their foundation and inheritance from True Parents.
After one more hours of sending off our guests and feeling how deeply they had been touched, I returned to the suite that had hosted so much deep discussion and testimony over the past 24 hours. The only members who still remained were the Japanese sisters who had been serving our guests so faithfully and so beautifully. They were enjoying the first quiet moments that they had experienced in the past 24 hours. One could almost sense the angelic aura that surrounded them as they enjoyed their simple and humble sushi, seaweed and rice breakfasts after serving Hyun Jin Nimís couple such beautiful meals over the past two days.
Then I turned to the main room where we had just enjoyed such a delicious morning. I realized very quickly that the tables had been removed and all that remained was the incredible view of Lake Michigan and downtown Chicago. The room now looked so small and so empty. One could feel the immediate absence of the power and the spirit that had filled it just a few minutes earlier. It was hard to believe that this was actually the same room. Obviously, the power and the spirit had moved on toward the next six cities in the tour.
By the time you read this, the victorious tour will have been successfully completed. But one must believe as we now prepare for Dae Mo Nimís arrival in America and for the events leading up to True Parentsí birthdays in Korea, that this Seventh Year of Cheon Il Gook will bring many new great happenings to the world!
God Bless you America.
Great Victory -- good and faithful servants!


Download entire page and pages related to it in ZIP format


Table of Contents


Information


Tparents Home