| | | | |
| --- | --- | --- | --- |
| | The Words of the Sutchar Family | | |

Chicago Prayer Breakfast
Bruce Sutchar
December 19, 2006
Chicago, IL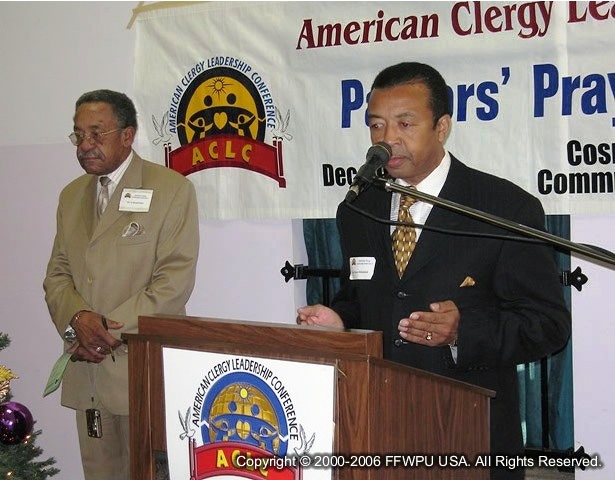 As the keynote speaker for our November prayer breakfast, ACLC co-convenor Dr. A. Harold White read his defense of his ACLC involvement in a letter that he wrote responding to a minister who accused him of practicing un-Christian principles for being involved with the movement of Rev. Moon. The passion with which Dr. White read his response moved each and every member gathered together in the church. How long has our True Father longed for such a true son of God.
Now for this week before Christmas, the Chicago ACLC gathered once again at one of the most prestigious churches in Chicagoland -- the Cosmopolitan Community Church, pastored by none other than the right Rev. Henry O. Hardy. This venue has become home to our annual Christmas prayer breakfast. Dr. White, once again served as our esteemed master of the ceremonies.
The room was filled with so many of our good and faithful friends. The Rev. A.I. Dunlap joined those Ambassadors of Peace who have just returned from Korea, Japan, Europe, Africa and South America. These included the Rev. Willie Weston, Dr. Ellis May III, and Rev. Etta Ellis, looking more like a Texas cowgirl in her burgundy ten- gallon hat. Also joining us were our crew of never to get old elder statesmen, including 94-year-old Rev. M.E. Sardon, 86-year-old Bishop Melvin Crawford, 82-year-old Rev. James Bass and 78-year- old Dr. Paul Swanson. These 4 men in particular have fought the good fight all of their lives. Like Booker T. Washington's world changing manuscript, these four historic leaders have come "Up from Slavery." Leaders of the Civil Rights Movement over the past 60 years, they have left their mark on America horizontally as well as leaving their mark on America vertically as true Ambassadors for Peace and true sons of our True Parents.
We breakfasted on a delicious plate of grits and 6 or 7 other courses that rivaled the best 5-star hotel breakfast in Chicago. Then all viewed the newest "Ambassadors for Peace" video before listening to melodic holy singing from our dear sister Mrs. Akemi Nguyen.
We welcomed our Korean Ambassador for Peace, Mr. Dong Hoan Kim, a 60- year-old school principal, visiting America for the very first time. Here the language barrier dissipated in a sea of love, harmony and understanding as we welcomed him and thanked him for his sacrifice to come at his own expense, to visit America as an Ambassador for Peace from Korea.
Next, Dr. May addressed us concerning his three weeks in West Africa and then it was time for our keynote speaker. All the years that our Bishop Ki Hoon Kim was in Chicago, he rarely spoke for very long. More often than not, he would give concluding remarks at the end of one of these programs. However, this morning he was the keynote speaker, and he was given more than 30 minutes to address the congregation. He read from Matthew 4:17 about building the Kingdom of Heaven on Earth. He shared with slides about Father's early ministry in Pusan and offered a thorough history of Father's early movement in Korea from 1954. This was a rare and unusual event in Chicago and the congregation welcomed the words of God with open arms and an open heart. Rev. Hardy was so moved that he immediately invited us back not just for next Christmas, but twice in 2007.
Our national ACLC Co-Convener, Pastor T.L. Barrett, Jr. arose to address the congregants and to collect the offering (as only Pastor Barrett can). He gave recognition to our new District Director, Rev. David Rendel ,and then he welcomed all and claimed the first prayer breakfast of 2007 for his own Life Center Church of God and Christ.
It's been a whirlwind of one providential affair after another ever since Rev. Rendel has taken over the reins from Bishop Kim. But I believe that Chicago has not missed a beat. We fulfilled our 100 events two days early, laid out a detailed plan for our visiting Korean Ambassador for Peace, and even managed to pencil in a weekend with Jim and Hioromi Stephens from the Blessed Family Department this past weekend. We are completing our fasting conditions, fulfilling our daily Hoon Dok Prayer conditions, and moving forward on all 12 cylinders as quickly as possible.
We survived an early snowstorm in November and are now looking forward to Christmas, True Gods Day 2007, and Father's 87th birthday next February in Korea. (If we are diligent and lucky we will be able to squeeze one Super Bowl game in between there somehow as well).
God bless you, America, God bless you, new District Leaders, Rev. Kwak, Dr. Yang, Dr. Jenkins, Rev. Schanker, Rev. Daugherty, Rev. Cotter, Mrs. Ward and all of our brothers and sisters all across America.
Great Victories ahead in 2007!


Download entire page and pages related to it in ZIP format


Table of Contents


Information


Tparents Home