| | | | |
| --- | --- | --- | --- |
| | The Words of the Sutchar Family | | |

UTS Educators Conference
Bruce Sutchar
October 23, 2006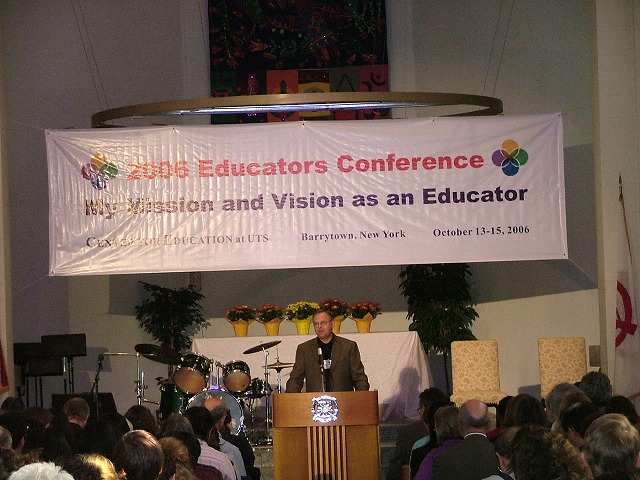 I come from a family of educators. My mother, her two sisters and my cousin were all teachers. I have a Masters degree in education and my first job in the real world was as a 7th grade teacher in the inner city of Chicago. Therefore I was quite excited that I was able to attend the first UTS Educators conference five years ago. I have two main memories of that conference.
First of all we simultaneously formed the Blessed Family Association during the conference. My second memory is that the conference was run 98% by the first generation. The only second generation participation was an hour long forum during which the second generation were able to share their thoughts and feelings.
All this is to say that the recently completed 2006 Educators Conference was certainly the beginning of a new era. If in fact the first conference was 98%-2% first generation, this one was more like 60% - 40%. For me personally, it was the give and take with the second generation that was the highlight of the conference.
The first day was run by Dr. Kathy Winings, Rev. Brian Sabourin, Rev. Robert Beebe and Alan Saunders. It was primarily dedicated as an in-service workshop for Sunday School teachers and included a curriculum on building character education. The main body of what would prove to be somewhat over 300 participants began to gather for dinner on Friday evening.
The next two days included a wide assortment of breakout sessions usually divided between Children's Ministry, Youth Ministry, Young Adult Ministry, Family Ministry and Pastoral Education. Since I now have 3 high-schoolers and 2 children in college, I usually chose the older educational forums. My first choice was entitled "Young Adult Culture and Spirituality." It was chaired by Harumi Kawamura, Jin Kwon Kim, David Hunter and Ritz, the former youth pastor from San Francisco. It was a very moving session, which included insights into the hopelessness that affects much of today's youth and is found in both their writings and their music. David Hunter explained why he had left the church and how he had chosen to re-join it on his own accord.
One point that really struck me was how serious the participants were -- so much so that I wondered if I even belonged at the conference. So many of the participants that I had a chance to talk with shared their passion for whatever they were involved in. I ran into a number of parents from New Jersey, where several programs are currently in full force reaching out to second generation high-schoolers.
The other program that really touched me was "Administering a College Ministry." This was hosted by Naokimi Ushiroda, who is one of the leaders of the 3rd year STF Leadership Training in Ossining. He pointed out that at the center of all college ministry is the integral importance of the blessing. He stated that even if all the aspects of university ministry are in place, if one's blessing fails, then all else is really of secondary importance. We then discussed commitment -- how the commitment of the first generation to work to build the Kingdom of God on earth through the exchange marriage blessing has been able to keep many couples together through the most difficult of times. Naokimi then shared that he felt that this same commitment was not present in the second generation matchings and blessings.
Saturday night concluded with an official meeting of the Blessed Family Association. Dr. Tyler Hendricks and Mrs. Betsy Jones were honored for their service as board members and four new members (two of whom are second generation) were voted on the board.
On Sunday morning we were honored to have the Rev. Michael Jenkins present to deliver the Sunday sermon. Rev. Jenkins challenged the congregation to become true children of God, which he said could only happen if we were willing to give up our lives to the will of God and to put our lives in the hands of God. If we were willing to do this, he promised that we would then experience the true love of God. Also present in the congregation was President David S.C. Kim, who at 92 years of age is still looking strong and vibrant! After a wonderful fellowship luncheon, the 300 participants departed for about every corner of America in order to return to their homes and their families.
For me personally, the 40 hours in Barrytown was such a special time. Aside from the incredible content and curriculum being offered, the value of the fellowship among brothers and sisters was worth far more than the price of admission. The simplicity of the conference -- living in the dormitories, rooming with old MFT and witnessing buddies, eating simple meals, communing with nature in the beauty of fall colors in the mid-Hudson River Valley and feeling the holiness of True Parents' seminary was an incredible gift from God. I returned home to Chicago inspired and rejuvenated with new hope and renewed energy.
I want to offer a special thank you to everyone who organized, presented or participated the conference. I am sorry that I have shared but a tidbit of what actually occurred during the three-day conference. There were so many incredible presentations and speakers that I have not even mentioned I am already looking forward to next year. And I am especially looking forward to the ever-growing participation of our children -- the second generation -- the real hope and future of True Parents' vision to build the Kingdom of God on Earth in this age after the coming of Heaven.


Download entire page and pages related to it in ZIP format


Table of Contents


Information


Tparents Home