| | | | |
| --- | --- | --- | --- |
| | The Words of the Sutchar Family | | |

The Torch Is Passed On In Chicago
Bruce Sutchar
September 19, 2006
Chicago, IL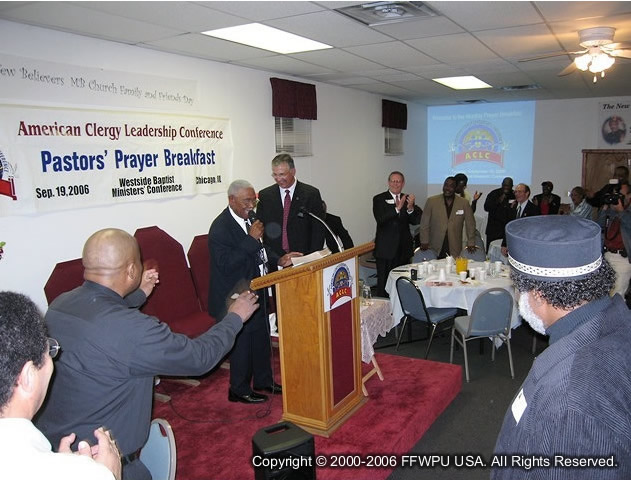 Chicago's September Prayer Breakfast marked the successful acceptance of the torch of leadership from Bishop Ki Hoon Kim to Chicago's new District Director, the Reverend David Rendel. Already a veteran of leadership as witnessed by Chicago's successful tour speech on September 3rd at which time Rev. Rendel assumed full leadership of Chicago's Family Federation after exactly one full week on the job, the prayer breakfast marked Reverend Rendel's first official public program.
The program was held at Rev. George Henderson's West Side (of Chicago) Baptist Minister's Conference Church headquarters. Rev. Henderson is the President of Chicago's West Side Baptist Ministers. Rev. Sutchar assumed the role of Master of Ceremonies for the event. Prayers were petitioned for the City of Chicago by Operation PUSH's Fannie Smith, the State of Illinois by Rev. W.L. Mobley, the Nation by Dr. Paul Swanson, and for interfaith unity by Brother Dennis Muhammad of the Nation of Islam. The congregation was then officially greeted by the West Side's able Vice President, the Rev. A.P. Randall.
After a scrumptious breakfast the congregation was treated to the melodic voice of our Japanese Choir Director, Mrs. Akemi Ngyuen, singing "Amazing Grace," as only she can. Rev. Sutchar then greeted the several new first-time guests and immediately proceeded to introduce the morning keynote speaker, the Rev. James Bass. Rev. Bass, like our True Father, is 86 years young. He is known as the "Daddy of the West Side." and has been pastoring for some 51 years.
But Rev. Bass seemed more like 36 than 86. He preached about the meaning and value of love from St. Paul's letter to the Ephesians.
His content was more like one of True Father's Sunday sermons at Belvedere as he spoke about the values of filial piety and agape love. Before he concluded, he was parading all over the rostrum as if he were dancing with the Holy Spirit herself. And the energy that he was emitting carried over into every member of the congregation. Yet he was not just "hoping," he was preaching a serious theological message about the value of love as the bedrock of our life, our culture, and our civilization.
Upon his conclusion, Chicago ACLC national co-convener, Pastor T.L. Barrett, fresh from a week in Chung Pyung Lake, offered remarks to the congregation. He gave a special welcome to Reverend Rendel. Then Reverend Rendel himself addressed the congregation, which was now filling every seat in the banquet hall. He narrated a PowerPoint slide show of Chicago's September 3rd event with Father and Mother's grand-daughter, Shin Sook Moon, which had been held at Pastor Barrett's Life Center Church of God in Christ.
The congregation was then honored with the presence of one of America's great oratorical evangelists, the Rev. LeRoy Elliott. In his remarks, Reverend Elliott echoed the remarks of Reverend Bass in articulating the greatness of the ministry of our True Parents. This was especially valuable considering the fact that two reporters and a photographer from the Chicago Tribune were in the room writing a story about the relationship between the ACLC and our True Parents. In much the same vein as Congressman Faunteroy has spoken during True Mother's tour this past May, Reverend Elliott expostulated on how he explains his commitment and involvement in our movement to those who question his participation.
Then Chicago took the opportunity to honor one of its own. The Rev. Hitoshi Onishi was called to the pulpit to receive a lifetime achievement award, which was presented by Rev. Rendel and Pastor Barrett. Rev. Onishi along with Rev. Yukimi Lemont, has been one of the stalwart mainstays in Chicago's ministerial providence. He has just completed his religious education degree from UTS and is now being assigned to work with ministers in New Jersey. So it was with great pride and with great joy that Chicago was able to take this opportunity to thank him, to praise him and to honor his sacrificial and successful work with ministers in Chicago for so many years.
One aspect of our Prayer Breakfasts that never ceases to move this author's heart is how the ministers never seem to want to leave the building once the program is officially over. This morning would prove to be no exception. Reverend Henderson offered the benediction before the congregation, all holding hands, and then the fellowship continued for quite some time.
Praise the Lord!
Postscript…..
Just before he left Chicago, Bishop Kim commented that whoever would become Chicago's new District Director would be successful if he was able to continue the successful system that had been set up in Chicago for so many years. Rev. Rendel has been a member of Chicago's leadership team for a number of years and has already demonstrated that he is quite able to continue Chicago's winning tradition. The September 3rd event and September Prayer Breakfast are but the first two examples.


Download entire page and pages related to it in ZIP format


Table of Contents


Information


Tparents Home