| | | | |
| --- | --- | --- | --- |
| | The Words of the Sutchar Family | | |

ACLC May Prayer Breakfast - What If They Gave A Prayer Breakfast And No One Came
Bruce Sutchar
May 30, 2006
Chicago, IL
ACLC May Prayer Breakfast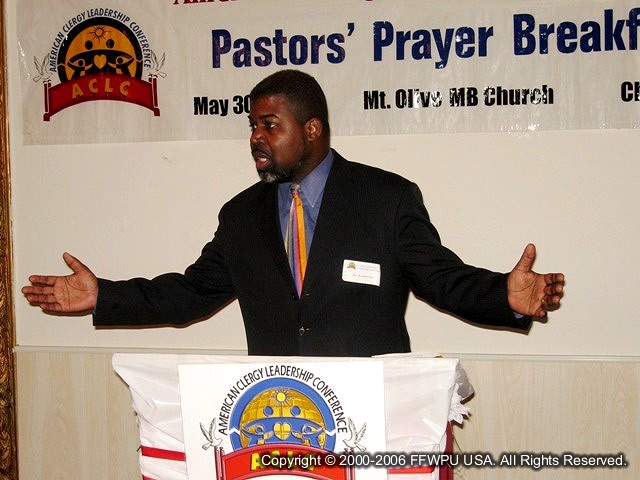 What if they gave a prayer breakfast and no one came?
As I rushed into Rev. Giles' Mt. Olive Baptist Church at 9:15am, fifteen minutes late due to the day after Memorial Day Chicago rush hour traffic, I was shocked! Shocked to find all of about 3 guests in the hollow-sounding banquet hall of the church. And 15 minutes later only a couple of more guests had arrived. So I began to think about San Francisco and how one of the most important ministers in America had met the ACLC through a small little prayer breakfast that almost didn't happen. Thus we began with just a few guests, and Dr. A. Harold White started us off with greetings and prayer. Then we lined up for breakfast in hopes that a few more faces would arrive before the program began. Of course all of the Unificationists were fasting until noon, so I had to explain to my seat-mate, Rev. Randall, why I was abstaining from the morning indulgence.
This particular prayer breakfast was an especially important event -- it was hosted by Rev. Kenneth Giles, a young, energetic, very powerful and educated young pastor who had succeeded Rev. James Bass, the 'daddy' of all Chicago West Side ministers. Now while Rev. Bass was one of our oldest and dearest friends, (several years ago, he had given Rev. Jenkins and me a 2-hour tour of every square foot of this former movie theatre that he and Sister Bass had personally transformed into one of the most magnificent churches on the West Side of Chicago) -- this was the very first time that Rev. Giles had participated in one of our events, and, of course, we wanted to leave a good impression. So as Rev. Giles got up to give greetings, I began to pray and think about Gideon and how God had chosen quality over quantity in hopes that this too could prove to be a successful event for God and True Parents. In fact, I had already decided that a report on this event would probably not be necessary. Then immediately after breakfast we were informed that our first speaker was not yet present. Oh well, it was the day after the Memorial Day holiday!
So why am I writing this report -- just what happened after Rev. Giles finished his remarks? First of all, we were running a PowerPoint slide show of Mother's recent event in Chicago and I began to feel the power of what had just happened all across America. Then the Rev. Willie Weston arose and gave a powerful sermon worthy of an audience of thousands. He spoke on 1 Peter: 5 on the theme of "Resisting the Devil." Now one thing you must know about the Rev. Willie Weston -- he has been diligently studying Divine Principle for the past several years. He has been to Ocean City on several occasions, he has been to the Phoenix DP seminar and he has been hosting a DP study with Ken Murray and Steve Nomura every month for the past several years. He is learning the Divine Principle, in his heart and in his life, not just in his head. Rev. Weston was mostly attracted to our movement because of our central emphasis on the sanctity of the family. And he has taken this concept a step further -- realizing that the ACLC is the church family of God. Rev. Weston understands what it takes for restoration to take place -- nothing less than a lifetime of sacrifice -- which he documented through Paul's words in Romans 12. Rev. Weston noted that in order to restore the world, we each will be called to go beyond the understanding of our physical families and embrace our worldwide international church family of God (his own church is called Hope Evangelistic Ministries International). Rev. Weston spoke strongly: "God will choose you; He will anoint you; He will strengthen you, energize you and empower you and finally He will perfect you." (Incidentally, all throughout breakfast and Rev. Weston's sermon, more and more guests were arriving -- actually to the point that the banquet hall was beginning to fill up.
Then our absent initial speaker, the Rev. Cartha McKenzie, Jr., just off the boat from Israel, arrived to give testimony to the incredible MEPI experience that he had just partaken in. This was Rev. McKenzie's first experience with us and he was "on fire." As he stood in front of the slide show depicting his baptism by Archbishop Stallings in the Jordan River, he was truly "aflame with righteousness." And as I looked around, nearly every seat in the hall was filled and I began to realize that, especially internally, this was probably one of the very best prayer breakfasts that we have ever had in our over eight-year history!
Then our national co-convener Pastor T.L. Barrett, Jr. arose to give final remarks and the benediction, and Bishop Kim dismissed the congregation to "go out and spread the gospel of Christ to every corner of the greater metropolitan Chicago-land area."
God Bless you, America.
Victory on June 13th
Great victories in the summer of 2006!


Download entire page and pages related to it in ZIP format


Table of Contents


Information


Tparents Home